Early last year, a friend of mine (who happens to live in Weiser) mentioned the existence of the Weiser River Trail. I had never heard of it, so I went online to check it out. (Mash here for the main web site. There is also info at the National Recreation Trails site, and the Rails-to-Trails Conservancy)
So, in mid-June of last year, my wife and I and two friends decide to check it out, so we drove out to Weiser and took a short spin on the lower part of the trail, beginning at the Weiser trailhead, which is located a few blocks east of US 95 on Main Street in a residential area. It took us just over an hour to get to Weiser from Boise.
It was a nice jaunt, made tolerable by overcast skies and cooler temps. This part of the trail wends its way through a valley that is mostly farmland. It's flat and open, but scenic. We rode to the canyon mouth near Galloway Dam and the Presley trailhead, where the trail turns north from its formerly east/west alignment, then turned around and headed back. The round trip was about 16 miles.
Vehicle access to the Presley trailhead is via Weiser River Road. If you turn east on Park St., which is the only traffic light on US 95 in Weiser, it turns into Weiser River Road near the edge of town.
Our initial impressions of the trail were that it was uncrowded, there is very little shade along the way, and it's pretty rough in spots. Being a Rails-to-Trails conversion, there was still plenty of railroad ballast on the roadway. It mostly consists of what looks like 2" crushers. You definitely want larger, softer tires on this trail.
This year, we decided to tackle the trail again, and try out different sections, as it was reported to us by some locals we met at the Weiser trailhead that the trail conditions improve as you travel further north. Of course, we met them AFTER we just finished our ride, so it was too late to move on up the road to another location. Lunch and liquid refreshment were the order of day at that point.
Memorial Weekend 2016 – Weiser to Thousand Springs Creek
I somehow convinced my son to join me on a camping trip on the trail. Paying for the requisite improvements to his bike (thanks, Jim!) probably didn't hurt. We loaded up our gear on Saturday morning and headed out with high hopes. My friend who lives in Weiser agreed to let us leave our car in the street by his house, so it wouldn't be sitting at a trailhead for multiple days (what can I say, I'm paranoid). This added another 2 miles to the ride at either end, but we got a scenic tour of the town of Weiser that way.
We got on the way shortly after noon, and after a couple miles on the trail we decided to cut over to Weiser River Road for a smoother paved road ride, so as to stave off saddle soreness as long as possible. We did encounter some interesting-looking local fauna on that leg of the trip, too.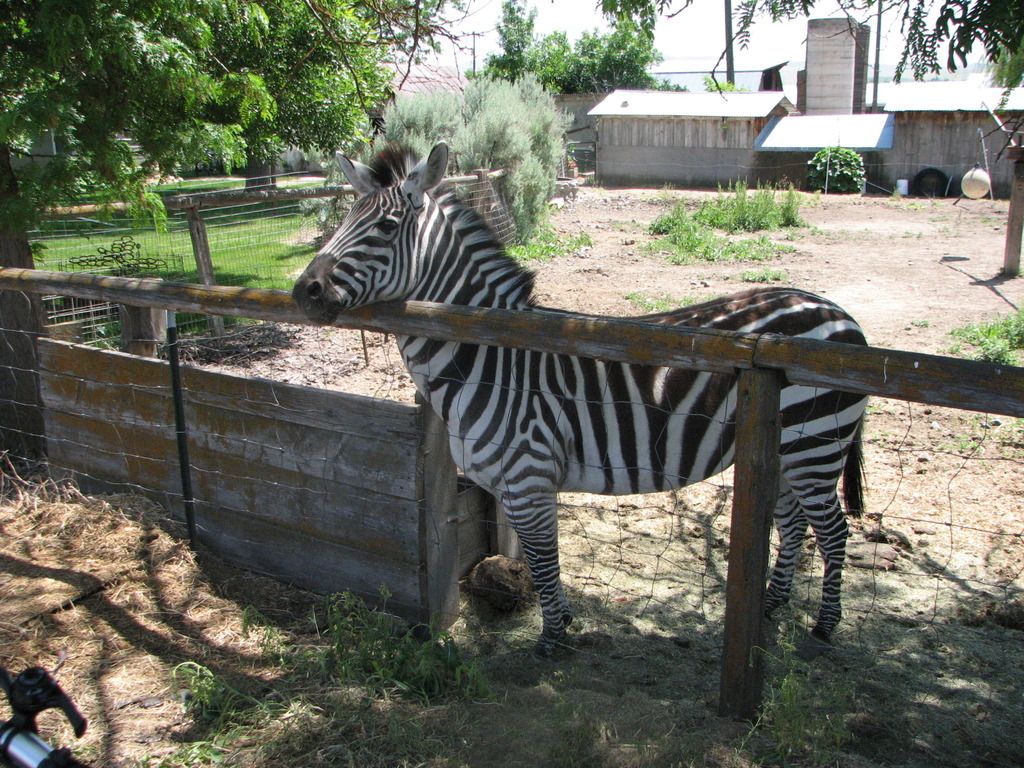 (Note strategic placement of thumb shifter in photo. Composition is everything!)
We rejoined the trail at Galloway Dam and carried on from there. From this point, all the way to our campsite and back to the dam the next day, we never saw anyone else on the trail. We did encounter a group of kayakers who told us about the campsite we stayed at ("..it's only a few miles up the trail!"), and they mentioned that they had ridden the trail the previous weekend when it was a muddy mess from a recent storm. They indicated that they liked it that way, too.
One thing about this whole leg was that there wasn't much in the way of easy access to the river. I was carrying a Katadyn filter and towards the later part of the afternoon I was starting to wonder when I might be able to refill our water bottles. Fortunately we encountered our campsite shortly after, and it included a small beach where you could pump water pretty easily.
The campsite is improved, and is in a small section of BLM land. It includes a fire pit, picnic table, bench, and a porta potty a short ways down the road (so you don't have to smell it). It is located at Thousand Springs Creek.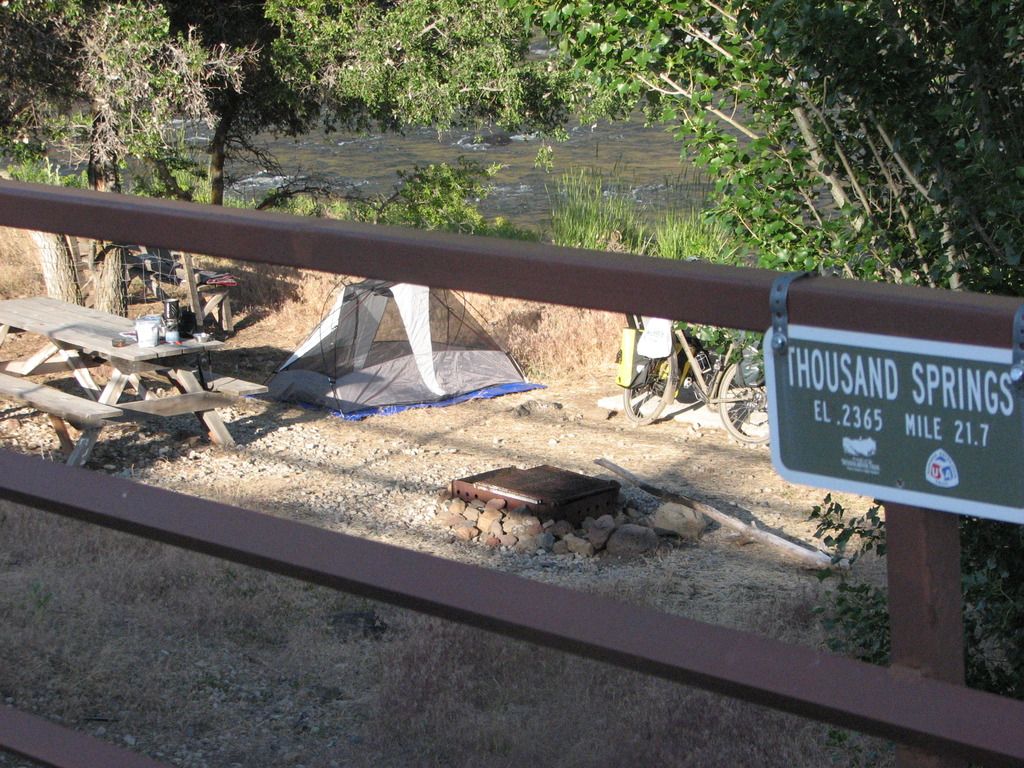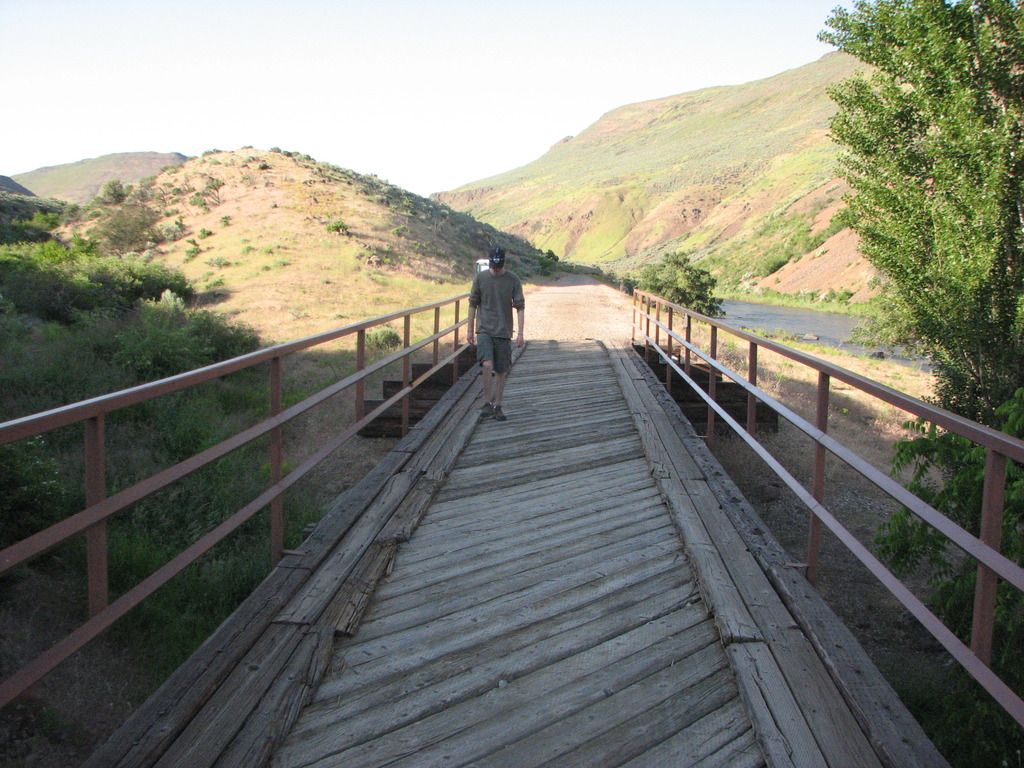 Looking north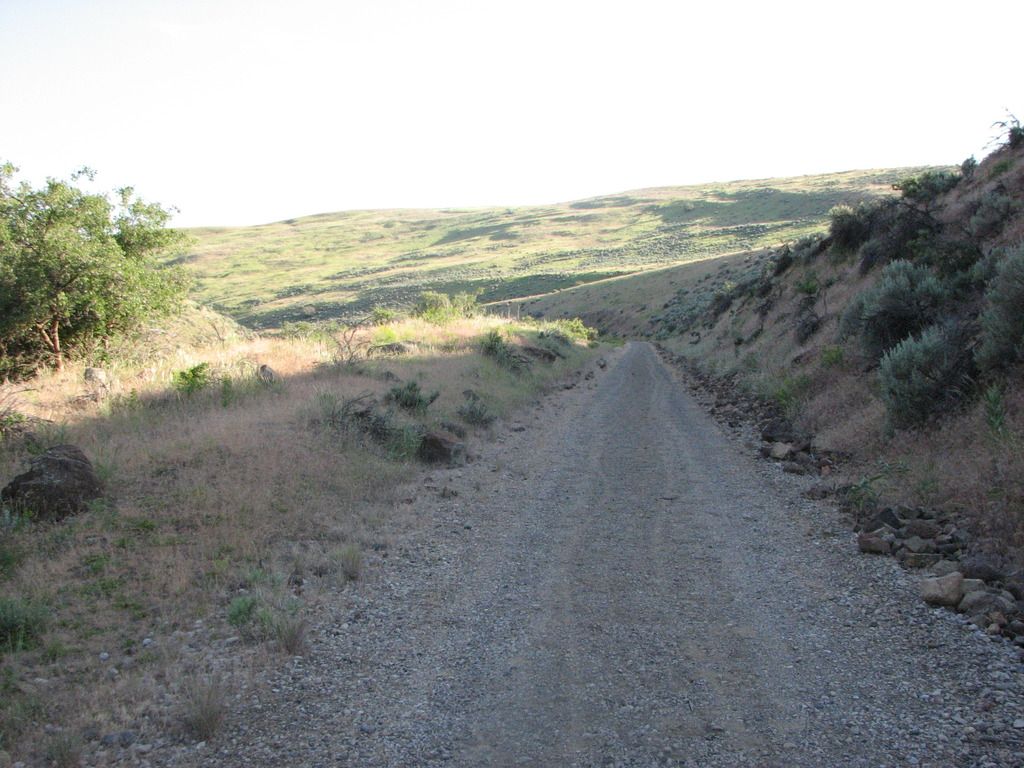 Looking south
Here we spent an uneventful, if slightly uncomfortable, night. This was mostly due to not having super nice sleeping pads, but it was also pretty windy and noisy all night long.
The next morning we got up, had breakfast, packed up, and headed back. We might have gone further if we felt more rested, but the slow going (for us) road conditions and a late-ish start the previous day convinced us to call it a trip at that point. I had hoped to get to Midvale the first day, but we didn't quite make it. That's about ten miles further along.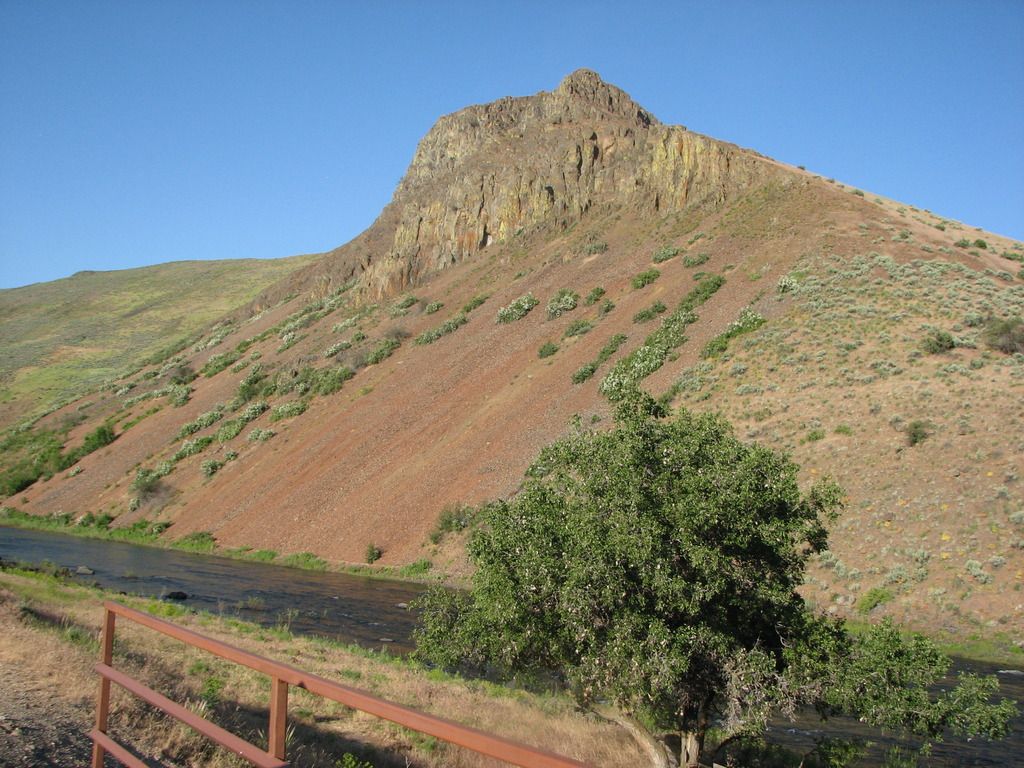 The butte on the other side of the river the next morning, to the NE of the bridge. We saw some goats grazing on the hillside the previous evening, along with a fox that took off like a flash when it spotted us.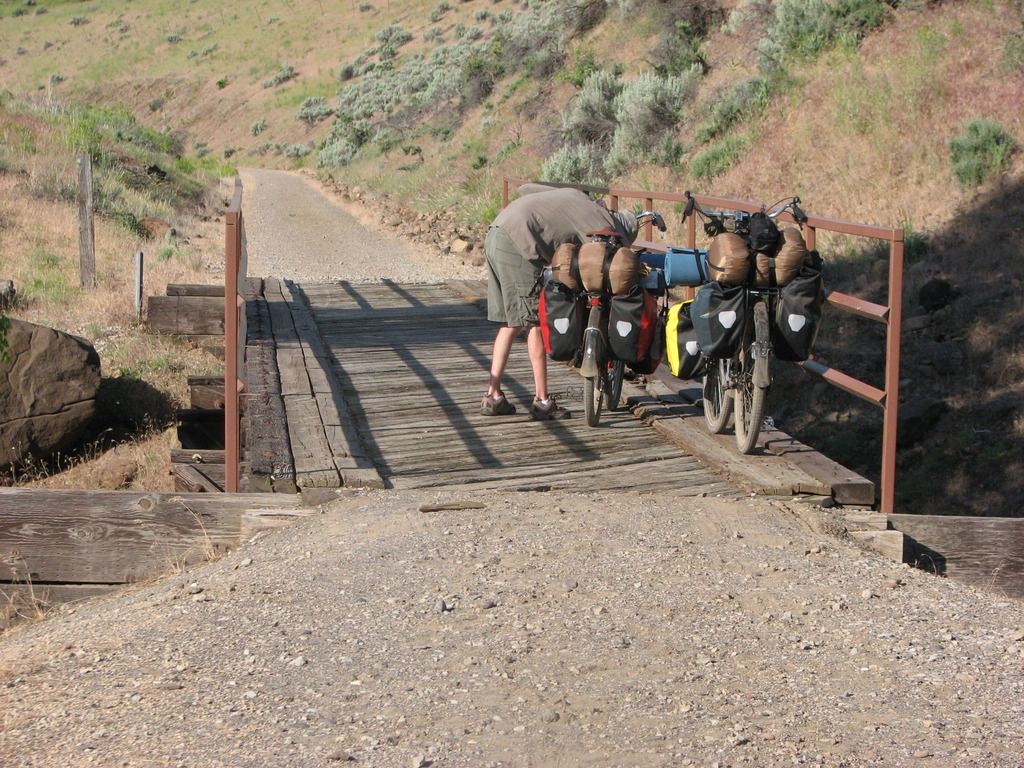 Taylor fiddling with something on his bike prior to departing.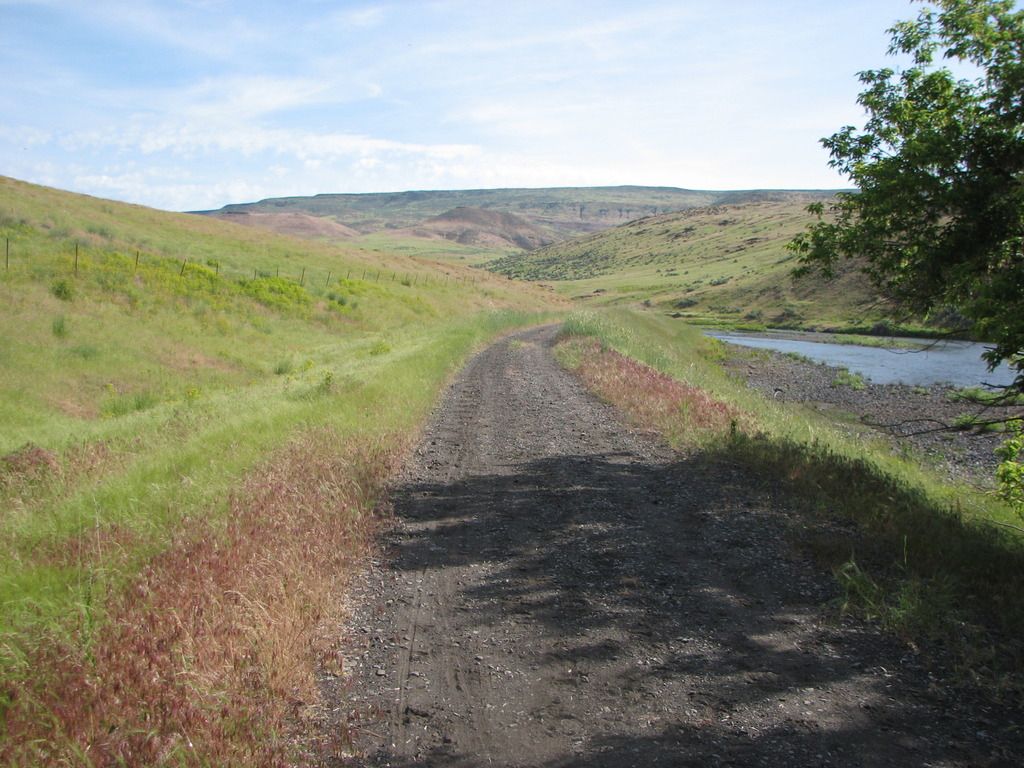 If you like this kind of scenery, the Weiser River Trail has oodles of it!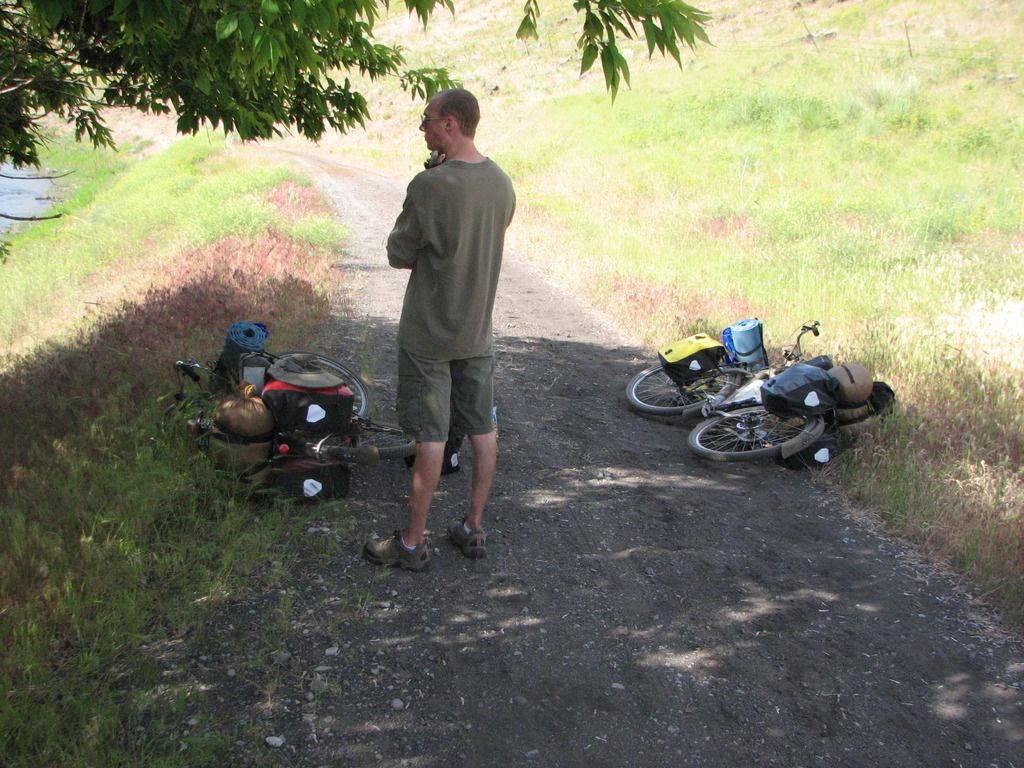 Taking advantage of a rare spot of shade for a snack and a drink.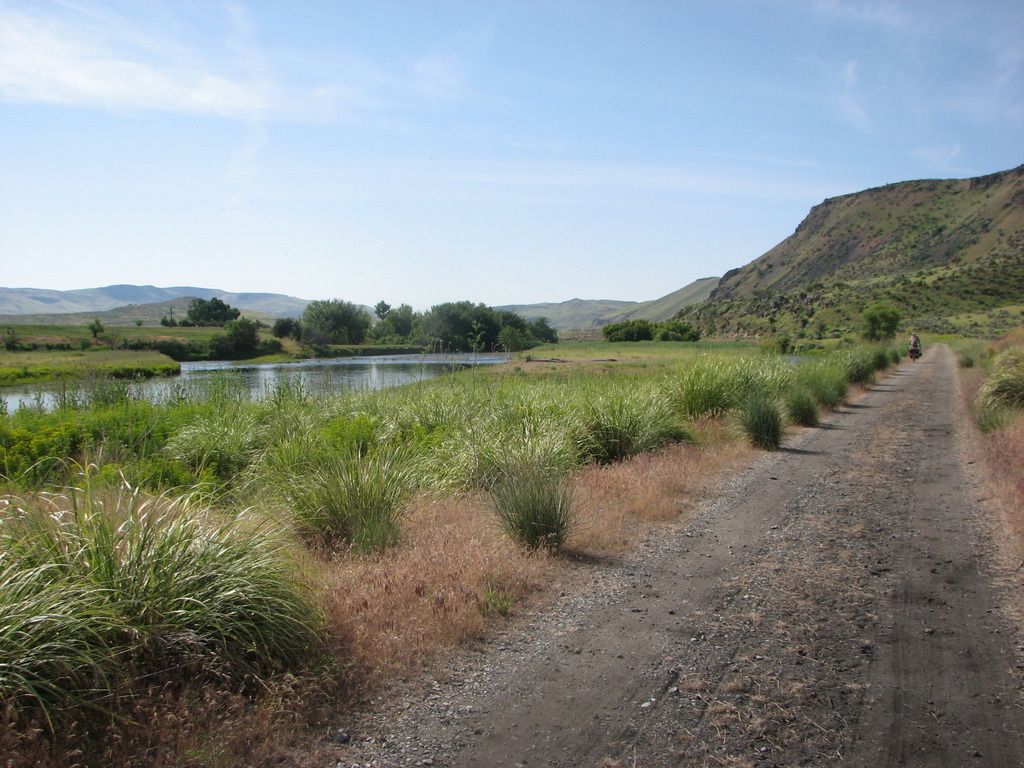 No strollers or roller-bladers here! Eat your heart out, Boise Greenbelt. Taylor is up ahead doing his Roadrunner impersonation. Meep! Meep! (We used to live in NM, so we know that roadrunners don't actually run very fast.)
Midvale to Cambridge, June 19th (Father's Day)
Leesa and I decided to be anti-social and head out on a fine Father's Day Sunday for another section of the trail. This section features more farmland, and a short but interesting part that goes through a canyon right before you arrive in the thriving metropolis of Cambridge.
The trail conditions along here are better than the southernmost section, for the most part. It's still a dirt trail, no matter how you slice it.
The trailhead at Midvale is at a nice shady park with water and a porta-potty. There's a nice restaurant at the south end of town, too (about 200 yards from the trailhead – Midvale is not very big).
The round-trip distance worked out to about 18 miles.
We saw two does, or we saw this one twice. We also saw a really nice 4 point buck just south of Cambridge, but he ran off before we could take a picture of him.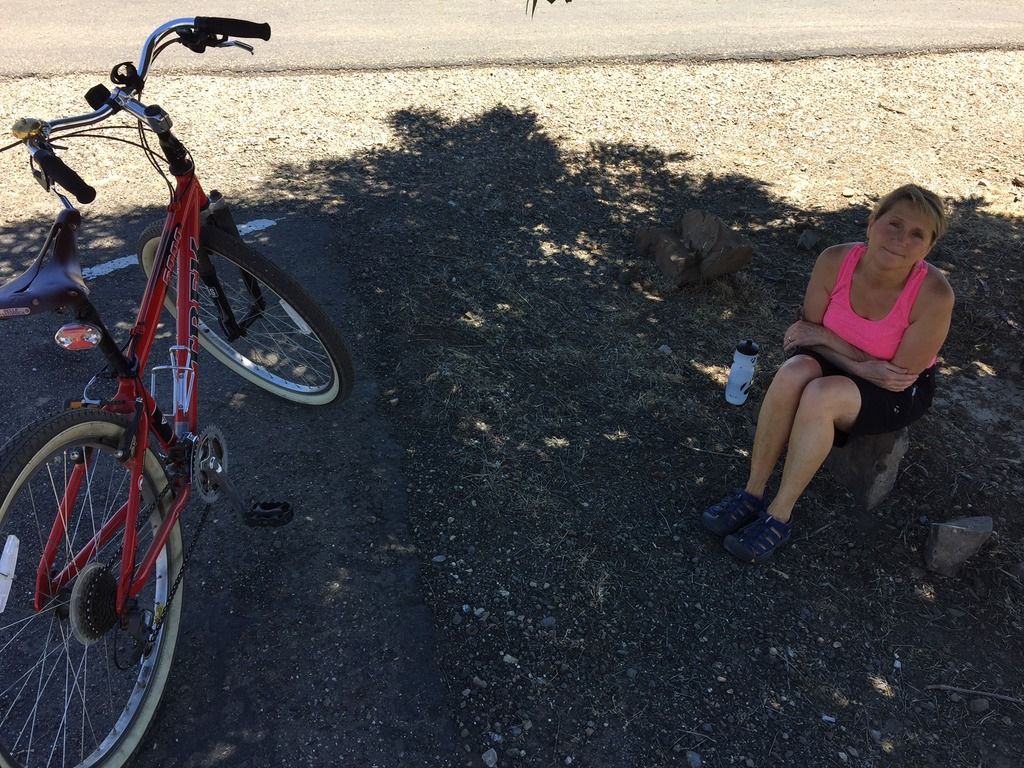 Leesa having a rest in the shade at Cambridge.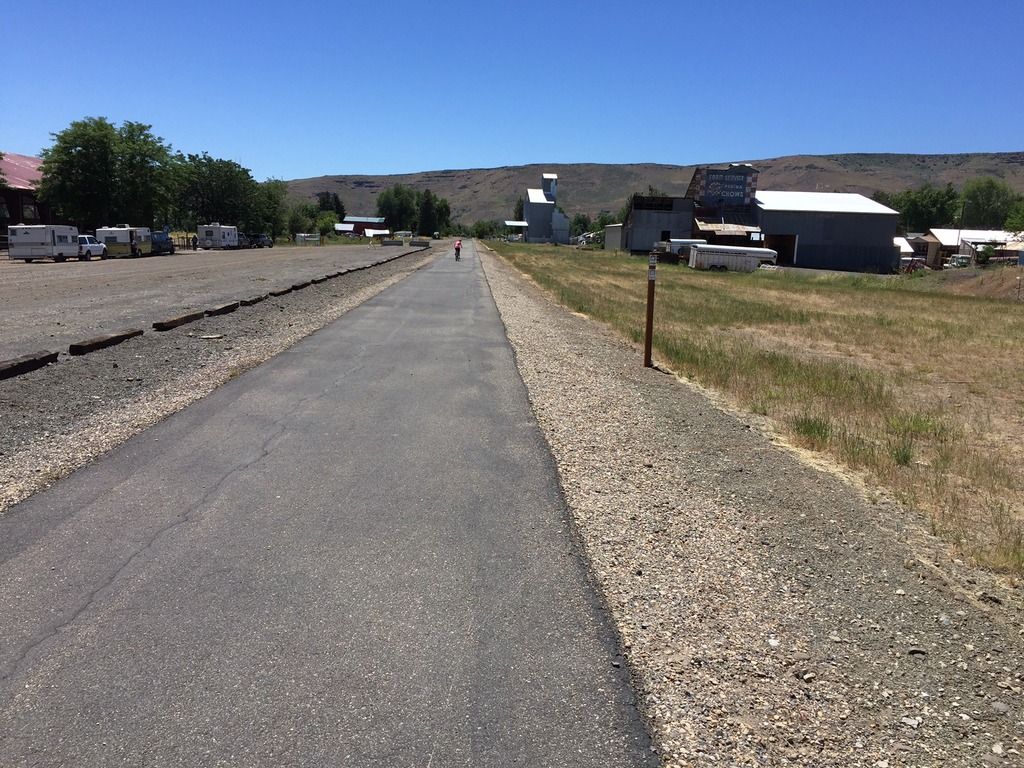 Looking south from Cambridge trailhead. The Washington County fairgrounds are on the left. Leesa is the pink speck.
Just south of Cambridge looking south, just before the canyon.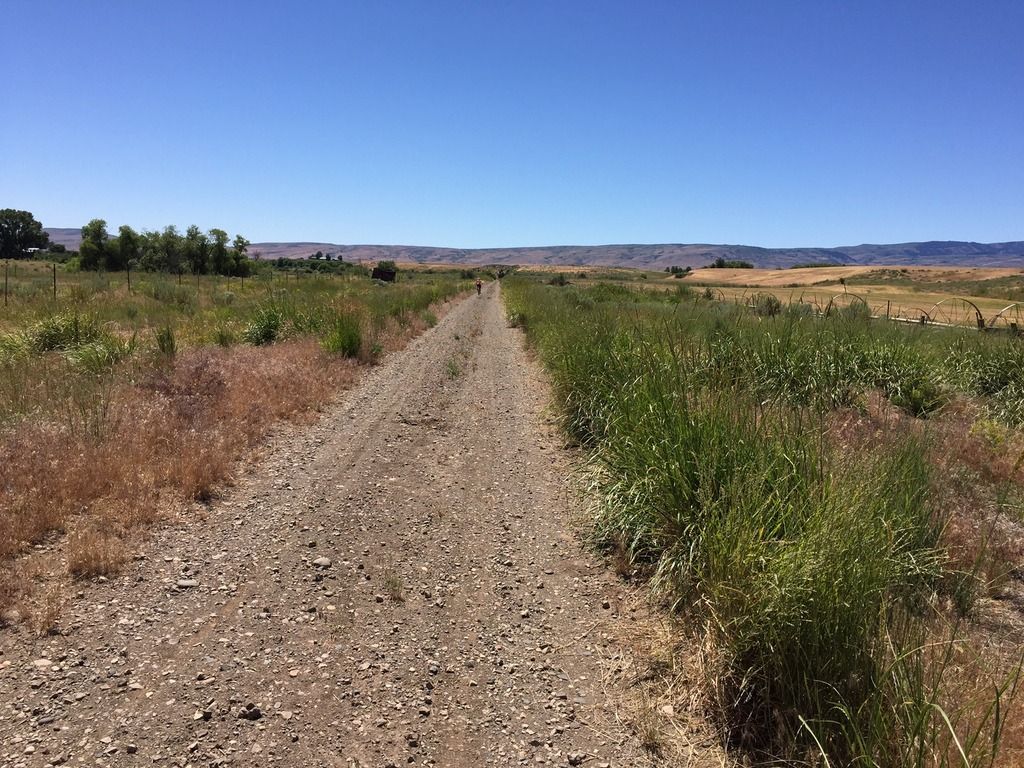 Out in the farm country between Cambridge and Midvale.
Evergreen Campground trailhead to Tamarack (July 17th)
Wanting to see some different scenery, we opted to take a trip up into the mountains and ride the top section of the trail. There is a trailhead inside the Evergreen campground, which is up in the mountains a short ways from Council on US 95 – maybe 20 minutes drive time. The main trailhead at the northern terminus of the trail is at Tamarack, but the trail extends a short ways further from there. The Tamarack trailhead is located off to the east side of 95 just slightly north of the lumber mill. There is a road going into a meadow, and the trailhead parking area is back about 3/8 of a mile and features lots of parking, horse thingies, a pit toilet, water, and a picnic table.
We parked at Evergreen and rode up to Tamarack and back down, which is about a 13 mile round trip. There is some climbing on this section (beyond the 2% grade that you're already climbing), especially right near the lumber mill. There is a lovely spot there with some steep switchbacks which are covered generously with loose gravel. Going up isn't a problem, but coming down requires a steady hand.
This part of the trail is smoother than some of the more desert-like sections, and has more shade, since you're up in the mountains.
Unfortunately, we left the camera in the car that day, so we don't have any pictures from this segment.
Council to Fruitvale (August 6th)
This was supposed to be Council to Evergreen, but the weather forecast for Council was way off on the web (thanks, Intellicast!), so we had to cut it short due to high temperatures. It's too bad, because just past Fruitvale the trail takes some serious bends and then heads up into the hills. We'll catch that section some other time.
The Council trailhead is easy to get to. Just turn left in downtown Council right where the highway takes a hard right turn, and just follow that road as it winds to the right. The trailhead is easily visible just up on the left, and features a covered table and a porta potty cleverly hidden behind a storage shed on the other side of the road. If you head north on the trail, you will see it on the right.
This section was pretty much farmland, but did have lots of apple trees and huckleberries growing right along the trail. (The apples were definitely all "organic," if you know what I mean.) The trail mostly runs straight right through to Fruitvale.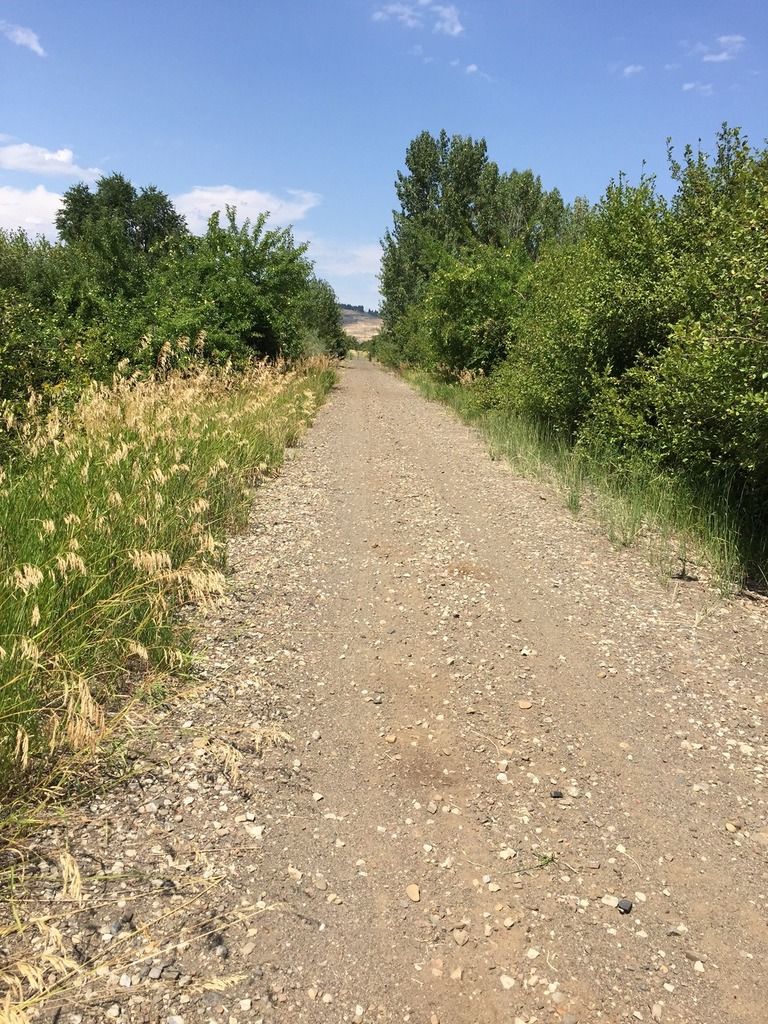 Just south of Fruitvale, looking north. Much of the visible shrubbery along the trail right here has fruit on it.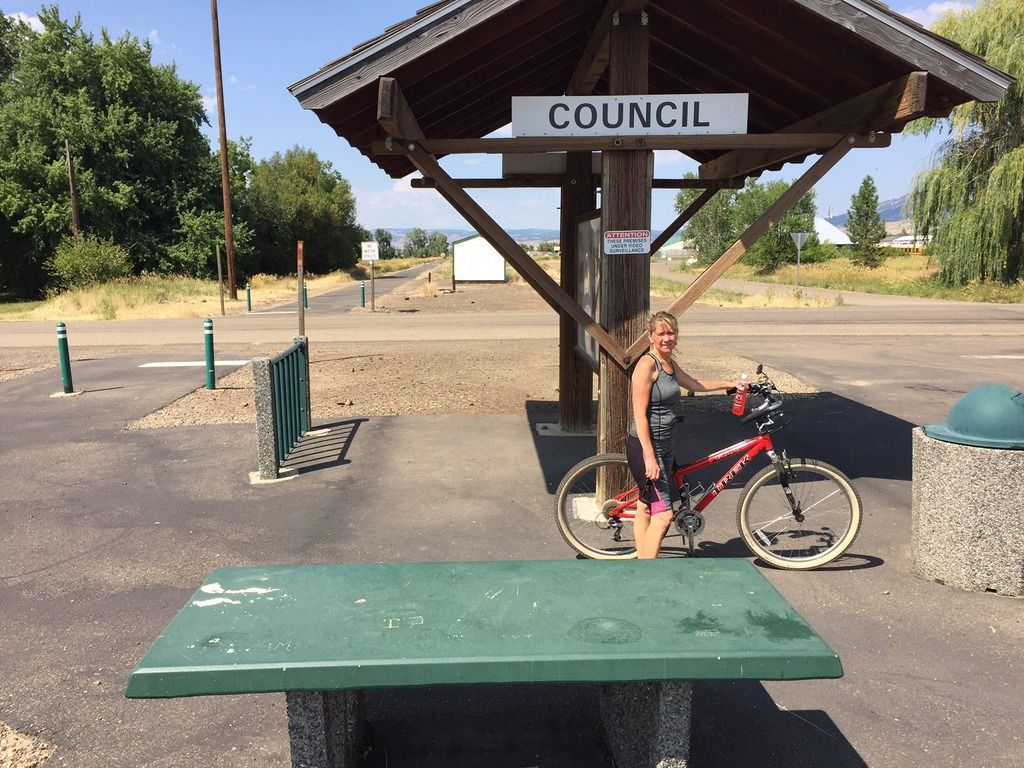 A hot and tired Leesa, ready for a ride in an air-conditioned car. Note the shed in the background – the porta potty is right behind it.
We haven't been on the Cambridge to Council section but apparently there is a hot springs along there. After riding in 95 degree weather, a soak in hot water didn't sound all that great, but later in the year it might be much more appealing.
To Sum Up, and some random blathering about printed materials
The Weiser River Trail is a nice change of pace and scenery from some other local trails, like the Boise Greenbelt. It's close enough to get to with a relatively short drive (relative to driving up to Coeur d'Alene, for example), but far enough and unknown enough to provide some solitude while out riding. It's also long enough to provide multiple opportunities to ride it without seeing the same thing twice, unless you just have to do the whole thing all at once. The other nice thing is that all the access to the trail is along US 95 north of I-84, which is a scenic drive and not as winding and congested as Hwy 55.
If you are an old fashioned type who likes paper maps, the BLM 30 x 60 minute (1:100,000 scale) maps are a good resource. The two that cover the whole trail are McCall and Weiser. These maps are available for $4 each at the Forest Service offices on Vinnell Way across from Walmart, and across from NIFC on Development Ave. over by the Boise airport. Just remember that they still show the trail as railroad tracks, and you'll do just fine.
Other resources include a nice brochure about the trail, if you can find it. They have them at the Colonial Motel in Weiser, which also provides a shuttle service for cyclists. I haven't used it, so I can't say much more about that. They are on Main St. west of 95, near the McDonald's restaurant.
Save