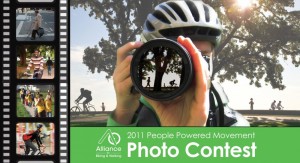 The Alliance for Biking and Walking in Washington DC invites you to enter your best photos of biking
and walking in the 2011 People Powered Movement Photo Contest–for
a chance to win great prizes, have your images featured in Momentum
magazine, and help build a free, online library of high-quality
pictures for bike-ped advocates across North America.
The People Powered Movement Photo Contest addresses a critical need for bicycle and pedestrian advocacy organizations. Bicycle and pedestrian advocates need high-quality images of biking and walking to make their campaigns and communications both professional and engaging.
You can also win great prizes from one of their sponsors! Winners will be announced in early 2012.