Yesterday I decided I needed an attitude adjustment. So I went for a 2 1/2 hour bike ride. And it worked! Riding even a short distance can change the thought patterns in the brain. It was about 42 degrees F. when I left and about 39 when I returned. Other than the toes I was quite comfortable for the whole ride. In fact when climbing the hill to my turnaround point, I ended up shedding my jacket.
Unless there is snow on the roads, it's possible to ride all year round. Some people ride when the roads are snow covered, but a fall on the ice happens too fast and I don't think it's worth it.
Here's the list of what I wore:
A thin skull cap that will fit under the helmet keeps the ice cream headache away. I saw some other riders out with face protection too, but they are pansies.
For a base layer on the upper body I wore a long sleeve polypropylene t-shirt. I wore a pair of lycra bib-knickers too. I like the way bibs fit and prefer them even in shorts. The knickers add a little extra protection to the knees, and it's important to keep those moving joints warm.
For a thermal layer on the upper body I wore my wool trainer. I can't imagine not having one of these in my winter wardrobe.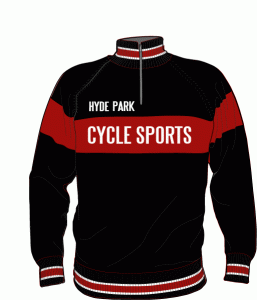 For the outer layer I wore a pair of nylon shell pants and a cycling jacket made out of nylon and spandex which is virtually impervious to the wind and yet breathes.
The hardest things to keep warm are the feet and the hands, and if they are toasty I'm comfortable. But if my hands or feet are cold it can be miserable. The winter shoes I have are insulated and are made with waterproof uppers.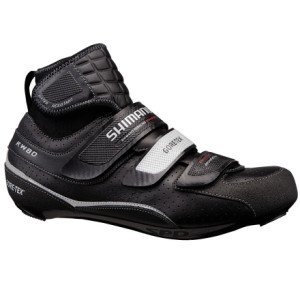 I used a wool blend, crew sock, and my toes were a little cold by the end of the ride. I probably should have put my toe warmers in before I left.
My hands, however were happy in their neoprene "lobster gloves"
If I'm touring in cool or cold weather the days are completely tolerable but, for me at least, it is critical to plan on being somewhere with hot showers available at the end of the day. The perspiration from a days riding will keep the body much too cool for comfortable sleeping. And it's important to change the base layers to clean, dry items when chilling at the end of the day and for sleeping. Wool works great because it won't absorb the perspiration and you can wear it when riding and still use it at night. And you can wear a wool jersey for days without washing it. Trust me.