If you follow any of our posts you have already noticed we aren't afraid of touring on dirt and gravel roads.  In fact in the last few years we have probably covered more miles on dirt than on pavement… AND we cover most of them on loaded touring bikes. Certainly, riding a fully loaded touring bike on dirt/sand/gravel is not the same experience as the rider on a "fat" bike or a "mountain" bike.  Sometimes our descent will be slower or we may have to walk a few stretches but overall we rarely shy away from following that enticing road and going exploring.
The last few weekends have found us seeking sunshine in the Big Jacks Creek Wilderness Area, south of Boise.  Evan Worthington, the Owyhee Wilderness Ranger from BLM took the time to share his knowledge and passion for the area at a recent Wandering Wheels meeting (a loose group of people who like to ride bikes).  What makes the area special for biking is the existence of many cherry stems- from the BLM website:
"Cherrystems are spurs of roads in Wilderness areas that do not themselves have wilderness status. The boundary of a Wilderness area extends up one side of a cherrystem route, around its terminus and down the other side of the roadway, to allow for motorized or mechanized activity on the roadway that is prohibited in the Wilderness area.
The Omnibus Public Land Management Act of 2009 also designated a few cherrystem routes that cross entirely through the Big Jacks Creek, Bruneau-Jarbidge Rivers, and Owyhee River Wilderness Areas.
All cherrystem routes are signed and open to motorized and mechanical transport unless posted otherwise. Please stay on established cherrystem routes to protect adjacent wilderness."
Evan also blessed the shop with several excellent maps of the area so if you live near by feel free to come in and plan adventures.  The recent ride involved a section of road that is best described as double track.  Some sections were rocky, others quite sandy and a few of the descents would be described as somewhat challenging regardless of the type of bike a person was riding.
Roads really aren't my topic though.  My topic is what bike can I, do I, choose to ride for Adventure Cycling.  My answer is – it really doesn't matter – much; I am taking a big leap of faith that if you are reading this, your bike of choice probably isn't of the road racing variety.  Taking a bike with a tire narrower than 32 mm may lead to frustration but other than that we say don't underestimate the ability to try the intriguing dirt road on your current bike. (see Chris Kostman's Rough Riders Blog)  Understand that the riding experience will not be the same as a full suspension mountain bike and personally, we think that is fine.  Our group of back road adventures often will have a wide variety of bikes – Touring style, Mt. Bike Style, Fat Bike Style, Adventure Bike Style.  Some cover ground faster than others but everyone who shows up to ride realizes we are in a group and nobody seems to get their bike shorts in a twist about waiting for others or having others wait for them.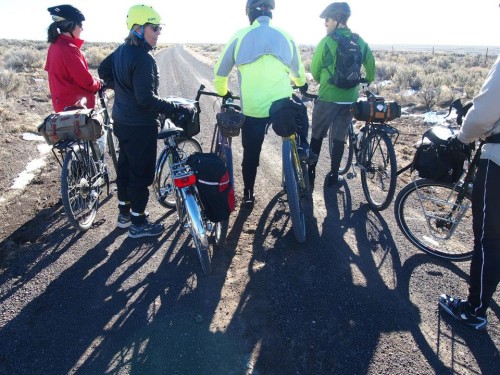 Things to consider and to include on your adventure:
Tire Width & Tread –  A width of 32 mm is a minimum.  Skinny tires don't do well in soft dirt, sand or deep gravel.  Tread – while I have ridden my Gran Boise Hetre's on many dirt roads & also have used Schwalbe Marathon Supremes I do need to pay attention to loose/deep gravel and have walked sections others have been able to ride because these tires aren't heavy on the tread.  Don't over inflate either!  If anything start out in the mid range of PSI for your tire and adjust accordingly.
Pedals & Shoes – I have the Shimano A530 which is a two sided pedal, giving me the option to clip or go clipless.  I typically ride clipped in and will clip out if I am concerned about needing to put my foot down quickly on a tricky descent but ride with many who don't use a clipped in style.  Some use a BMX style pedal.  The 45North pedal with the hi traction pins are great for those who don't want to be clipped. The Power Grip is another alternative.
Bags & Bottles – For day trips or overnighters I never ride without at least one bag on my bike.  We have had many discussions about to ride or not to ride with a front bag.  The front bags we like and offer for sale rest on the front rack so the weight is on the tire and not weighted on the handlebar but others will argue that the weight of the bag affects the handling.  Once again I will just say riding a loaded touring bike on dirt/gravel is going to be a different ride than a bike with suspension sans bags.  If you ride in heavy brush or trees, using panniers can be an issue.  Frame bags aren't just for Mt Bikes and work quite well on touring and adventure bikes.  Several of our biking buddies take their hydration packs for back road rides.  I don't happen to own one so I always make sure I carry plenty of water and we often will throw the water filtering devices in the seat bag if we know we will be in an area that has water.  For day adventure rides I take a saddlebag.  This last trip I used a Frost River Gunflint Trail and had so much room I carried extra clothes for a few others.
Be Prepared – Day trips or overnighters; always bring more than you think you'll need.  Getting stuck out in the middle of nowhere and not having the right tools, clothing, food is not going to be any fun for anyone.  We always have the essentials – tube, patch kit, pump, tire irons and other simple tools.  In addition- strike anywhere matches, flint tool, tactical flashlight, emergency blanket, first aid kit, chemical toe warmers, jacket, hat, gloves and pants (based on the season) and extra food – fruit, nuts, gorp, sardines or whatever you'd appreciate if your ride takes a sudden unexpected turn.
Riding a touring or adventure style bike on loose gravel, deep sand or rocky roads does take some practice.  Learning to power through deep sand and to not back off when hitting the unexpected were two things I had to concentrate on when I began to leave the pavement.  Rough roads can be tiring on the hands and the arms, but at the same time perhaps that reminds you to stop, take a break, enjoy the scenery and remind yourself it's about the journey, not the destination.