Day 1 was not exactly what I had expected. I knew it wouldn't be easy but this was down right miserable. The first 18 miles to Jackson MT were painful to say the least.  A head wind, of at least 75 miles per hour (no it was probably like 10-15 but still), and it was all uphill. Gradual uphill at first and then there was Big Hole Pass. At 7,400 feet, I have never been so happy to reach the top of a mountain that I wasn't about to ski down. The rest of the ride into Jackson was downhill and so my faith in bike touring was restored. Rose's Cantina in Jackson makes a great chicken sandwich and it was comforting to know that the Bike Hermit likes to stop for food whenever possible. Our waitress promised that the next 20 miles to Wisdom MT were flat, we smiled politely, knowing that there is no such thing as a flat road in bike touring.
The last time I was in Wisdom, I was on a fishing trip about 5 years ago. I was with my boyfriend at the time and we were clueless about the remote ranching towns of Montana. We came in on a Sunday afternoon with nothing but the Antler bar open for business. We drew straws for who would be the one to walk into this wild west looking establishment to inquire about getting a Montana fishing license. I'm pretty sure he lost, even though I was the one who eventually sucked it up and went inside. The heavy wooden door creaked as I took a deep breath and slowly pushed it open. The chatter of the mostly middle-aged, male crowd silenced as they turned to look at this 20 something city chick who had just walked in. I managed to squeak out a few words, explaining that we were from Oregon and hoping to fish the Big Hole River that evening. All but one continued to stare at me as if I was from another planet. The man that did respond appeared to have been in some horrible combine accident, as evidence by the hook that replaced his right hand. He used this hook to elaborately describe the locations we might want to explore and where we could possibly get a license to do so. I'm not going to lie, I have no idea what he said, I spent the entire interaction telling myself not to stare.
Long story short, Wisdom is full of the kind of characters you will be telling your friends about for years. Not to mention the very delicious homestyle food of the Crossing Cafe.
We were greeted on day 2 by a layer of frost covering the Hennessy Hammocks, thus a slow start ensued as we had to wait for the sun to warm our numb appendages and dry things out before packing them back into panniers. The most important meal of the day consisted of fresh coffee, homemade bagel sandwiches and sticky buns from The Crossing. As the sun rose in the sky, a shift in weather patterns gave us a much appreciated tail wind for the next 40 miles to Wise River. The day was not without it's faults however. Being a novice bike tourer on a new to me bike, I was still getting the hang of the fancy new equipment. As the distance grew between myself, the Bike Hermit and Sky King, I was starting to worry that day 2 would find me abandon on the side of HWY 43. A quick stop to shed layers revealed to me that I had neglected to remove my click stand brake straps, which had been causing unnecessary resistance and explained my sluggish start. Thanks to this discovery and the little push from mother nature, the first 20 miles flew by. We made our first fishing stop of the day, on the Big Hole River. While the wind made casting difficult, the Bike Hermit landed his first Arctic Grayling on his borrowed Tenkara fly rod. Lunch consisted of leftover sweet roll, government approved ham and cheese sandwiches and underripe avocado slices. Despite the bleak description, lunch on the road is one of the most rewarding meals you will eat. Had the time allowed, I would have liked to fish the Big Hole longer but we still had 20 miles to go before reaching the town of Wise River, not including an estimated 10 beyond that to find a place to camp. By this point in time, I knew the rule about stopping for food and knew that a cheeseburger was in my near future, this helped when the last 5 miles proved to be more uphill than I would have preferred. This is where I made another of my many mistakes, I ate too much. The aforementioned lunch was not cutting it and the mushroom swiss burger at the Big Hole Club was too tempting to pass up. Back on the saddle I was sluggish and an old ski injury in my right meniscus was flaring up to the point that I was almost in tears. As is customary at the end of the day when you're tired and sore, it was uphill with a headwind into the national forest where we planned to camp. After some seat height adjustments made by the Bike Hermit and some audible grunting sounds, we made it into public lands and began scouting an area to call home for the night. Crossing over the Wise River, Sky King and the Bike Hermit made the collective decision to stop, sub240babe did not get the message. By the time I realized I was about to run into the back of Sky King's bike, it was too late, I swerved and attempted to click out of my pedals. What followed was a graceful slow motion crash into her panniers and a sharp turn into the side rail which nearly pitched me over into the river 30 feet below and left me with a nasty bruise on my right wrist. This was when I cried. I cried not because it hurt, but because I was exhausted, I was dirty and I was so over riding my bike 40+ miles a day. We set up camp, the Bike Hermit dug out a Kettlehouse Double Haul IPA for me to drink and we spent the rest of the evening catching brook trout as the sun faded over the Pioneer Mountains.
Day 3
Recharged and ready for what promised to be an epic day of fishing and riding, we eagerly ate our steel cut oats, cleaned up camp and hit the road. The first 30 ish miles of the Pioneer Scenic Byway are picturesque. I mean this place is straight out of dreamland, that is if you dream about trout streams and riding your bike in Montana. The Bike Hermit took the first opportunity to pull over and fish, I had a hunch that it would only get better, and so I pedaled on. The Wise River widens as the highway takes you upstream and several small bends followed by deep pools allow for plenty of places for trout to take refuge, unless of course you're armed with a Sage Vantage 5 wt and a few mayfly patterns. You could easily spend 3 days biking just this 30 mile stretch, stopping to fish whenever and wherever you felt like it. As the river dropped further to the west, we began our ascent. Yeah so that pass I mentioned on day 1, while it was a hell of a lot steeper, the pioneer mountain climb is literally never ending, or at least that's what my legs were telling me. I chased visions of the polka dot jersey up into the sky until we reached the "top". 1st rule of bike touring, the top is never the top, you can NEVER reach the top. So after coming to the top of a mini Mt.Everest, the scenic byway turns to rolling hills with marshes more suitable for moose than trout and I go back to my counting to 100 to keep from laying down in the grass and declaring "just leave me here". At last, there was a descent, a sweet, steep, beautiful descent. The downhill takes you past Elkhorn Hot Springs and Maverick Mountain Ski Area, before opening up into farmland for our last 10 miles back to the cars. I use this time for reflection. I hold on and look up, thanking the stars above for allowing me to have this adventure, and I begin thinking about the 22 oz Stone Vertical IPA I have waiting for me in the cooler back at the car.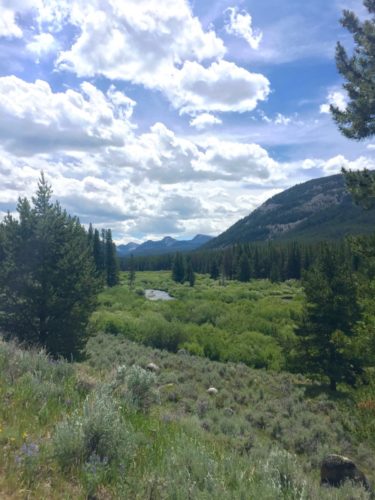 A shot of The Wise River along the scenic byway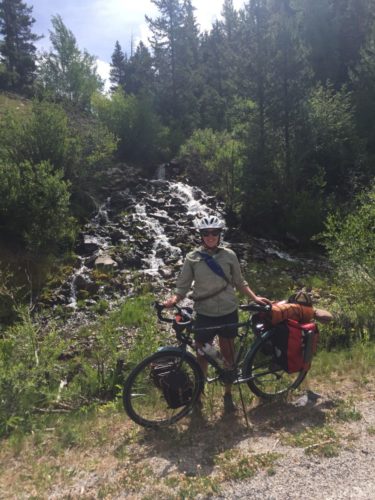 "waterfall" photo op. Photo credit: Sky King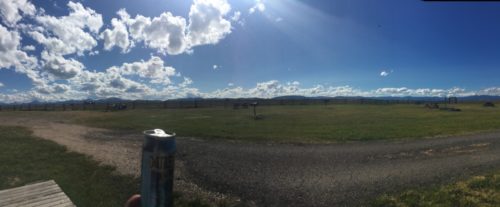 VFW campground in Wisdom, MT. 10/10 would recommend.