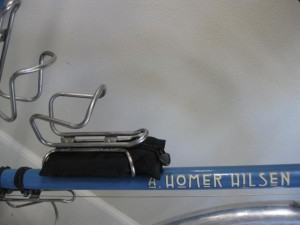 Dear Bike Hermit,
You're the coolest and this blog is the best. I want to be just like you so I want to get a super-cool King Cage Behold Tool Pouch. But I want to know what you carry in yours.
Thanks, and keep up the good work
Les in Tuscaloosa
Les in Tuscaloosa,
There are many people cooler than I am, and there are probably better blogs but thanks for your comments. I agree that the King Cage Behold Tool Pouch is super-cool, in fact I think it is one of the best ideas I have seen in a long time. In case you missed it I did this blog post about it a while back. But now that you mention it I realize I never talked about what can be carried in it. So here's a list of what I carry in mine:
-A chain tool
-A cassette lock ring tool
-A spoke wrench
-A few links of chain and a quick connect coupler
-Spare bolts for seat post, racks and shoe cleats
-Spare bulbs and parts for my bike headlamps
Nothing I carry in the tool pouch will ever need to be accessed in a hurry, in fact those parts and tools may never need to be used at all, but if I ever need them they could be life savers. I did a blog post about the cassette lock ring tool that you might want to look at. If you don't know what the other tools are for or how to use them… Google it, that's what YouTube's for brah. I read about a lot of people who go for extended tours and write proudly of barely knowing how to fix a flat tire. Don't be that guy. Take your bike apart and put it back together. At least loosen the brake cables and the brake shoes and try to get them adjusted again. Do the same thing with the shift cables. Take a class at REI. Take the tires off the rims and put them back on. You can thank me later.
Oh, and carry the things you most likely will need at some point, such as spare tubes, tire levers, a multi-tool that has 4, 5 and 6mm hex wrenches and both kinds of screwdrivers, and a y-shaped socket wrench with 8, 9 and 10 mm sockets on it in an outer pocket of one of your bags where you can get to them quickly.
To make it easier for you there are now a couple of new package options on the Bike Touring News store. One option (Tool Kit #1) is for the tool pouch with all the tools I carry in mine…. minus the spare bolts and light bits and chain pieces. You're on your own for those. The other option (Tool Kit #2) is to buy the whole caboodle which includes Tool Kit #1 plus the y-shaped socket tool, a multi tool with hex wrenches and screwdrivers, and a set of tire levers.
Hope this answers your question Les and remember the 7 P's; Proper Prior Planning Prevents Piss Poor Performance.
Best Regards,
Bike Hermit