So, the question came up about which brake lever to use on a Nitto Grand Randonneur handlebar. That's sort of a two part question. In order to answer it we need to delve into brake calipers. Some common brake calipers are:
Cantilever
Sidepull
Center Pull
Linear Pull a.k.a V-Brake
Stupid v-brake. It throws a monkey wrench into the whole works. Even though they work great and have fantastic stopping power, they use a different leverage than the others to work properly. So whatever lever is used with these calipers, it needs to be v-brake compatible.
"Drop" or "road" style handlebars are of a standard diameter at the point the brakes are meant to clamp to the bar. So any lever that looks like this will work:
These are also called "aero" brake levers because, rather than exiting the top of the lever and looping over the handlebars, the cable and housing exit under the hood and run along the handlebar, under the wrap, for a nice clean look.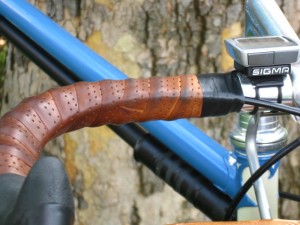 The Cane Creek and Tektro levers have a feature known as the Campy style quick release which is a button that releases the cable tension allowing the brake calipers to spread out to clear the tire when the wheel needs to be removed. It's called Campy style because Campagnolo (Campy) brake calipers do not have quick releases.
Shimano aero brake levers don't have quite as wide a hood which results in a more classic look. And they don't have the quick release feature on the brake lever, again maybe not a problem since most brake calipers will have a quick release.
The drop bar brake levers we sell will fit on any of the drop bars we sell. and they will work on the not-so-ironic
moustache bars
too. Just be sure, if you have v-brakes to get the Tektro RL520 v-brake version. The other standard levers will work with cantilever, side pull or center pull brakes. And finally if you're replacing a handlebar or just the brake levers you might want to get a cable and housing kit to replace the old set.