Journalism is a tough business. Those not involved don't understand the sacrifices reporters make in order to enlighten and entertain them. As an example, I could not get the wi-fi connection to work at the Woodland Empire brewery and I had to walk almost 200 feet to Pre-Funk tap room in order to find a decent connection. Somebody's got to do it though.
It's always encouraging to me when I talk to an entrepreneur who has been involved in the bike business for a long time and is still so excited about what they do that they will talk my ear off about their product or service. Channing at Old Man Mountain is one example, as is Chris Kostman at Rough Riders- Any Bike Anywhere (Chris, why are there no new blog posts?)
Jeff Jones has to be included in this company.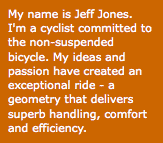 He is an iconoclast who developed his own line of bicycle frames and what may seem like a somewhat unconventional handlebar; The Jones Loop H-Bar®. Surly Bikes even commissioned an extra long version of the bars from Jones for their ECR, Troll and Ogre bikes. We have sold several sets of these bars and are currently experimenting with them- the Bike Hermit has them on the Big fat Dummy and Sky King has them on the ECR.

We even installed them on a Surly Disc Trucker, an experiment which revealed that bar end shifters fit.

The other interesting feature that has become apparent, thanks to friend Wendell, is the ability to annex bags ostensibly made for saddlebags, as seen in these photos:
The astute reader will notice that in most of the photos the ends of the bars have a thick foam grip. These are ESI grips for the Jones bars and they come in two lengths; 6.25 and 8.25 and two thicknesses; Chunky and Extra Chunky. Surly chose to not use the matching grips on their bikes…an oversight I hope is remedied in the next production run.
Some of the pictures also show padded tape wrapped around the welded junction of the loop part of the bar. This turns out to be a fine alternative hand position with these.
Two widths; the original 660mm and the Surly inspired 710mm. Two colors; black and silver. Aluminum or titanium. One clamp size; 31.8. Mr. Jones doesn't allow us to sell them online but if you are in Boise, we have them in stock. Otherwise, order from jonesbikes.com