I recently changed handlebars on my A. Homer Hilsen. Going from the 48cm Dirt Drop bars to the same model in the 52cm width will hopefully provide a more natural position for my arms and give better stability for the loaded bike. The clamp bolt on one of the brake levers was somehow stripped or cross-threaded and seized in the clamp, necessitating the use of the handy Dremel tool to cut off the clamp.

I decided to replace both brake levers with Tektro's new TRP levers. Aesthetically, these might not be everybody's cup of tea, especially this drilled out version. The levers themselves have a somewhat tortured looking shape and the hoods have the almost obscene protrusion of STI style brake hoods. But using these levers, it quickly becomes clear that this is a case of form following function. The long, flat hoods provide a comfortable platform for the hands and the shape of the levers fits the fingers naturally. Somehow the design even manages to provide more mechanical advantage – my side-pull brakes seem smoother, more responsive and more powerful. The flared out lower part of the levers are easy to grab either from the hoods or the drops.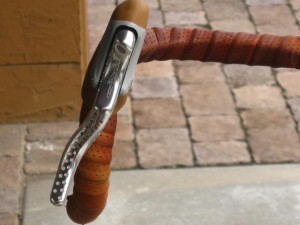 While I was at it, I decided to try to clean up the Brooks leather bar tape which had turned almost black from accrued hours of contact with my grubby mitts. I filled the sink with warm water and a little bit of dish detergent and lightly scrubbed the tape with a dish washing brush, rinsed it off and immediately installed it. Wrapping the bars with wet Brooks tape does a couple of things: it lets the tape stretch so that it wraps smoothly and when it dries out it conforms like a skin to the handlebars. A light coating of Brooks Proofide after the tape has dried completely adds back moisture and effulgence. This is the second or third time I have removed and re-applied this wrap, wetting it each time first, so, even though the Brooks leather tape is more expensive than other materials it is extremely durable.