The Bike Touring News store stocks two different versions of the Nitto Dirt Drop handlebar. The main difference between the two, or so I thought, is the diameter of the bar at the stem clamp sleeve. The RM-013 is 26.0mm and the RM-014 is 31.8 mm. I recently did a side by side comparison and was surprised to see just how different these bars are, not only in the clamp diameter but in the overall shape.
The bars in the above photo are both 52's. That means it is 52 cm from the center of the end of the tube on one side to the center of the end of the tube on the opposite side. Even though both bars are the same width at their widest, or the bottom of the flair, the top, flat part of the RM-014 begins curving to the drop much closer to the center of the handlebar, resulting in a narrower top section and a wider flare.
From the side the differences are not as pronounced. The bottom flared portion of the RM-014 on the left may be a slight bit longer and the bend a little bit sharper.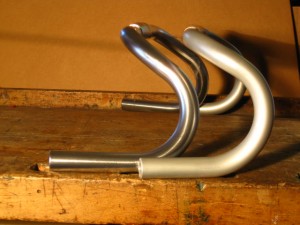 For a bike that will be ridden mainly off-road, the Rm-014 might be a good choice with the ramps at a little more of an angle (like in the last photo) and the brake levers mounted a little lower to make riding in the drops more comfortable.
But this picture I find to be the most interesting: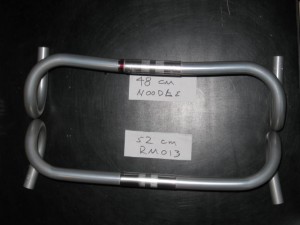 The 52 cm RM-013 is very similar to the 48 cm Nitto Noodle bar, it just flares out a little more and doesn't have the slight return bend on the tops. A Google search revealed why. Grant Petersen from Rivendell designed both bars. The Dirt Drop was original equipment on the 1987 Bridgestone MB-1 and the Noodle was a replacement, with a few tweaks, for the Dirt Drop when Nitto stopped making them due to lack of a market. Now they are making the Dirt Drop again, in two versions. I personally like the extra flare on the RM-013 and I use them on my touring bike.
Either bar will accept bar end shifters and road style brake levers. The RM-014 is a few grams heavier in any given size and it comes in 50 amd 52 cm widths. The RM-013 comes in 46, 48 and 52 cm widths.