On my everyday bike I have been using a Power Grips Pedal Kit.
These pedals use a unique diagonal strap to hold the rider's foot more or less in a stable position. A metal bracket screws into the holes on the front face plate of the pedal and secures one end of the strap.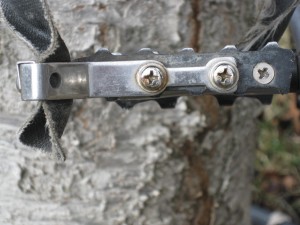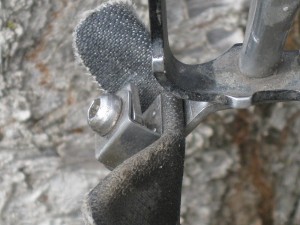 The other end of the strap is bolted to the rear of the pedal on the diagonal. The straps and brackets are sold separately too so any pedals with screw holes for toe clips can be used.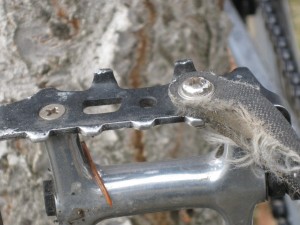 Sliding the foot in at a slight angle and then straightening it causes the strap to tighten.
Nearly six years of almost daily riding and they are holding up quite well, thank you. The sealed bearings are still smooth thanks in no small part to the threaded dust cap which keeps the road junk out.
The high performance version uses aluminum alloy for the body and cage, which for the touring cyclist makes more sense from a durability standpoint the the sport version which incorporates a plastic body. Sealed cartridge bearings and a steel axle contribute to low maintenance and longevity. Theoretically the pedals could be rebuilt if the bearings became worn by removing the axle and pressing out the old bearings and pressing new ones in.
I like these pedals for around town because literally any shoe will fit and the leather strap won't scuff them up. They are easy in and out and they hold my foot enough that I don't have to worry about slipping off the pedal. Starting off from a stop can be a little sketchy because I never know if  the straps will be on the top or bottom. On a pedal with toe clips the clips are heavy enough that the pedal will always be upside down, and it's easy to use the quill on the pedal to flip it over and slide the foot in. These pedals would work great for a person who is unsure about using clipless pedals for bike touring.