I judged the entries by how they incorporated the mandatory design features outlined on the Oregon Manifest site:
-Anti-Theft System
-Fender System
-Lighting System
-Load System
-Free-Standing Under Load (While Parked) System
With a heavy bias toward integration, quality of execution and aesthetics.
In no particular order, I thought these bikes were outstanding.
YiPsan Bicycles
This bike has a two legged kick stand and, depending on how the load is distributed, is balanced in such a way that either the front or rear wheels are off the ground, facilitating flat tire repairs.
There is a Dutch bike style lock which is attached to the frame and locks the rear wheel so that it can't be turned, and Renold inserted a braided steel cable into the seat post of the bike which can be pulled out and locked into the wheel lock mechanism.
With fenders, internally geared rear hub, belt drive, generator lights and great load carrying capacity, this bike's got it covered. And it fits Leah like a glove.

Bauhinia – YiPsan Bicycles from YiPsan on Vimeo.
The more I looked at this bike, by Geekhouse, the more I liked it. I talked to the builder at the lunch stop and took these pics.
I thought this was a really creative frame design. Not a traditional double diamond frame, rather an inverted curve or an arch, the other strongest shape, basically forming the seat stays and rack. The double top tubes curve down and sweep back to form the rear rack, also establishing a low stand over height.
The rear skirt guard and front fender design could be improved to provide better spray coverage. And again the ubiquitous Shimano Alfine internal gear rear hub and front dynamo hub. The front light was actually integrated into the stem.
The shaft of the u-bolt lock is built into a short piece of tubing welded to the two pivot points on the top tube. The shackle portion of the lock is strapped down when riding and pivoted up and removed to lock the bike to a post or bike rack.
Another bike I was drawn to is the Fremont a collaboration between Ziba and Signal Cycles.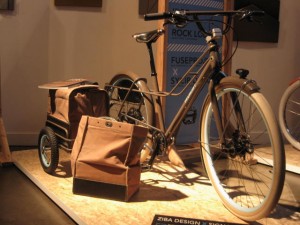 This is one of several side-car designs at the event, but it seemed like the most practical of the bunch to me because the side car folds up over the rear fender to become a rack. And the side car met the additional requirement of providing a support for the parked, loaded bike. The canvas bags were made for the team by a local Portland seamstress.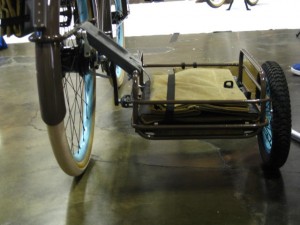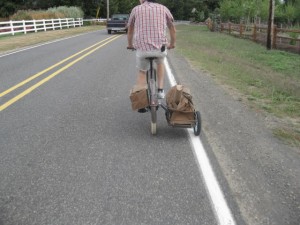 I thought these bikes met the challenge requirements in elegant ways and I can see how they would be practical and functional in the real world.