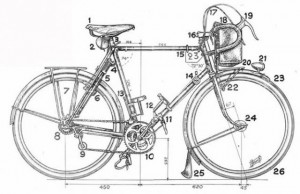 From the site of the Oregon Manifest:
The two-wheeled revolution won't come on the saddle of a race bike or a specialty bike. The utility bike is the transportation mode of the future for millions of Americans who want to live healthier, more sustainable lives, but don't think of themselves as "cyclists." The key to realizing this future is thoughtful, innovative bike design that fills multiple needs and fits into their lives.
Stronger, lighter, simpler designs for bicycles and bike parts are not always the progeny of racing. In the early part of the last century, trials were held in France which rewarded lightweight designs capable of completing really difficult courses in a self supported way without breaking. The Oregon Manifest is resurrecting that tradition, and that can only lead to good things! Of course, the cynic within the Bike Hermit's soul expects representatives from companies which shall not be named but whose initials are Trek, Gary Fisher, Specialized and Giant to be there in force to steel and deploy ideas from the best minds in bicycle design. Oh well, it's not as if it's a zero sum game. The more utility and transportation bikes the better I say.
The Oregon Manifest Field Test
The moment of truth in the 2011 Challenge will be the mandatory Oregon Manifest Field Test. This rigorous road trial will assess the real function of every bike in the challenge, in real world environments including hills, byways and off-road sections. It will include several on-road check points where mandatory features of each bike will be evaluated. The Field Test requires riders to keep a brisk pace that will stress their bikes to the limit, and demands a well-crafted, expertly assembled entry in order to complete the route in good time. Final evaluation and point tabulation will occur after all bikes have completed the Field Test.