With over 30 entries the 2011 Oregon Manifest Constructor's Challenge is a challenge for the reporter. I have decided to break the reviews up into categories, the first installment of which will be cargo bikes. These are bikes loosely in the tradition of the Dutch Bakfiets or freight bikes with a large platform or container in front of the front wheel or in between the two wheels.
This bike was a collaboration between Metrofiets, Tonic Fabrication, Suppenkuche, Vulture Cycles, and Bespoke Cycles. You can listen to our interviewwith Phillip Ross from Metrofiets in Portland, OR.
The Oregon Manifest Creative Collaborations partner three of the world's top design firms with accomplished custom bike builders, to push the boundaries of what a modern utility bike can be.
This bike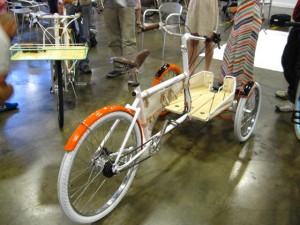 was a collaboration between Fuse Project and Sycip Cycles. For the first ten miles of the ride part of the challenge this bike carried human cargo. It didn't look too comfortable, but showed that the bike was capable.

Francis Cycles is Joshua Muir from Santa Cruz, CA.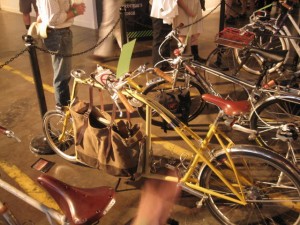 Podcast: Play in new window | Download