Thursday August 4th: Prairie City to Dayville
The ride to Dayville was easy enough, a "flat" road and very little wind allowed me to easily make the 44 miles in just under 4 hours. I had pretty big expectations for Dayville, The Bike Hermit had gone through these parts in April and loved it. By the time I reached town at around 11:30am, it was already 85 degrees and shade was rapidly becoming sparse. I pulled off into the RV park to fill up with water and get my bearings. I knew that there was a hostel in town but wasn't sure as to where. I googled directions and began climbing a short but steep hill to the left of the main street. I was starting to doubt the directions Siri had provided so I decided to stop and double check my location. With legs like jello, clipping out of my pedals was much more difficult than anticipated, combine that with the steep incline and it took about 5 seconds for me to end up on the ground, left foot still attached to the pedal. I collected myself and decided to just go back to the RV park and ask for directions from a real live human being. I stopped at a church in front of the park to wipe away the blood that had begun to run down my leg and pool in my shoe. Now whether you're in the medical field or not, you can probably gather that if someone is bleeding from their knee, they're most likely not in the greatest mood ever. The RV park host apparently didn't get this message and informed that I needed to pay the $10 or leave. I was on the verge of crying at that point, mostly out of frustration, and told him I would if he gave me directions to the hostel. He pointed up the road behind me and so with blood still leaking from my wound, I pushed my bike up another small hill and into the yard of the Dayville Presbyterian Church.
The Church has played host to bicycle tourists for over 10 years now and the map on their wall shows that people have come from all over the world to ride their bikes into Dayville. While the "host" herself does not reside in the hostel, she did let me know that the rules are to be strictly followed, and reminded me that  "he is always watching", meaning that god would know if I drank my beer in the shower, even if she didn't. So I unloaded my panniers and took my PBR tall boy to the park where I could soak my sore legs in the South Fork of The John Day River. The town of Dayville is small but has all the necessities, one restaurant, one grocery store, a post office and even a small bicycle repair shop. The city park hosts a dual tennis court, basketball court combo, just make sure to remove the tennis net before attempting a full court press. Upon returning to the Hostel later in the afternoon, I found that a large group of trans-am riders had arrived. Varying in ages from 11 to 45, the group was on their last leg of a cross country tour. They had all but entirely moved into the shared living space and so while I went around moving my things out of the way I attempted small talk. Turns out they were averaging about 80 miles a day and scoffed when I told them I had come from less than 50 miles away that day. I started to feel defeated and weak. I felt like a wuss and I felt that even though my friends on Facebook seemed impressed, maybe I wasn't doing anything that special after all. Bike touring is 80% mental and this minor incident, to me, was equivalent to pulling a hamstring muscle. I quickly refilled my water bottle and grabbed my book, I wanted to get as far away from these obnoxious overachievers as quickly as possible. I ended up sleeping outside that night, apparently these guys ride hard and then party hard and at 10 o'clock they were still wide awake singing campfire songs, probably just to be annoying.
Friday August 5th: Dayville to Mitchell
After a restless sleep, I packed up quickly and hit the road just as the sun was coming up. I was expecting a pretty hefty climb for the day and didn't want to tackle it in 90 degree weather. The pass was gradual and although 75% of my day was spent on an incline, it really wasn't all that bad, physically. Mentally however, I continued to struggle. As I mentioned before, I had planned to be in Montana, riding my bike to Bozeman. I was planning to ride to my nursing school graduation. I was flooded with emotion about should of, could of, would of situations, along with the feelings that my 40 mile days in the saddle were less than impressive. By the way I'll still be graduating, it will be in December though so a bike trip across Montana in the middle of winter might be slightly more difficult. When I made it to the top of Keyes Creek Summit, I was so ready to be done for the day. Right before I reached the summit, another tourer had just reached the top and was making his way down into Dayville in the opposite direction. He looked over and I waved enthusiastically. He shouted words of encouragement and told me to stop at the hostel in Mitchell because it was "totally awesome". I had already arranged to stay there and I was now even more excited to be heading down the hill into town.
The town of Mitchell resembles that of a deserted mining town, old wooden buildings house a grocery store, a restaurant and a trading post. Don't let it's size fool you though, with a population of just 130 people, Mitchell is happening place. Tiger Town Brewery, officially opening fall 2016, currently consists of a small camper trailer turned hot wing cart along with several shade covered picnic tables. With free wifi, honky tonk tunes on the radio and a few local beers on tap, I was fully satisfied to spend the rest of my afternoon here. Prior to my adventure into town, I had stopped by to check in at the Spoke'n Hostel. Right off the bat, Jalet was more than accommodating. Along with 6 bunk beds, the hostel has a fully stocked kitchen, two bathrooms and an outdoor shower and firepit all for a suggested donation of $30.00. She was also kind enough to offer a tour of the Painted Hills, one of the seven wonders of Oregon. She totes cyclists the 15 minutes at sunset in her Subaru Outback and ensured me that it was an event I wouldn't want to miss, I didn't admit that I had been looking forward to going for years. I came to share the cozy old church with 4 other cyclists, a couple from Holland and two guys on cross bikes from Portland. It was a relief to spend time with people who were positive and encouraging about bike touring and who held the same philosophy as myself, that it should be fun. I loaded up with Peter, Marika and our host at 7:30pm to head out on our field trip. Breathtaking is probably the only word I can come up with to describe the amazing scenery of this part of Oregon. Layers of earth, millions of years old, have been exposed to reveal layers of rust colored earth mixed with the brown desert background leaving the landscape to look almost unreal, like a painting. Ice cream sundaes topped off the evening and I slept soundly for the first time since starting my trip.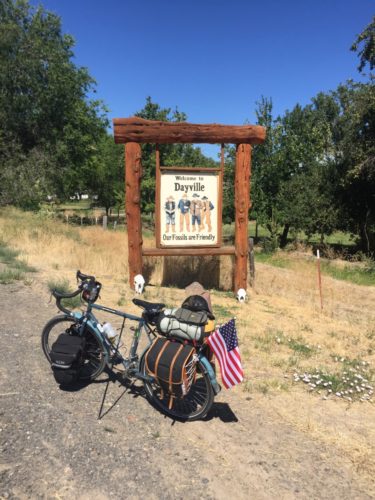 Welcoming image of Dayville Oregon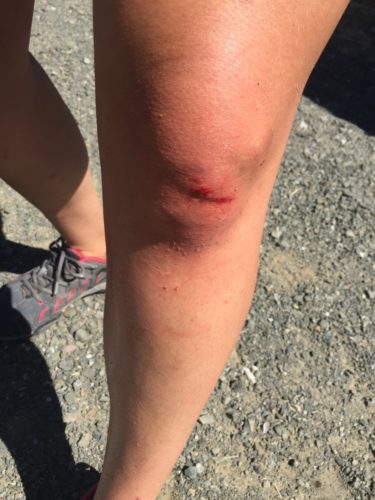 It ain't bike touring without a little blood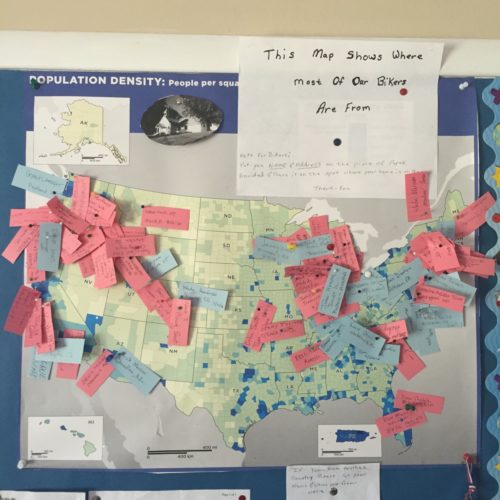 Map at the Dayville Hostel. So far I'm the only one to claim Montana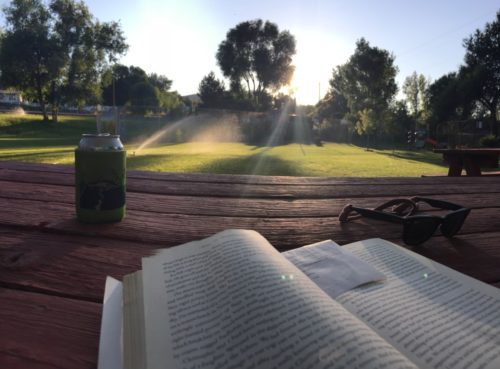 Enjoying the Dayville City Park with a Three Creeks Hoodoo Voodoo IPA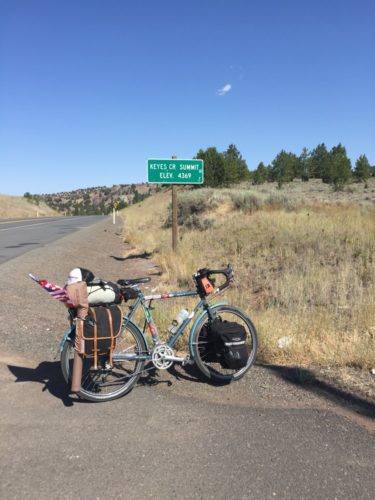 Keyes Creek Summit outside of Mitchell Oregon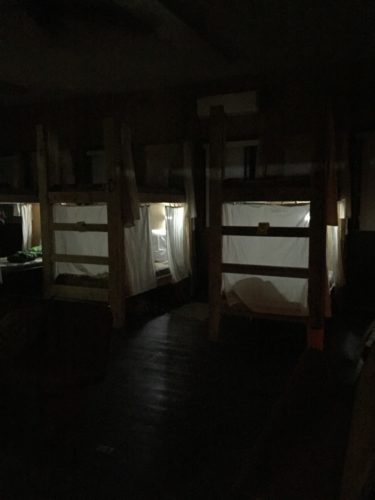 Cozy sleeping quarters at The Spoke'n Hostel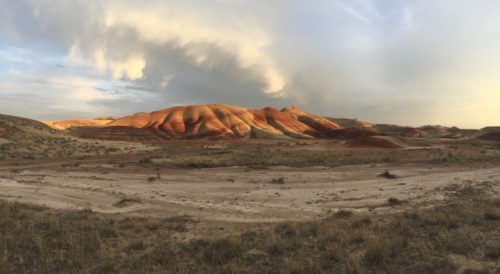 The famous Painted Hills