Saturday August 6th: Mitchell to Prineville and Prineville to Crooked River
This was the day I had most been looking forward to. I had been dreaming about riding my bike to one of my favorite fishing spots for nearly the past 2 months. The day would not be without obstacles however. Long before I arrived in Prineville, the closest town to The Crooked River, I would have to climb Ochoco Pass. At 4,720 feet, it would be the steepest climb to date. Gradual at first, the climb begins as soon as you pedal out of Mitchell and continues on for nearly 20 miles. I had expressed my concern to one of the other travelers staying at the hostel the night before, his advice, just put it in the climbing gear and don't stop pedaling, you will reach the top eventually. Simple yet true, my mantra was "just keep pedaling". About two miles from the summit I was honestly unsure how much more I could push myself before taking a lengthy break. Just as I was looking for a spot to pull over a Subaru outback with Oregon plates passed me and as he did, he tooted his horn and stuck his hand out the sunroof giving me a big thumbs up. I kept pedaling all the way to the summit and then had a dance party to Katy Perry's Roar.
I took my time coming down the other side, although it wasn't exactly the steep descent I had hoped for. I stopped at the Ochoco Reservoir, where I had considered camping when planning my trip, and used their day use area to change into my suit and take a quick swim to cool down. The campground was full of RV's running generators and frat boys with loud music so I made the decision to move on. On my way out I ran into another solo bike traveler, Niko from Columbia who was traveling from Pittsburgh to Portland while on summer break from engineering school. I told him he should take a swim and if interested come meet me at the brewery in Prineville. It was 7 more miles into town and the lack of shoulder plus the weekend traffic made for some sore gluteal muscles, as I was clenching my cheeks out of fear the entire ride. Ochoco Brewing started in 2009 and currently has more than 10 of their own beers on tap as well as a few other local beers, I would highly recommend the Double Dam IPA. Being out on the road, I hadn't gotten a chance to watch the Rio Summer Olympics yet and so I was excited to watch the US men's basketball team take on China. They won despite DeAndre Jordan's horrible free throw percentage and Carmelo Anthony's poor excuse for defense. My new friend Niko joined me about an hour later and it was nice to have someone close to my own age to chat with about biking and the trials and tribulations of long days in the saddle.
After parting ways with my new friend, I rode to the store to resupply and get an Oregon fishing license. Bi-Mart is a magical place, if you're not from Oregon you've probably never heard of the small chain store but I would highly suggest you make your way to the west coast just to visit this employee owned mercantile. The guest services lady was nice enough to let me bring Bertha inside and away from predators. I bought a two day license, some bratwurst, buns, chips and a 24 oz coors, they did not have PBR much to my disappointment. After I inspected my purchase I felt like I could have showed up at the frat party at Ochoco Reservoir and fit right in.  I headed to my own little oasis instead and couldn't have been more excited. I told the guy at the check out what my plan was and he looked at me suspiciously, telling me it would take "at least 3 hours" to get out to the campground, at 15 miles away I highly doubted that and smiled while I was internally busting up laughing, sorry bud I might ride just a wee bit faster than that.
Scouting a river is so much more rewarding when you're on a bike but also much more challenging when you are indecisive and want to see all the options before choosing. I eventually picked a campground, I'm not telling you which one because the first rule of bike fishing is "don't give away the location". I had been to this spot before, 25+ times in the past 4 years, but never had I come without waders and boy was that water cold! I scrambled around for high ground while fish jumped around me. As I settled into my cast I was hit with that classic wave of bike touring exhaustion and realized that the Coors was probably going to spend another day in the pannier. (Editor's note: the Coors is still in the beer fridge at Bike Touring News)
Sunday August 7th Crooked River- Madras *the day I almost died*
I had originally planned to stay an entire extra day at the Crooked River and fish to my little heart's content but plans change. I was starting to get lonely and I made arrangements to meet a friend at the next campground for some girl time. As I loaded up and started pedaling back toward Prineville I was feeling out of sorts. I was kind of bummed to be leaving the spot that I had been looking forward to spending time at for the past 2 months. This was another lesson learned, only YOU are in charge of your bike tour and it would behoove you not let anyone interfere with that. I stopped in Prineville and got an ice cream cone, ice cream is the universal tool for making one feel better. I now had two options, call my friend and tell her that I was going back to the river and go another 30 miles round trip out of my way or I could keep going towards Madras and possibly fish the Deschutes River. I chose the later.
I left Prineville and quickly realized that traveling on HWY 26, on a Sunday, between these two towns was possibly the worst idea ever. A shoulder of under 2 feet, frat boys returning from the lake, pulling their Mastercraft ski boats, in a hurry to get back to their sorority girlfriends, and families hauling their motor homes or trendy tiny houses, speeding past me at 70 MPH, not to mention a head wind, because there is always a freaking headwind. I was scared shitless to say the least. After nearly being blown off the road by a course of these monsters, I looked up to see a man, compensating no doubt, with his giant diesel F350, charging right at me from the other direction. As he approached, inches from me, I was forced to bail into the ditch on the side of the highway. I stayed on my bike and was able to navigate to the next pull off before hyperventilating. I called The Bike Hermit, barely able to catch my breath and told him what happened. Note to self, do not call your parents and tell them you are in a situation that could possibly take your life. The panic button was pressed on the other end of the call and Sky King had already sprung into action before I could control my sympathetic response. The next call that came in was from a family friend who was an hours drive away and he told me he was getting in his truck and that I should send him my location so he could come pick me up. Whoa, whoa, whoa, wait a minute here, I never said I was done, I just said I was scared. I asked him to give me 30 minutes while I collected myself and thought long and hard about whether or not I wanted this moment to be the end of my journey. Eventually I decided it wasn't, I had to keep going, I had to finish what I started and despite the pleas from my parents, I got back on my bike and back into the 2 foot wide shoulder of death. I made it to Madras alive, obviously or else I wouldn't be writing this, and immediately asked Siri for directions to the nearest margarita. My friend met me in Madras and together we loaded up Bertha and drove 40 miles to Clear Lake Campground. We drank beers, listened to music and laughed until we cried, it was exactly what I needed.
Monday August 8th Clear Lake to Government camp
We woke early and I made my standard breakfast of oatmush and instant coffee as my friend made a disgusted look and took another bite of her protein bar. Today would be the last leg of my journey and I decided to wear my party outfit, button up Hawaiian shirt and cut off jean shorts, aka jorts. I immediately regretted my decision as it started to rain, typical pacific northwest summer. I had planned for the 90 degree days but not for the rain and so I was forced to accept the fact that I would be soaking wet in five minutes flat. I was only about 15 miles from final destination with a warm shower and roof over my head so I figured I would probably survive. I honestly can't say much about this final day except that I was ecstatic to have reached my goal. I stopped to charge my phone and grab a cup of coffee at the lonely Chevron on hwy 26 before it becomes hwy 35 and I watched as tourists ran to and from their cars to avoid the rain. Emotions swelled as I rounded the corner and the sign for Timberline Lodge came into view. I have spent most of my adult life in and out of Government Camp Oregon and to me it feels as much like home as the town I actually "grew-up" in. As I pulled off to take a picture in front of the sign that welcomes you to the township locals lovingly call "Govy", I cried tears of joy and thanked the stars above for allowing me make it this far. It would take hours for me to wipe the stupid smile off my face. I pulled up in front of the town bar, Charlie's, and begged some random 19 year old kid to take my picture, I'm pretty sure he thought I was a crazy homeless lady but I honestly could care less at that point. I excitedly rolled the next two blocks to the cabin that I fondly refer to as "my happy place" and was greeted by my friend Tom's dad who had been patiently waiting for me to arrive for the past week. The bicycle part of my journey had come to an end but the next few days would bring another type of journey. Friends would come from across the west coast to this magical place to celebrate the life of a friend, an annual event to remember our friend Tom who was taken from this earth far too soon. There would be tears, there would be laughter and there would be the type of bonding that only 10+ years of friendship can bring together and I would find myself feeling more at peace than ever before.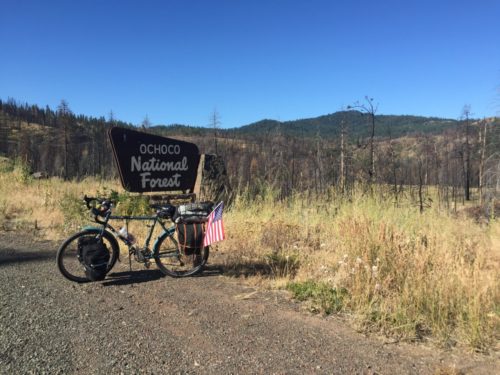 Nearing the top of Ochoco Pass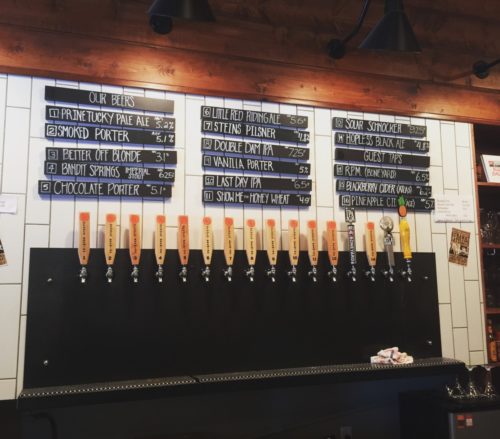 Ochoco Brewery: 4 stars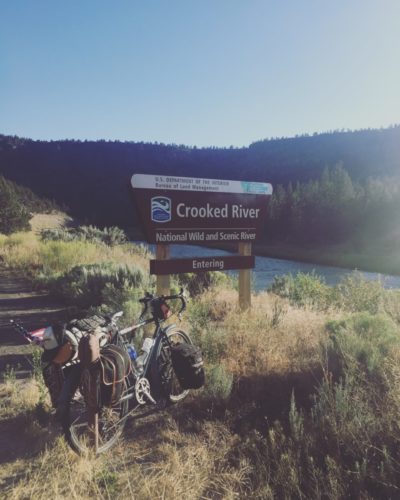 A good place to spend a Saturday night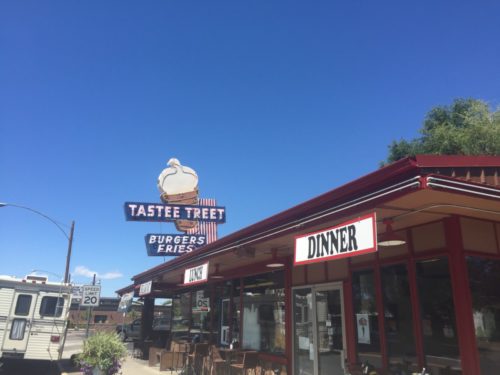 Classic small town burger joint. Excellent mint chocolate chip ice cream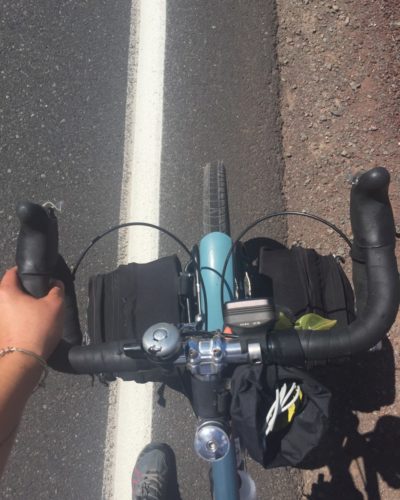 The "death trap" that is Highway 26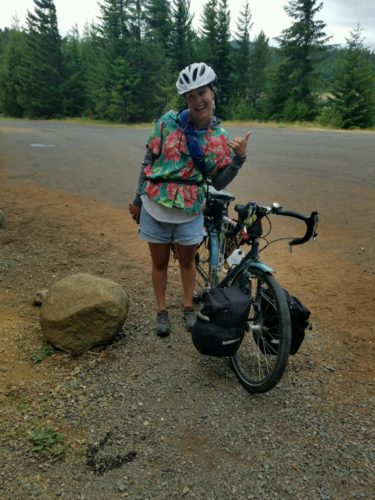 Party attire (yes I wore bike shorts under the jorts)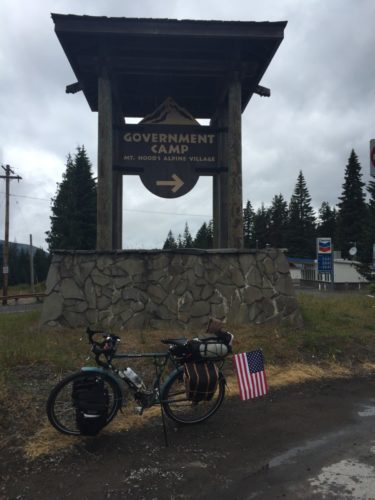 We made it!!!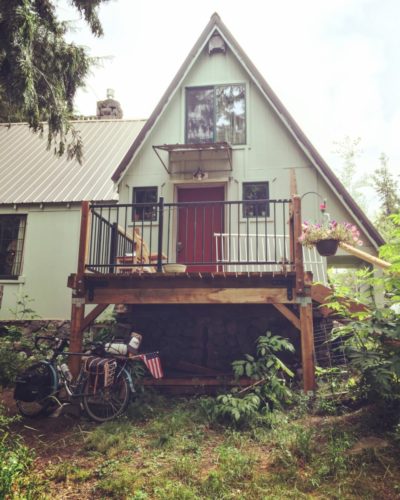 My happy place
Technically this video is from day 3 but it's a good closing note