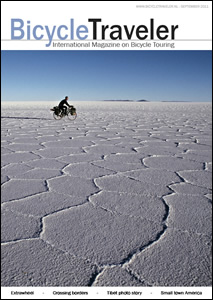 In October of last year (2011 that is. I know it's over 3 months ago) We received an email from Grace Johnson who is publishing an online bike touring magazine called Bicycle Traveler. She sent the following about the September, 2011 issue:
About Bicycle Traveler magazine:

Bicycle Traveler is a free international magazine on bicycle touring. It's full of entertaining stories and inspiring photography which will have you dreaming over new destinations, as well as information over cycling gear.
In this issue:
Articles in issue #1 September 2011 include Checkposts & Magic Letters Long distance cyclists Hiromu and Peter Gostelow cross into the Central African Republic. Riding high in the Dolomites the Cycling Gypsies pedal over Italy's Passo Giau with the help of their dogs Paco and Jack plus Tibet a photo story inspiring photos from Nathalie Pellegrinelli as well the short stories Small town America and the Hungry Cyclist.
The magazine contains no advertisements and can be downloaded for free at the bicycletraveler website
Their plan is to publish an issue 3 times per year in January, May and September. That means a new one will be coming out soon, so go to the site and download a copy and sign up to be notified when the new one comes out. Could be good reading while dreaming about your 2012 tour plans.