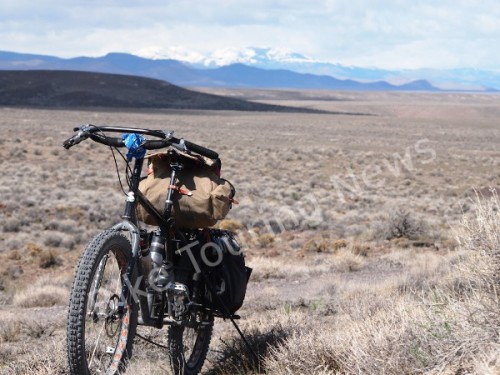 In the Northern Basin and Range ecoregion, the availability of water is one of the main challenges to traveling by bike, and while for our day trips we have been able to carry enough water, trips of more than one day require careful planning.
I put this Surly Big Dummy together to use as a mule or packhorse to be able to carry enough water, food and camping gear for some extended exploration of the desert. The Big Dummy got the call for reasons other than its ability to carry lots of supplies though:
The roads out here range from smooth, well graded gravel with washboard sections to loose gravel to double track trails. Sometimes we end up on cow trails and game trails and have been known to make the occasional cross-country jaunt. The extended frame of the Big Dummy just has to smooth out the boulder fields and washboard roads; and I could fit enormously fat tires on it for traction and cushion. Originally I wanted to use Surly's new Dirt Wizard 26″ x 3″ tire but got tired of waiting for them and ordered two Maxxis Minion DH tires in 26″ x 2.7″. Maxxis actually make a front specific DH tire as well as rear specific, but the rear specific doesn't come in a wide enough version for me, so I have front specific tires front and rear.
It's actually a good thing I didn't get the Dirt Wizard tires because I don't think the chain would have cleared the rear tire when in the granny gear with the Surly Mr. Whirly Offset Double crankset. The Maxxis tires are brilliant though. They have large side shoulder knobs which give the tire an almost square profile and which cling to the edges of ruts and boulders for confidence inspiring handling. The rear (front specific) tire so far has given adequate traction on the loosest surfaces.
Surly's Rabbit Hole rims are two inches wide so they flatten out the footprint of the tires even more.

I am using Hayes El Camino hydraulic disc brakes to keep this animal reined in. Normally I wouldn't want such a non user friendly setup on a back-country rig but I had them laying around and I do appreciate the stopping power. That reminds me; I need to bleed the front brake again.
The Jeff Jones H-Bar® Loop Bar seemed like an obvious choice for the cockpit. A nice, wide, ergonomically sweeping bar with lots of hand positions. For shifting I am using the IRD Power Ratchet thumb shifters. This version is friction only and I am still learning how to shift cleanly to not land in between gears. The levers have a hinged clamp and so I was able to mount them up on the loop part of the Jones bars in an attempt to create more useful space on the lower part of the handlebar. I may move them back down though because the spot where they are now actually is a comfortable hand position and they sort of interfere. Rather than the extra long ESI grips made for the Jones bars I chose to double wrap the grips and so far I like it that way.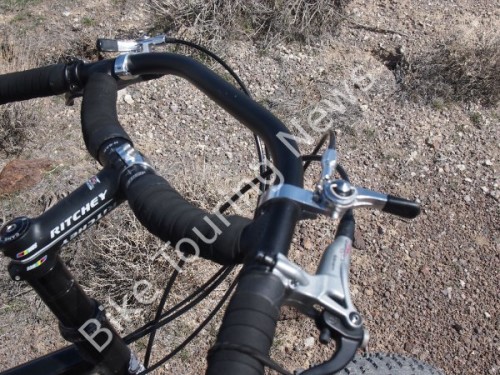 The rear rack frame and bags are the newer Surly proprietary design. The bags appear to be well thought out and are compartmentalized for convenient packing. I have yet to load this up for any extended trips but before I do that I will be changing the 26 tooth inner ring on the Mr Whirly crank for a 24 tooth ring for a little extra oomph on the low end. I'm really looking forward to getting this thing out in the wilderness for some extended bikepacking and camping trips.