There is this dog sled race in Alaska. At some point somebody decided the same race could be done on bicycles. Riding in the snow on normal mountain bike tires was more than challenging though so some early innovators would weld two or three mountain bike rims side by side and mount tires on each rim in order to be able to float over the snow. Over the years wider rims and tires were developed and now there are a number of companies making so called "fatbikes". Now Salsa Cycles has a fat bike in their lineup (Mukluk) as do a dozen or so other smaller builders. In Alaska, where the concept originated, two companies are making fatbikes. Chain Reaction Cycles sells the
9:Zero:7
and
Speedway Cycles
has the Fatback. And there are a few good blogs about the fat bike experience, notably
Fat-Bike dot com
and
pugsley on patrol
Giving credit where credit is due here is a link to a little fatbike history.
Surly bikes entered the market with their Pugsley model and recently raised the bar with the Moonlander, designed from the ground up to go where the Pugsley can't. The Moonlander takes 26 x 4.7 inch tires!
Bikerafting Alaska's Lost Coast: Yakutat to Glacier Bay. from lacemine29 on Vimeo.
Designed from the ground up to go places the Pugsley can't the Moonlander comes with 100 mm wide rims designed to fit 4.7 inch Big Fat Larry tires. To make these work Surly had to design and tool for the manufacture of some specialized components, notably the Mr. Whirly Offset Double crankset and the Clown Shoe rims.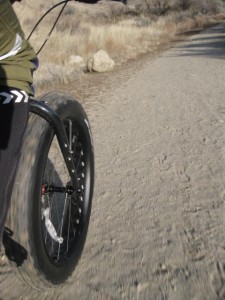 There are plenty of brazed on eyelets for mounting racks but the only rack that currently fits without modification is the Surly rear rack, and it only fits, without modification, on the rear. The front fork does have eyelets for the
Salsa Anything Cage
though, so a rear rack with panniers and a couple of Salsa Anything cages on the fork should be enough to carry gear for most adventures.
Revelate Designs
in Anchorage , Alaska specializes in building frame bags for these bikes too.