We have used and sold King Cages for years. Ron Andrews started the company in Durango, Colorado and recently moved into  new, larger accommodations. We stopped in on our way to West Texas and Ron gave us the tour. The price of admission was four Sew Your Oats oatmeal cookies from Bread bakery in Durango for Ron and the crew.
This post includes a cool video of the making of a cage. Ron designed and built all the jigs he uses and it's pretty cool to see another small company making thing and employing people in the USA.
Ron has a list of people waiting to get their hands on the new Manythings Cage and now, we are on the list too. The
Kargo Cage
is a must IMHO for any serious bike tourist and the Barbell is a clever design and a nice complement for the Mud Flask!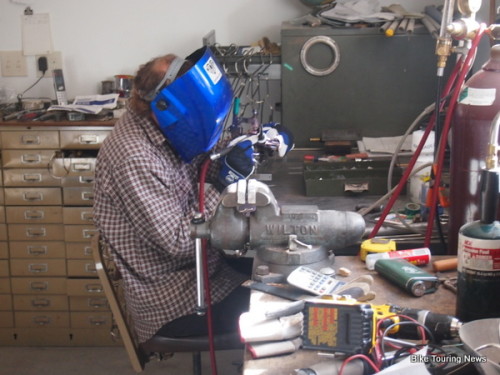 The other welding station.