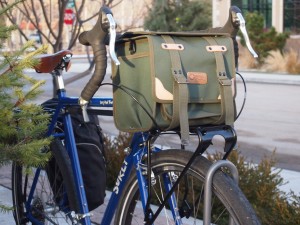 Not precisely "handlebar" bags these Ostrich bags are supported on the platform of a front rack and secured at the top either to the handlebars or by a bracket known as a decaleur. In my opinion the advantages of this style of bag are several:
–The center of gravity is lower than a bag attached to and supported by the handlebars
-The bag is more accessible from the cockpit than panniers.
-An assortment of small pockets make it easy to find the small things you need
-A plastic covered map case is indispensable to the touring cyclist.
-Relatively easy to remove and carry when off the bike. Some come with shoulder straps.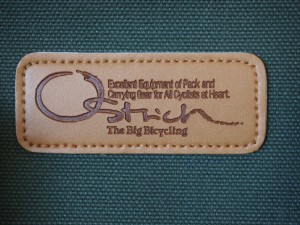 As of this writing their are two sizes of front Ostrich bags (Ostrich also makes a traditional style saddle bag and, I believe, rear panniers); the F-104 and the new, slightly larger F-106.
Determining which size bag will work best on a particular machine starts with knowing the distance from the top platform of the rack to the handlebars. The type of stem on the bike -threadless (Aheadset) or threaded (quill)- and, in some cases, the steer tube diameter – 1″ or 1 1/8″- will tell what type of decaleur to use. Gilles Berthoud decaleurs are available in six different configurations, and Velo Orange decaleurs in two. We carry all of them in the Bike Touring News Store and,as always, are here to help demystify.
I've always liked these bags. I'm a sucker for canvas duck and for the army green color. I like the robust, utilitarian feel and look of these and I think the details are well thought out. The relative voluminous capacities are nice too. When touring it seems as though I'm always looking for the extra pocket or for someplace to lash the rain jacket. These have been unavailable in the US for some time but I'm excited about being able to get them again.
UPDATE 2/19/2013
We will also be carrying the Ostrich Panniers…..
….and the traditional style Ostrich S-2 Saddlebag...
MORE UPDATES! 3/15/2013
We now have the Gilles Berthoud rain covers which work nicely with the Ostrich F-106 and F-104 bags.