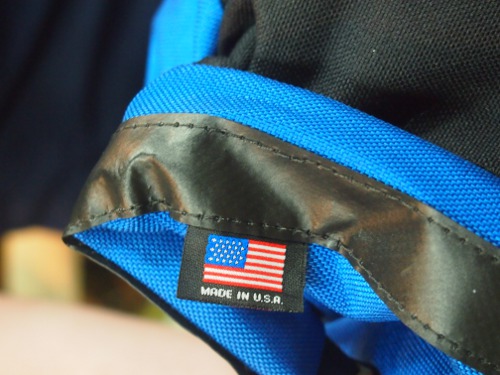 Lone Peak, in Salt Lake City, Utah, has long been a maker of high quality bike touring bags. Gary Hubbert bought the company a few years ago and moved operations to Marysville, WA. We like the fact that Lone Peak is fairly small and so Gary is able and willing to consider our input into products and design. Last year he took his growler pack and added pannier clips to it. Then he made us a run of the packs with our logo silkscreened on the front. As far as we know, this growler pack with pannier clips is a Bike Touring News exclusive! We have a few left and they are now on sale….even better!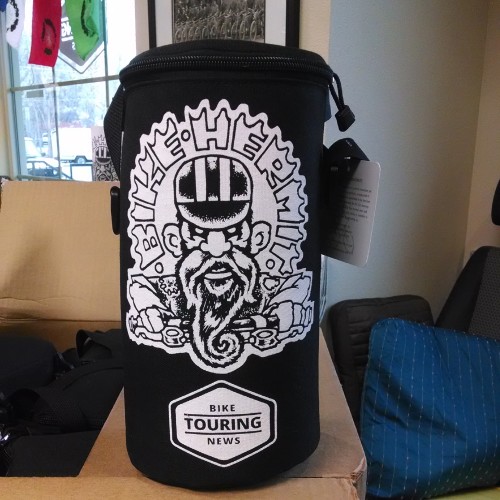 Micro Rack Pack. We have been looking for someone to make a small bag to fit on the Nitto M-12, M-18 and Mark's Rack for a while, and Gary exceeded our expectations with the Micro Rack Pack. The bottoms are fairly rigid and the sides are reinforced too, so the bag maintains its shape. Four long hook and loop straps secure the bag to the rack rails. Also new are the welded zippers which makes the bag more weather resistant.
Also new for 2014 is the Swayback Rack Pack. This is a sleek, versatile rack top bag for a rear rack. It has a total capacity of 725 cubic inches/ 11.9 liters. The top opens fully for easy access and there are two large side pockets. The sides and bottom are reinforced with a dense foam for rigidity, and all the zippers are welded.
New pannier shock cords. Gary has also modified the lower shock cord attachment on all the panniers. Previously the shock cords were anchored near the lower part of the bag and there was no way to adjust the tension on the s-hook if the lower rack rail was not in quite the right position. The result would be a floppy, rattling attachment. Now, each end of the shock cord passes through a barrel clip anchored directly underneath the upper pannier clips. The longer cord loop with s-hook attached goes underneath a web strap near the bottom of the pannier. The tension on the cord and s-hook is adjustable because the cord is simply knotted above the barrel clips. Older bags can be retrofitted with the new hardware since the retrofitting kit includes a web strap which bolts into the same holes used by old style shock cords.
We have used Lone Peak products extensively over the last few years and have found them to be extremely durable and functional. The panniers secure to most racks with less sway and bounce than panniers from better known and much larger manufacturers. Gary is not resting on the company's laurels either. He even has a fully waterproof pannier which he showed us at Interbike 2014 and as soon as those become available we will stock them.