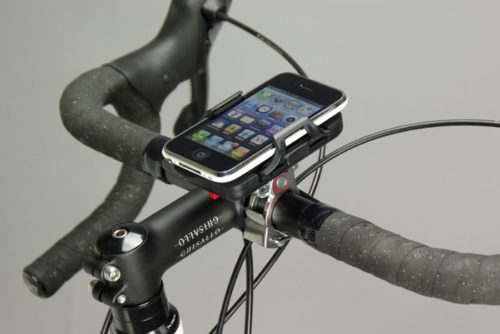 The Minoura Phone Grip Smart Phone Holder (iH-520-STD) is the best handlebar mount phone holder I have found. The metal bar clamp is hinged and comes with rubber shims to fit various diameter bars. There are two versions, the only difference between the two being the size of the bar clamp. Over Size fits bars 27.2-35mm in diameter and the Standard Size fits bars 22.2-28.6mm in diameter.
A solid handlebar mounted phone holder keeps the phone within easy reach when touring and is nice when using the GPS or map apps. If one has a dynamo hub and converter, it's a simple matter to plug the phone in while going down the road. Even when not using or charging the phone it is nice to have a secure place to keep it.
A base plate bolts onto the bar clamp and the phone holder itself bolts onto the base plate. The disc shaped base plate and the phone holder interface with each other by means of radial grooves allowing the phone holder to rotate in 9 degree increments for adjustment of the phones angle.

The side wings grip the phone tightly and release by pulling the red lever on the bottom of the base. Pressing the red lever all the way in locks the wings in place. The holder ships with two sets of interchangeable side wings for different phone thicknesses. The tall wings fit my Droid phone with Otter Box case.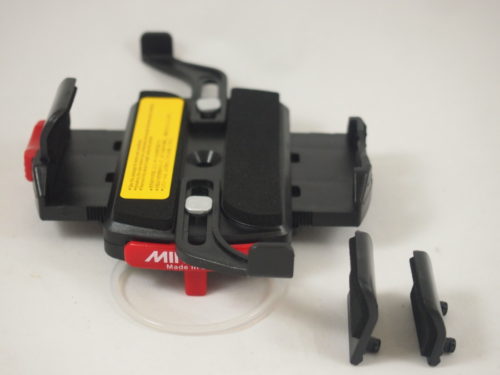 Adjustable upper and lower arm brackets can be locked in place once adjusted to the phone being used to keep it from slipping up or down. For iPhone 6 a longer lower bracket is included. A silicone band is attached to the bottom of the case and can be used as extra insurance that the phone won't accidentally fall off.
This gets the Bike Hermit® approval for a solid and secure attachment of the phone to the bars. This phone holder also has a lower profile than some of the other ones I have seen and is less prone to getting snagged on something and broken. It will fit phones from 55mm to 85mm in width and between 6mm and 18mm thick.