On Monday September 8 between 4 and 5 inches of rain fell in southern Nevada and wiped out portions of I-15, the main highway between Salt Lake City and Las Vegas, and resulted in the worst flooding in over 30 years in the area. We heard about it first from Eric Parsons who was having his booth for Interbike shipped to him from Salt Lake. He finally got it set up around six PM…after the first day of the show.
When we stopped by again on Thursday we had a chance to talk and to get updates on new stuff from Revelate Designs;
They have a prototype for a new Tangle Bag (the original will still be made) which addresses the stress on the zipper to the main compartment. Apparently that side is the one that is most abused with a loaded bag. The prototype (which is close to production) uses a flexible cover shield to keep out the elements and a non-waterproof zipper for durability. The final bag may incorporate a more flexible material on the top of the bag where it attaches to the top tube to further reduce stress on the zipper area.
They still make some bags out of the super light Cuben Fibre material but it is so labor intensive that they don't wholesale the bags yet. There is a mid weight material though that is very tough and durable and is a similar swanky looking white.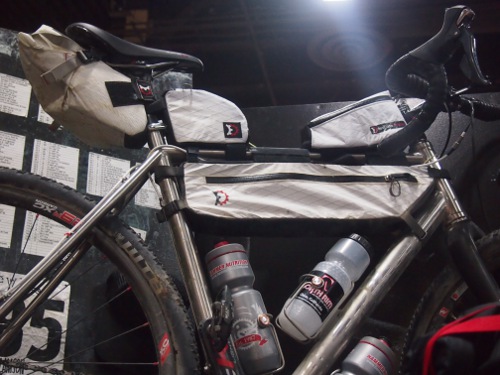 There is a newly designed Pocket as well. This one features a curved zipper which creates sort of a lid, the idea being that it will be easier to access while on the bike. The bag is also reinforced in a way that it retains its shape and there are attachments that will make the bag more stable when used as a standalone piece, without a Harness or Sweet Roll.

I'm glad we went back and had a chance to talk with the guys from Revelate Designs because, at first glance, there didn't appear to be a lot that was new. But they are always thinking and tinkering and improving. We are looking forward to the next generations of bikepacking gear!