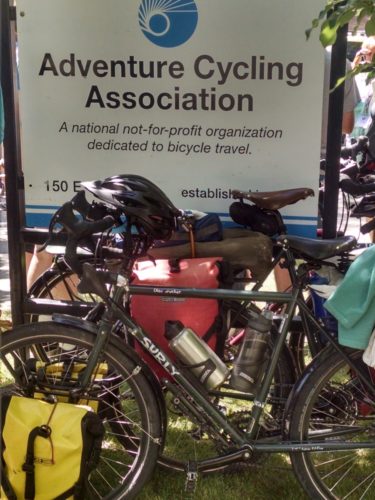 Working backwards from July 15 I find that I can make a good case for leaving Boise on the 2nd and riding the bike for about two weeks, ending up in Missoula, MT for Adventure Cycling Association's 40th Anniversary celebration. In the meantime I can ride with my wife and daughter on the Pioneer Mountains Scenic Byway and attend my sister's 60th birthday party in Bozeman. Since I always have my bike and bike touring gear ready, when these opportunities appear I am ready. Somebody has to do it.
More about the ride at crazyguyonabike.com 
Adventure Cycling Association World Headquarters is in Missoula, MT because that's where the four founders lived when they started the Bikecentennial organization, which would later become ACA.
In 1976 bike touring was an extreme sport. Extreme enough that National Geographic would pay for an article written by somebody willing to ride their bicycle from Alaska to Tierra del Fuego.   In 2016 that would be an epic bike ride. In 1976 it must have seemed impossible. Four people started the ride they dubbed Hemistour. Two people finished. The other two returned to Missoula to work on what would become Bikecentennial and Adventure Cycling Association. These four are the people whose stories interest me. Two of them spoke at the reception on Friday night and to me this was one of the highlights of the weekend.
Today, Adventure Cycling Association has 50,000 members and has catalogued over 45,000 miles of bicycle routes in the USA. They have 6 cartographers on staff and the maps of the ACA routes are the best available for bike touring. 100 supported and self-supported guided bike trips are offered by ACA and they publish Adventure Cyclist magazine. Advocacy for cycling and bike touring, how-to resources and the Bike Overnights website round out the most prolific bicycle related not for profit organization I am aware of.
My informal interviews and observations of the attendees over the weekend pointed to two demographics at this event; those who participated in all or part of Bikecentennial in 1976 and those who were not born or were very young in 1976. From this "data" I might interpolate the broader population of bike tourists in the US to be from one or the other of these same demographics.
I wonder if the younger demographic of people traveling by bike nowadays is the same group that rode Bikecentennial 40 years ago. By that I mean what Dan Burden called in his speech, "children of the 60's" who wanted change. Rebels with no credentials for bike touring or building an organization other than a belief in what they are doing. I want to think they are learning humility and how to suffer. Learning that they are not entitled to anything. Learning patience and how to go slow. Learning how to work together to solve problems.
At least, that idea gives me hope.