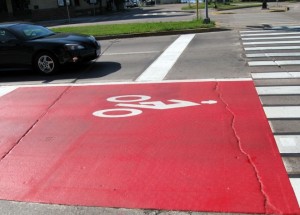 If bicycles are to ever start being considered legitimate forms of transportation one of the first things that needs to happen is for bicyclers to own their rights and responsibilities. That means, among other things, riding in the street and not on the sidewalk. Making sure drivers see them and know what their intentions are. Using the bike lane if there is one and if not, taking their place in the traffic lane. Most state laws allow this unless traffic is being held up. And most people are not psychopaths who will intentionally mow down a bicycle. In fact, most accidents happen when drivers are not expecting to see a bicycle, as when one suddenly enters the street from a sidewalk.
Following all the laws all the time is a challenge though since the infrastructure is designed for cars. One example is the sensors, loops of wire buried in the pavement of the travel lane near the stop line, which detect vehicles at intersections and tell the lights when to change. They are meant to detect metal but most of them are not super sensitive and don't detect bicycles. Besides, they are in the traffic lanes and not on the side of the road or in the bike lanes. The humantransport.org website has a good article about how to make these detectors detect a bicycle.
Intersections in Pleasanton, California, have been outfitted with radar that not only detect bicycle traffic to trigger green lights, but differentiate between bicycles and cars.
The devices, called Intersectors, have been installed at eight intersections across the city alongside bike lane and pavement projects. They use a combination of microwave and presence sensors to detect a vehicle, and offer enough precision to determine whether a vehicle has two, four or more wheels. Because it can detect what kind of vehicle is about to cross, it will adjust signal timing accordingly (as seen in the video).
The wired.com website has this article on their Autopia page

The Bike Hermit is encouraged. As more people start to actually use bicycles, and other people see them and maybe think that they could do it too, the idea becomes more mainstream. Bicycles are a legitimate, efficient mode of transportation but still one that most people never consider. It's easy to walk to the garage and hop in the car to go to the store. It's actually easier, many times, to hop on the bicycle. And it's almost always easier to find a parking spot!