We want to help you have fun and catch fish on your rides, so we are expanding our selection of bikefishing gear!  We're stocking a selection of tenkara rods from DRAGONtail Tenkara, top-quality furled lines from Moonlit Fly Fishing and a range of tools, equipment and accessories hand-chosen to get you out on the water and catching fish!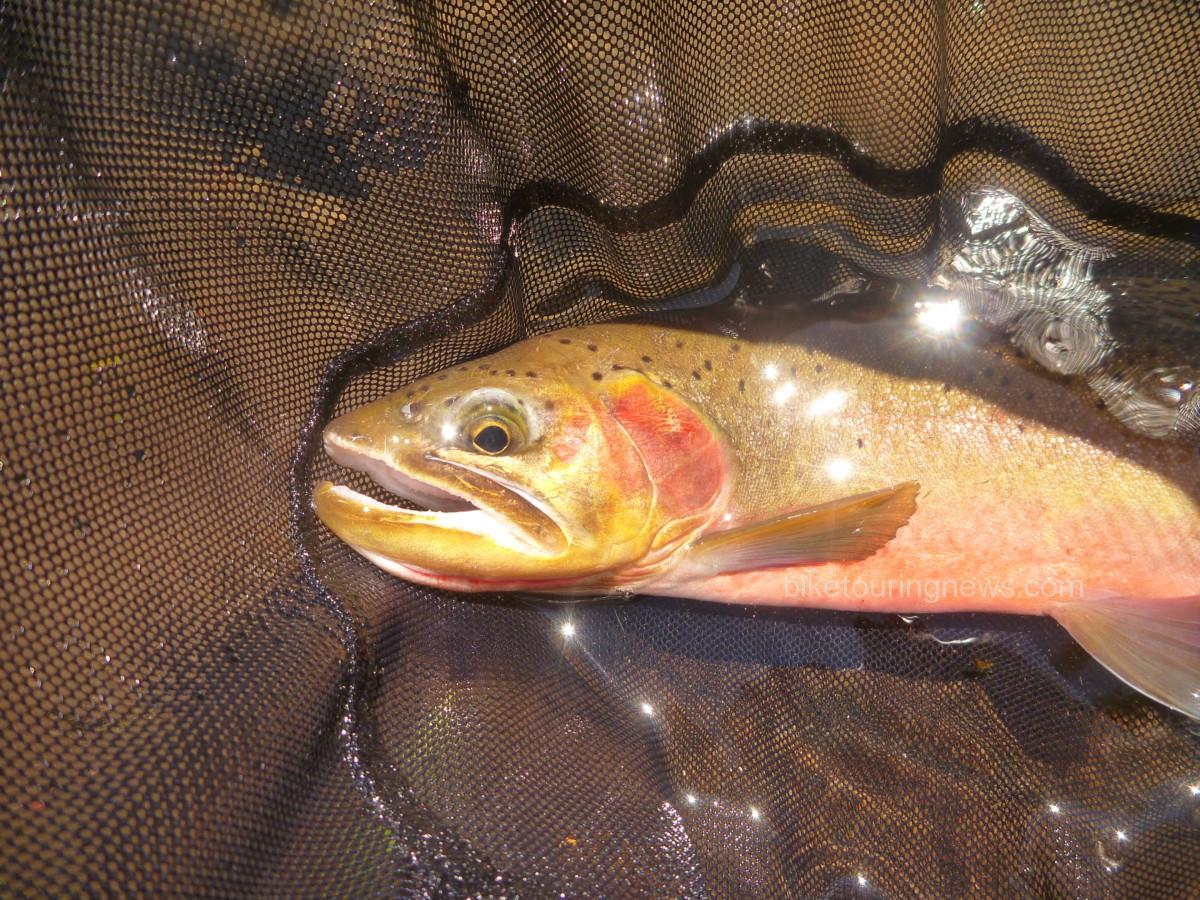 In this post, I'll take a quick look at some of the products we're offering to help you build a fishing kit that suits your preference, budget and water.  I'll also try to answer some common questions regarding tenkara gear and share some helpful tips and tricks for fishing by bike.  We'll definitely be posting more on these subjects, so send us your questions and comments and we'll try to include them in future posts.
Rods
Just like rods for other fishing styles, tenkara rods come in a wide range of lengths, weights, actions and price points.  Most experts recommend a rod in the 11-12′ range for all-around fishing.  Longer, heavier rods may be employed for big, western streams or very large fish.  Tight conditions or smaller fish may call for a shorter, lighter rod.  We're currently stocking two solid options but will continue to expand our rod selection as the Bikefishing category grows.  Looking for something different?  Get in touch!
The Shadowfire is DRAGONtail's all-around tenkara rod.  It extends to a full 12′ and has a casting feel that is truly impressive for a rod at this price.  Having tried a small handful of other rods, I honestly didn't think a $100 rod could be this good.  Lightweight and well-balanced, it has a snappy action that pairs well with lightweight dry and wet fly setups, heavy nymphs or even mid-weight streamer rigs.  While this rod is super fun for smaller fish, it does have the backbone to corral the big boys.  No matter where where your tenkara fishing adventures may take you, the Shadowfire is a solid choice and won't let you down.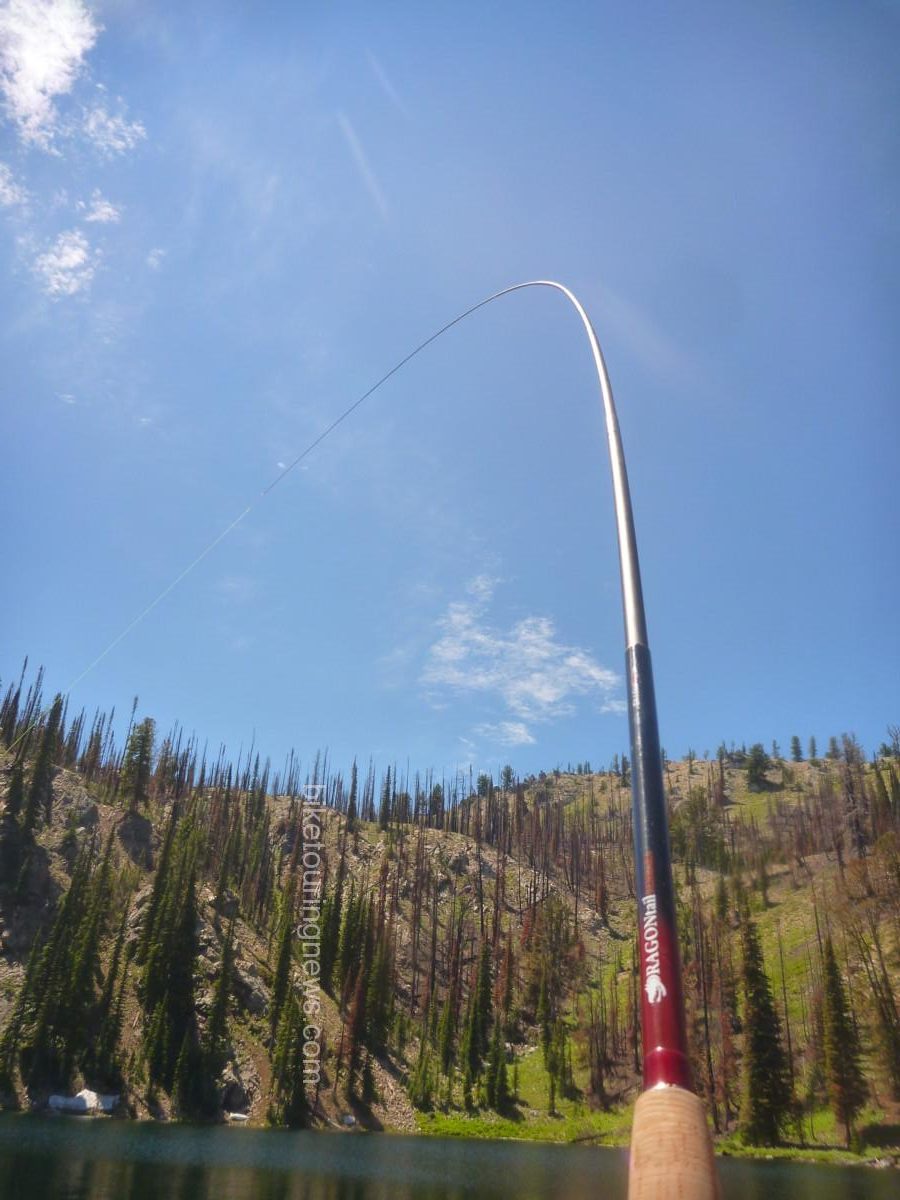 The Shadowfire collapses to 20.5″ and weighs less than 3 ounces.  It is easy to strap this rod to your bike and forget about it until you come across some fishy-looking water.  However, DRAGONtail's just-released Talon rod sets a new standard for packability!
This is a new offering from DRAGONtail and Bike Touring News is proud to be one of the first to stock the Talon 330!  We are offering special promotional pricing through the end of August, so don't miss out on this killer deal!
This rod was specially designed to be even more packable than a standard-length tenkara rod without sacrificing performance.  Collapsing down to just 17 inches, the Talon fits neatly into most frame bags or panniers, making it incredibly easy to carry on bike trips of any length or description.  On the water, the Talon extends to 10'8″ and is ideal for small streams and headwaters where fish are typically 14″ or less, though it is certainly possible to land larger fish on this rod.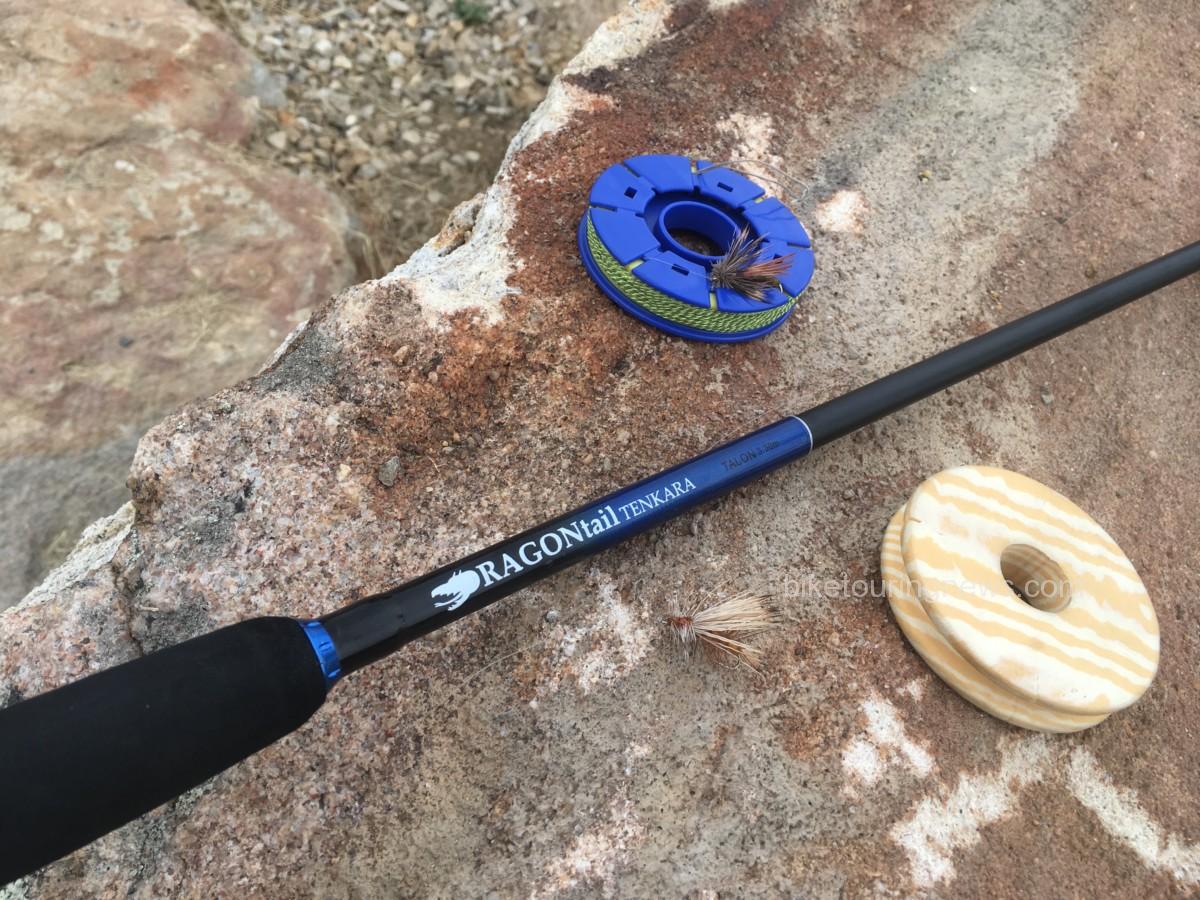 The Talon has a noticeably more flexible tip and stiffer spine, not quite as round of a flex profile as the Shadowfire.  It casts well with lighter lines – even down to a #3 level line – but can still throw weighted nymphs or small streamers.  DRAGONtail also hit a remarkably low price point with this rod, making it and ideal starter rod or as an inexpensive second rod for smaller fish, tighter situations or extra packability.
While the Talon packs neatly into most frame bags, it may not fit in bags made for small or extra-small frames.  If your bag doesn't have a dimension longer than 17″ you may be out of luck.  Fortunately, there are lots of other ways to carry a tenkara rod on your bike!  Look for more tips on that subject in a future post.
Our starter kits include everything you need to start fishing with your chosen rod.  Each includes a Moonlit Bushi furled line, 30m spool of 4x tippet material, a foam line winding spool and three hand-tied flies on Moonlit's high-quality barbless hooks.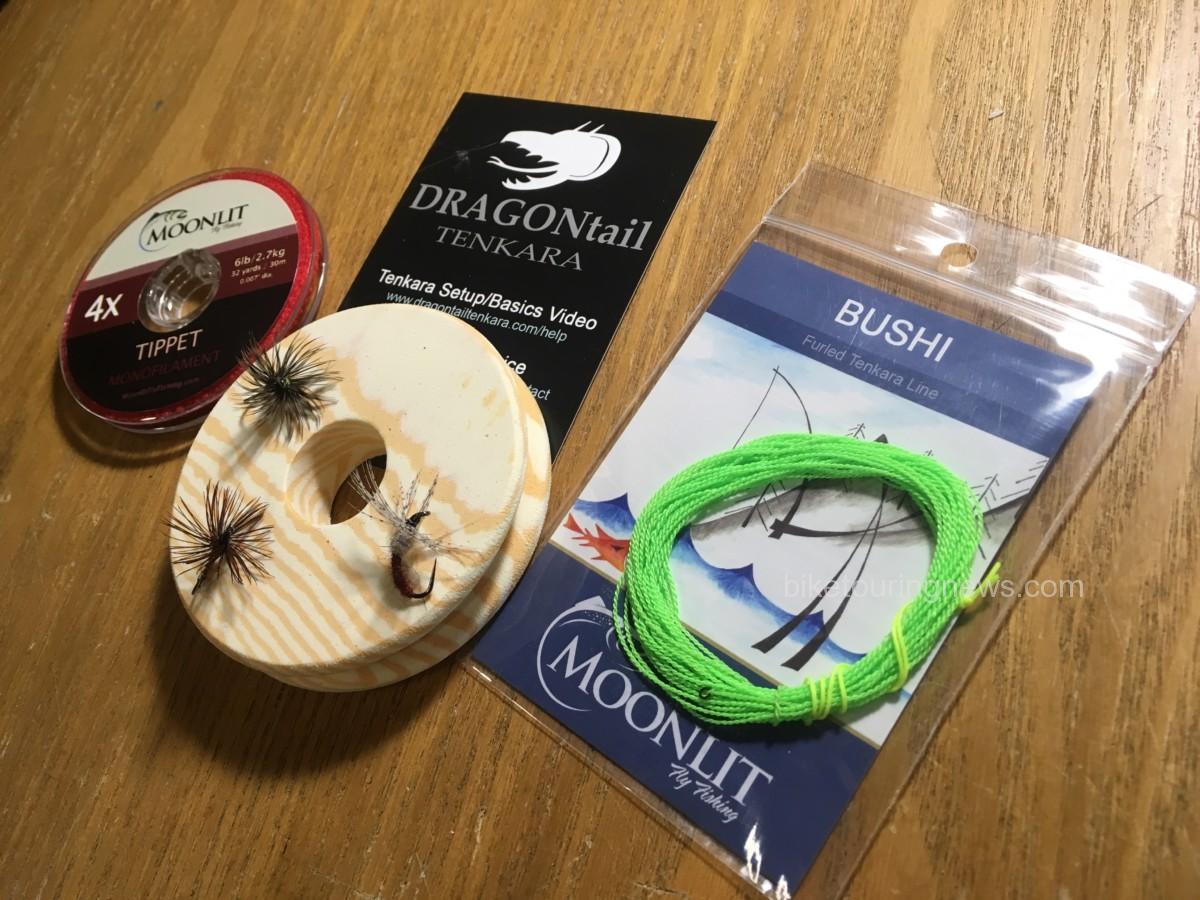 Choose the starter kit with the line that most closely matches the length of your rod.  We recommend a 12.5ft line for the Shadowfire and the 11ft line for the Talon.  If you already have tippet and flies but are new to tenkara, you may want to choose different lines that are best suited to your fishing style.  Adding additional lines to your arsenal is an inexpensive way to extend the range of your bikefishing kit.
Lines
Broadly speaking, lines for fixed-line fishing come in two styles: furled lines and level lines.  Furled lines are made from multiple strands of material that are "furled" or spun together.  Level lines are made of a single strand of monofilament or flourocarbon that is cut from a spool to the desired length.  Each style of line has its advantages.  We usually recommend furled lines to folks new to tenkara for their ease of rigging and casting.  Once over the initial learning curve, we encourage experimenting with level line.  Unlike rod-and-reel outfits, changing lines with tenkara is quick and easy.  Lines can be stored with fly and tippet already tied on, so switching from a dry fly setup to a subsurface nymphing rig is a simple matter of freeing one line from the lillian on your rod's tip and cinching on another.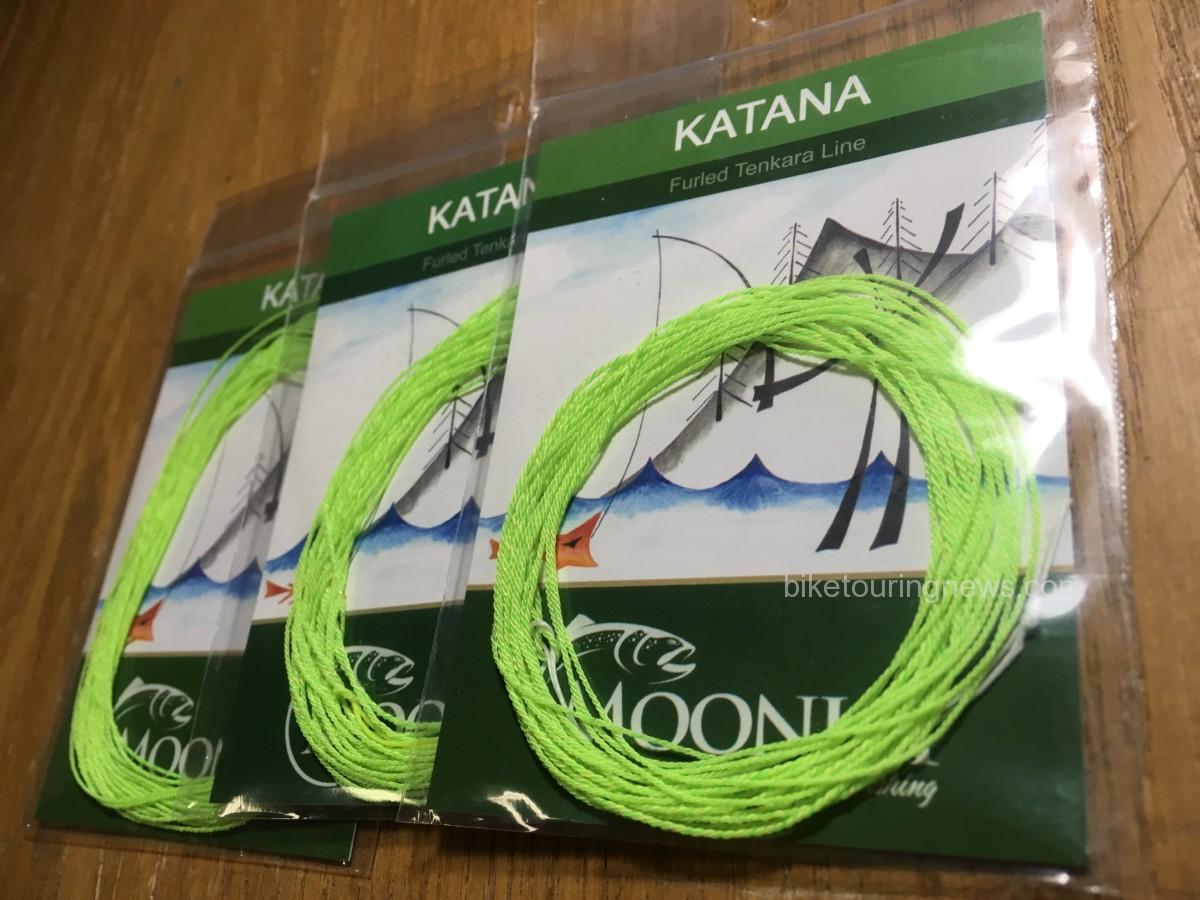 The Katana is Moonlit's premium lightweight line for making delicate presentations with very light flies.  The tapered, lightweight furl also helps reduce drag-inducing sag when holding line off the water.  This makes it ideal for dry flies or weightless wet flies.  Many dry fly fishers like to treat this line with floatant to prevent it from sinking and pulling their fly underwater.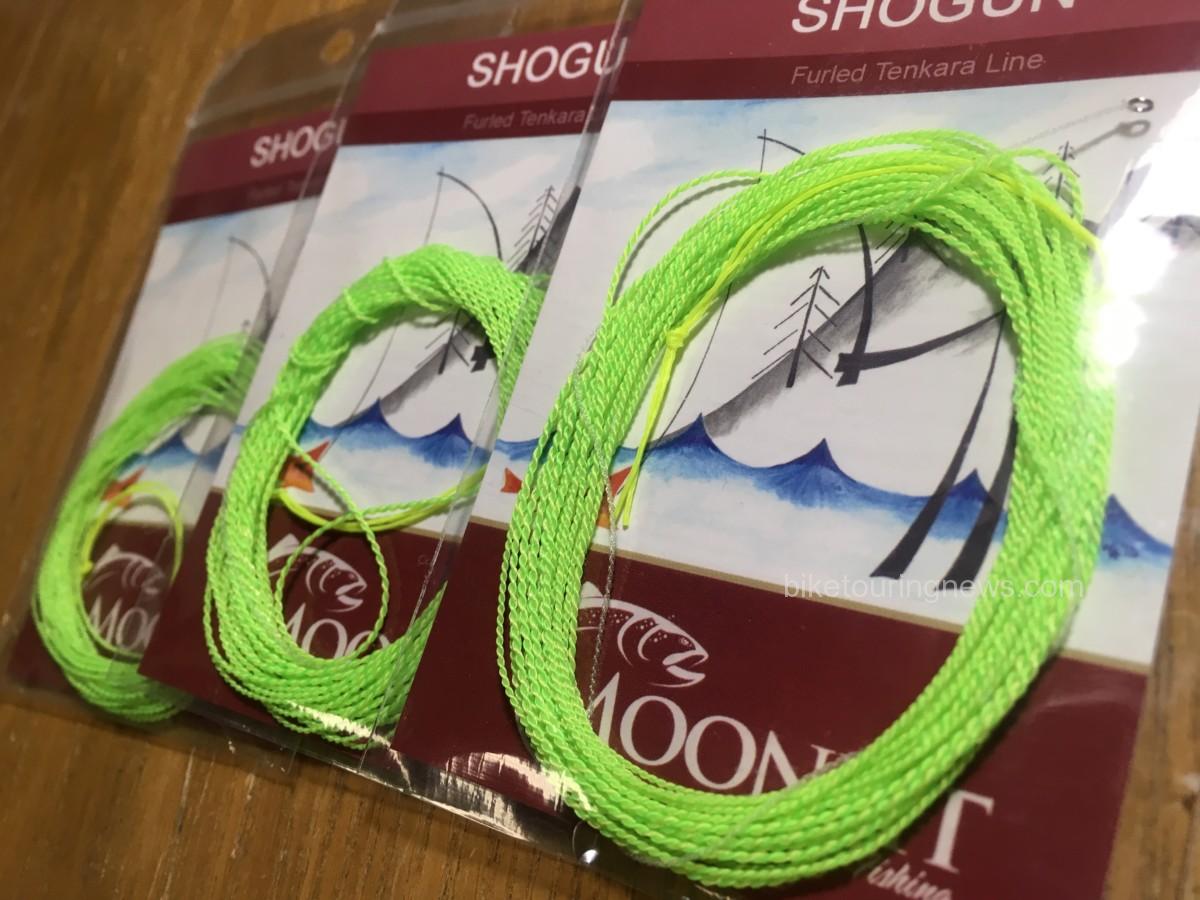 The Shogun is a solid choice for any subsurface fishing.  It has a bit more heft than the Katana but still has a light feel and makes gentle presentations easy.  The short flourocarbon tip section "hooks" the water to help prevent line sag and deliver a natural drift for your nymph or wet fly.  The Shogun will handle weighted flies or small streamers very well.  About the only thing it doesn't do is fish dry flies.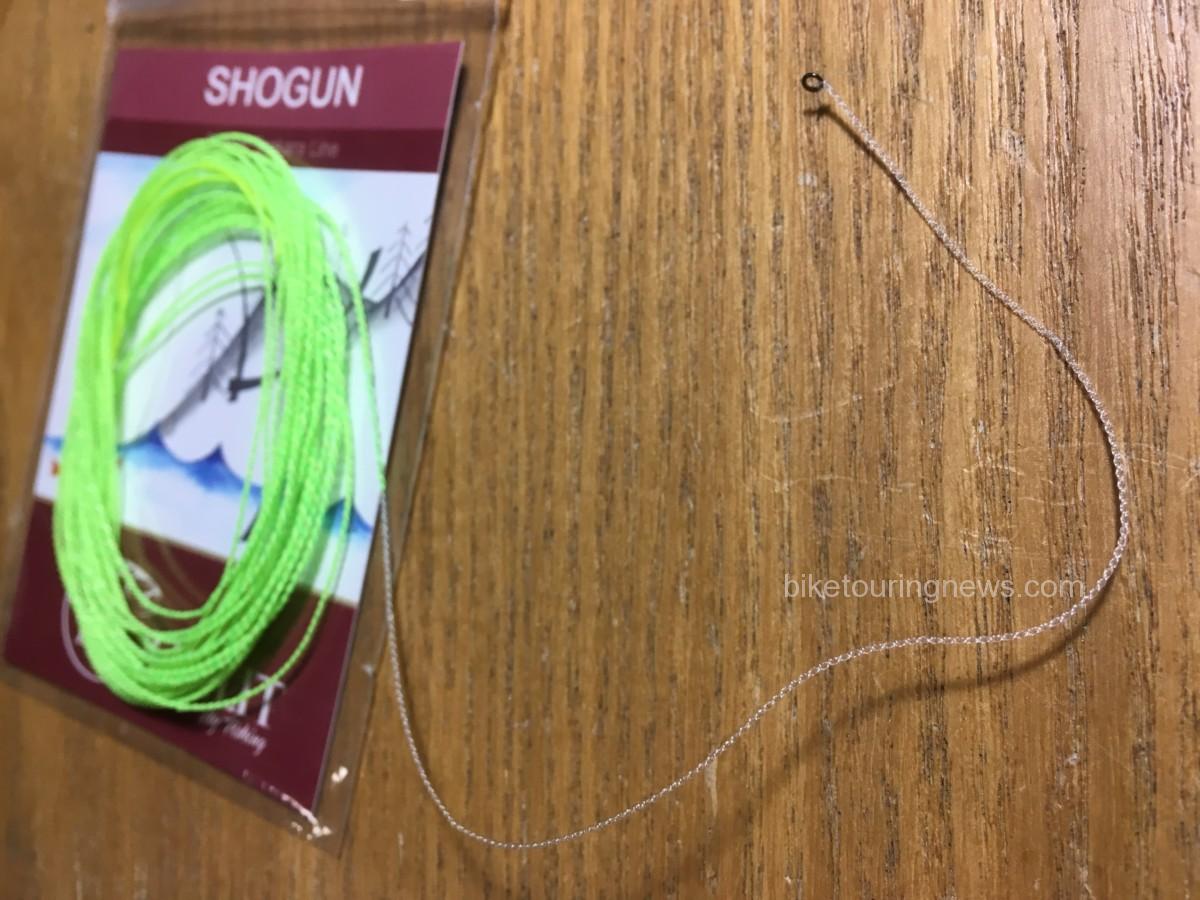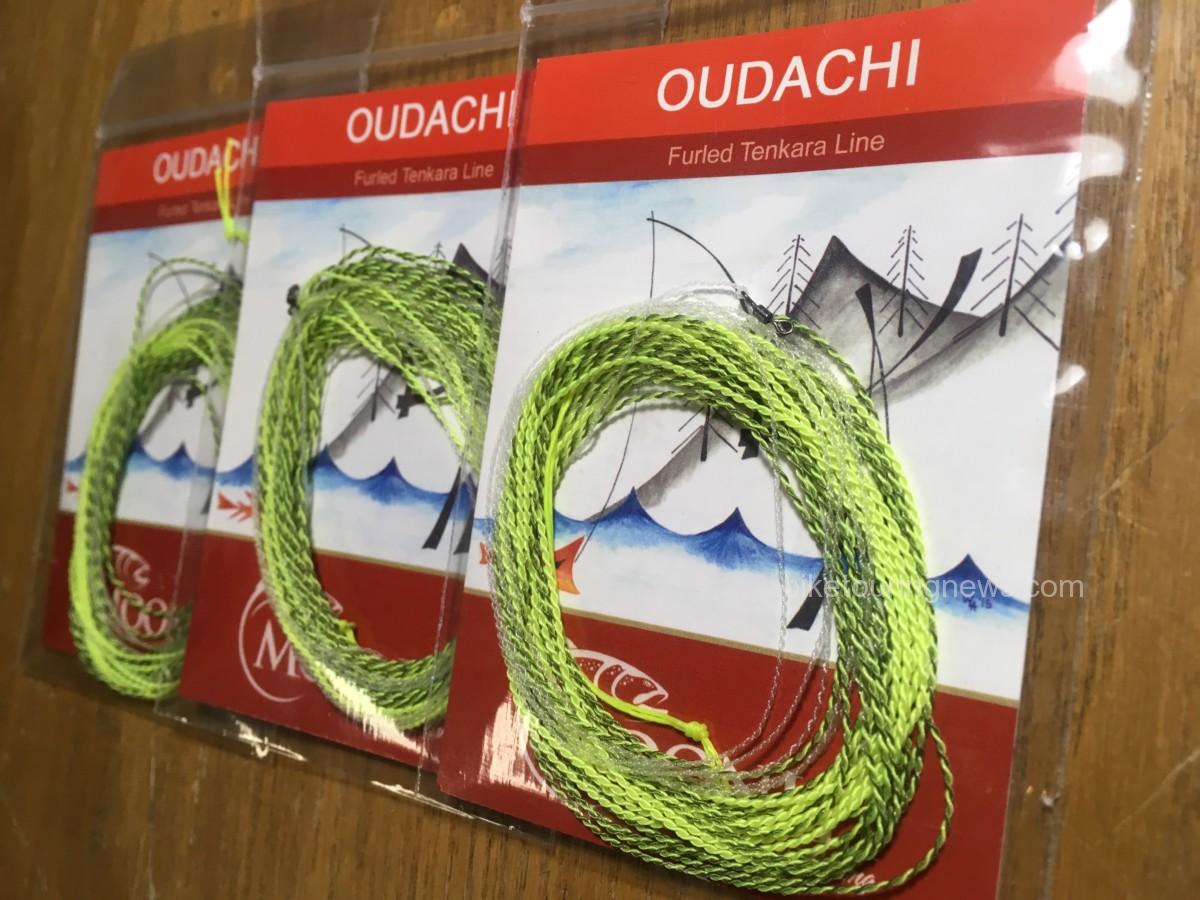 The Oudachi is your go-to line for fishing deeper in the water column with weighted flies or streamers.  Compared to the Shogun, the Oudachi sports a much longer flourocarbon tip to help sink your fly fast.  I find it works best in lengths 2-4 feet (or more) longer than your rod to help extend range, reach greater depth and cover more water.  This line will drop into deeper pools or still waters to find fish that would otherwise be out of reach to the fixed-line angler.  It also works well in faster water on larger streams because of its quick-sinking properties.
While Moonlit's furled lines are excellent and offer options for nearly any fishing situation, there are some advantages to using level line.  Cost is a big one.  A 20-meter spool of level line – enough to make least 5 lines – costs roughly the same as one furled line.  The angler may cut the line shorter or knot line segments together to add length, providing extra versatility on the water.  Level line will also allow very light, delicate presentations and will have minimal line sag.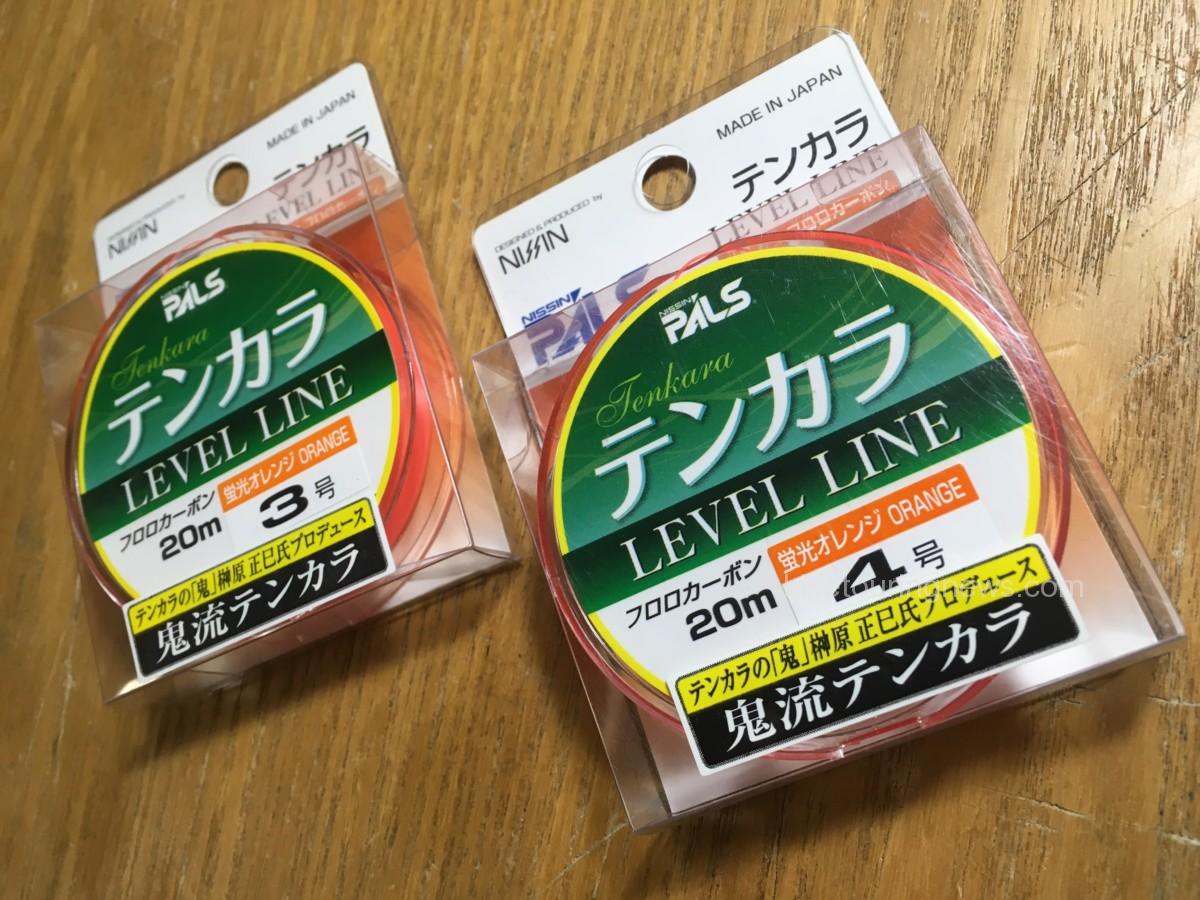 However, level line will struggle more than heavier furled lines in breezy conditions and won't turn over heavier flies very well.  Rigging is slightly more complex than with furled lines but is quite simple with just a little practice.  We recommend a #4 line for most folks new to level lines as the slightly heavier line will load the rod more readily and cut through wind better.  The lighter, #3 line is slightly more challenging to handle but will allow very delicate, precise presentation of your fly.  Many tenkara anglers fish either level lines or furled lines exclusively but I think each style has its place.  Look for more tips, tricks and insights from my experiments with level line in a future post.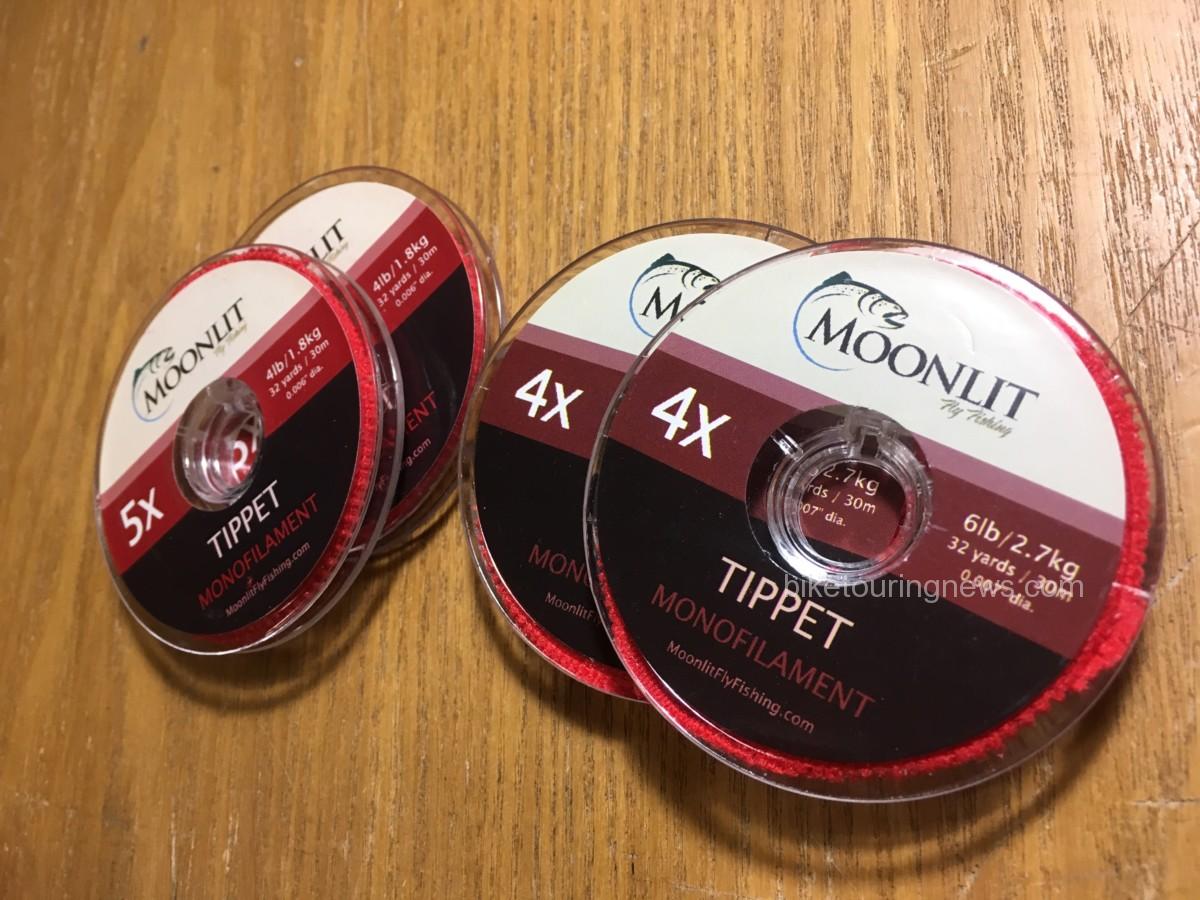 Use Moonlit's high-quality monofilament tippet material to connect your fly to the end of your tenkara line.  DRAGONtail recommends 4x tippet across the board for their rods.  We also carry 5x tippet for extra delicacy or very small flies.  The Moonlit tippet comes on very narrow spools to minimize bulk and feature a convenient elastic band to prevent line from unspooling.
Accessories
While you only truly need a rod, line and fly to catch fish, there are a handful of accessories that will help you make the most of your time on the water.  We will continue to expand our range of streamside tools and equipment with products specifically chosen for fishing by bike, so keep an eye on the store!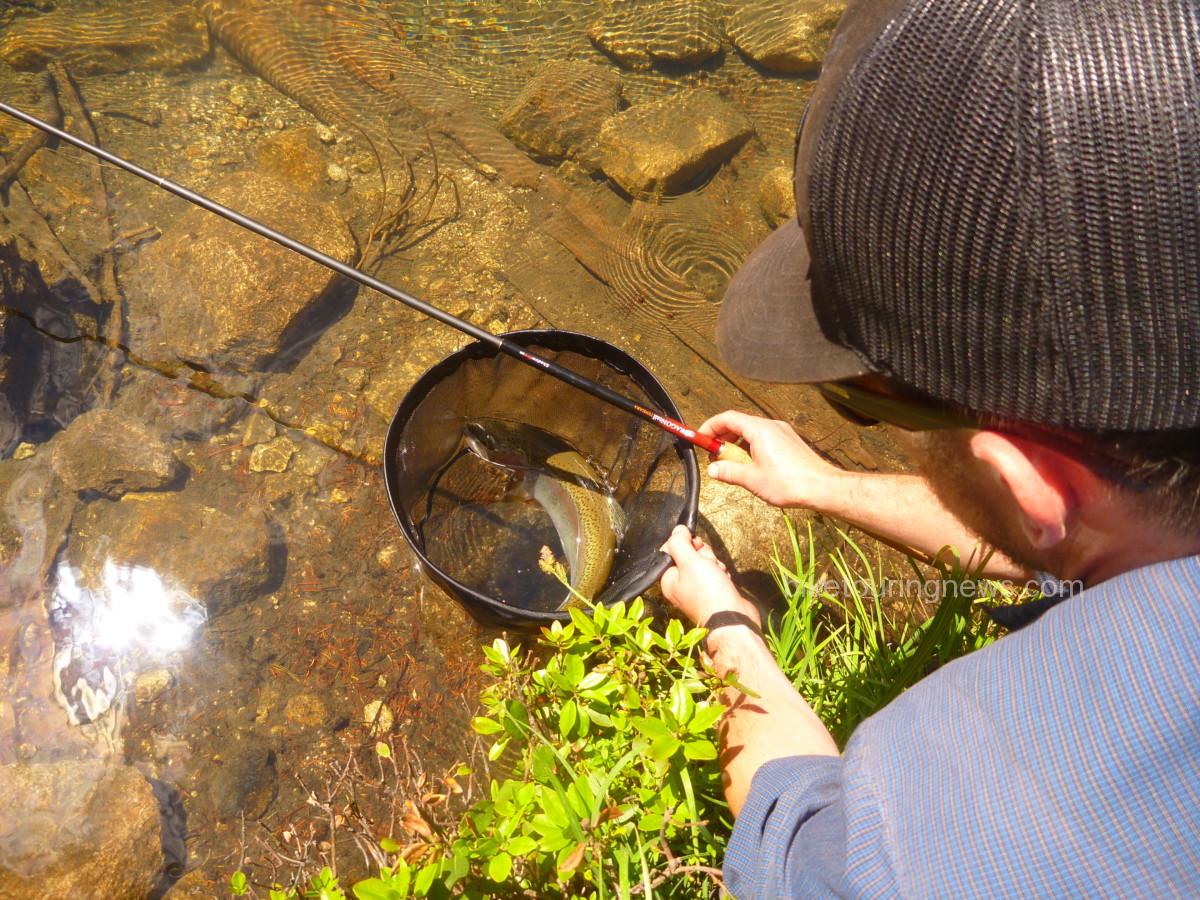 Landing and releasing a hooked fish can be stressful for both the quarry and the angler.  A landing net helps make this process easier, especially when hand-lining a strong fish.  However, traditional fishing nets are heavy, bulky and can be awkward to pack.  This clever folding net features a hoop made from durable spring steel and a comfortable, ergonomic handle.  It folds into a compact case that can be easily stuffed away or carried by the attached belt loop.  Pull the net from its pouch and give it a shake to open the hoop and secure your catch.  The entire package is of very good quality and is a joy to use.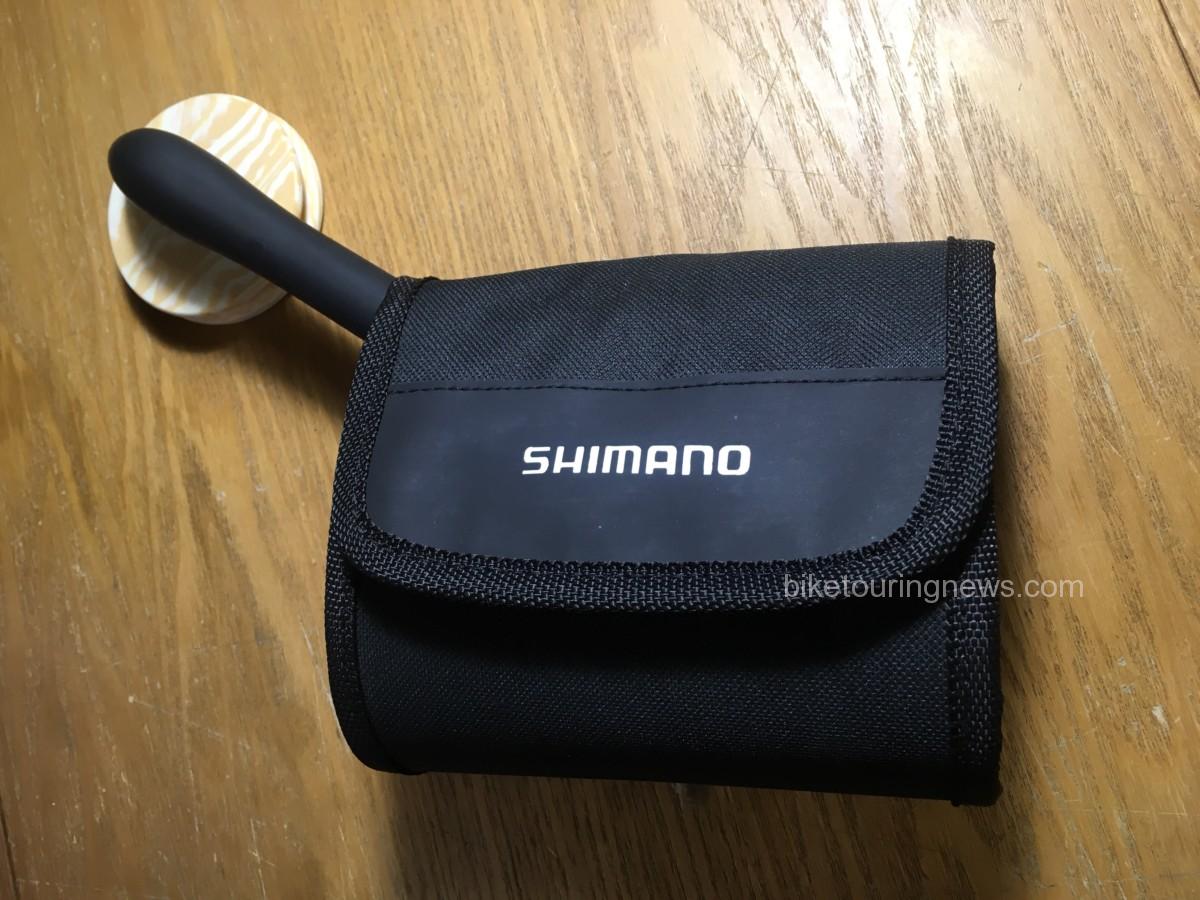 Fish 14″ and under are reasonably easy to scoop up with this net.  Larger fish can be challenging to get through the 30cm hoop and will cause the hoop to sag if lifted clear out of the water.  Fortunately, the net's mesh is quite deep so fish can be kept in the water while secure in the net, making unhooking and releasing easy.
NOTE: Shimano has discontinued production of this net, so get yours now before they're gone!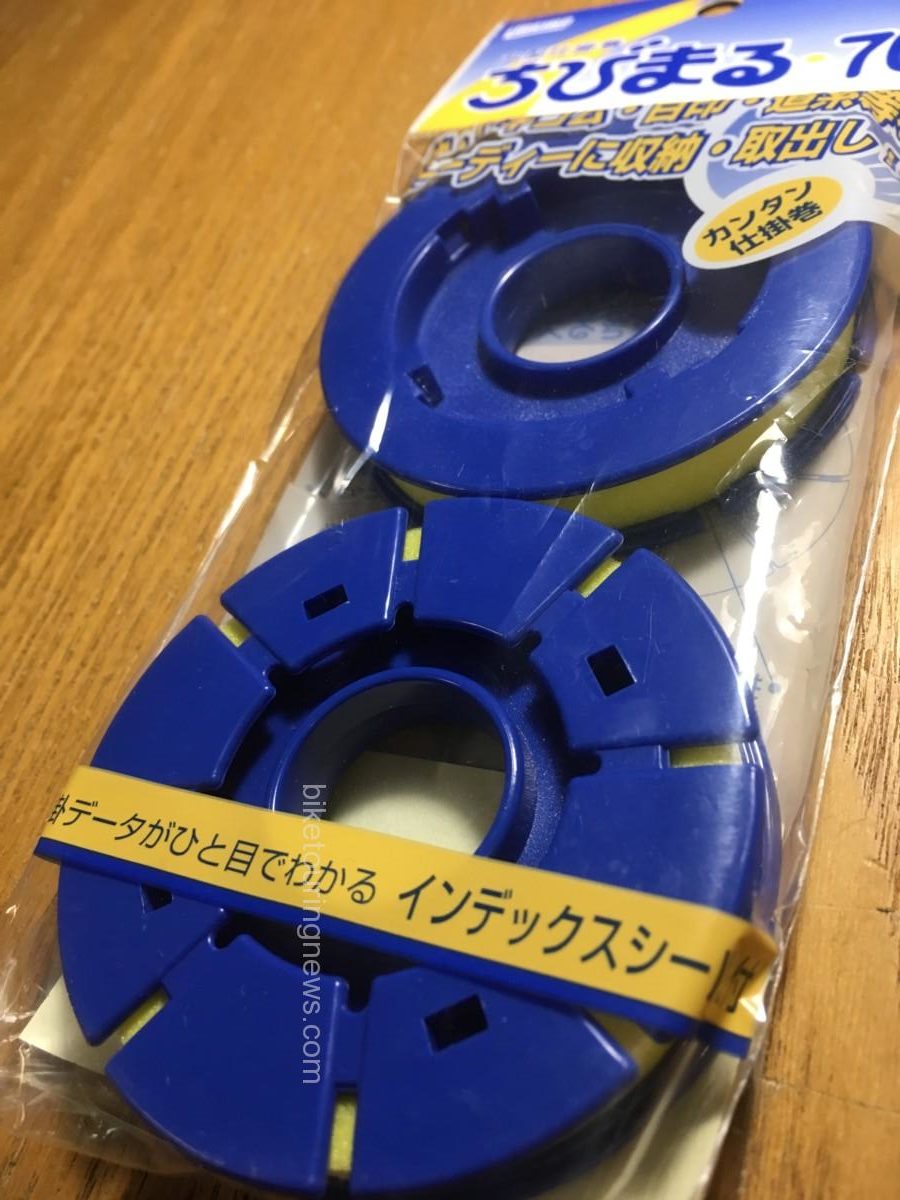 These are the classic plastic-and-foam spools for line management when you're not actively fishing.  Hook your fly into one of the slots, wind your line and tuck the tail for easy, tangle-free storage.  The inner diameter fits neatly on your rod's handle for the ultimate in convenience when changing fishing locations.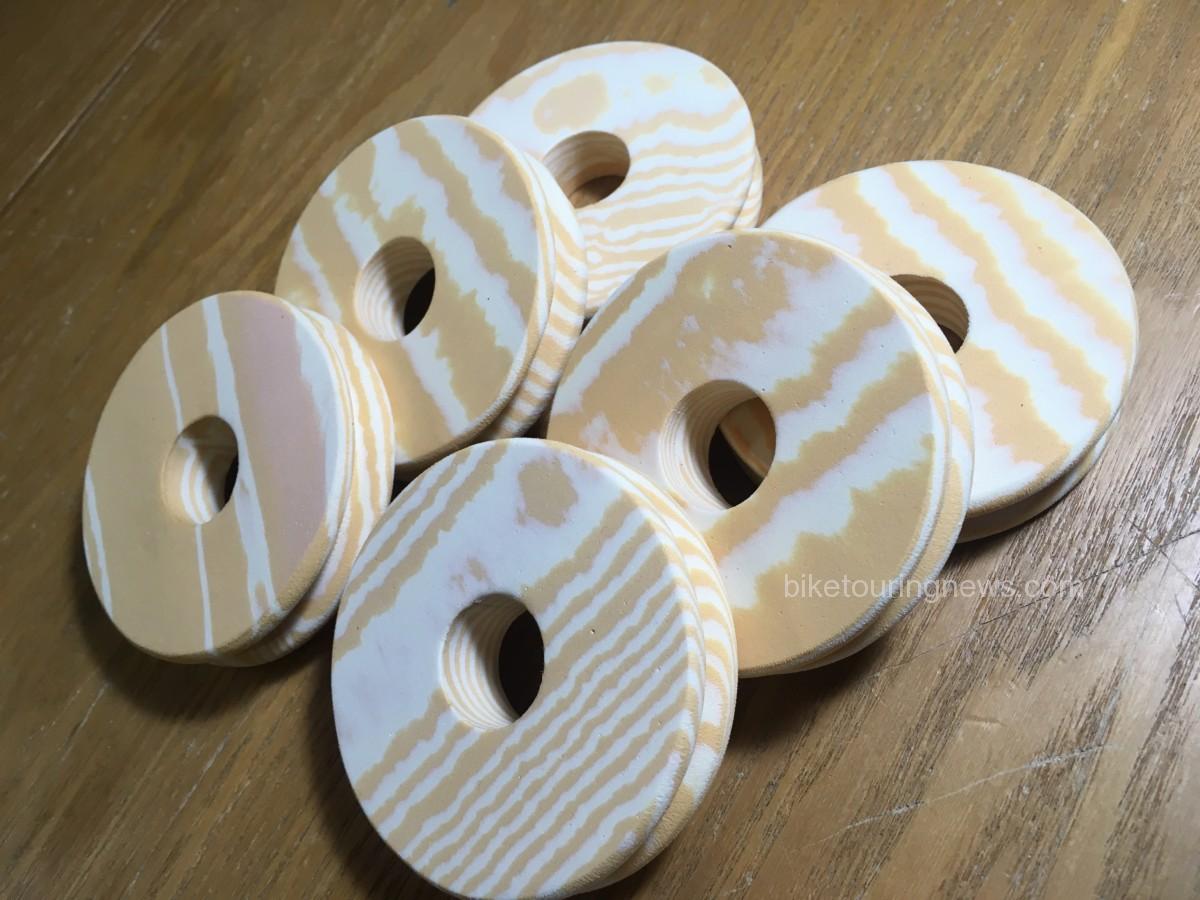 These are a lightweight, low-cost alternative to the Meiho spools.  Hook your fly into the durable foam wherever you like and cut notches where desired to capture your line.  The groove in these is deeper than that of the Meiho spools, making them easy to wind and ideal for longer lines.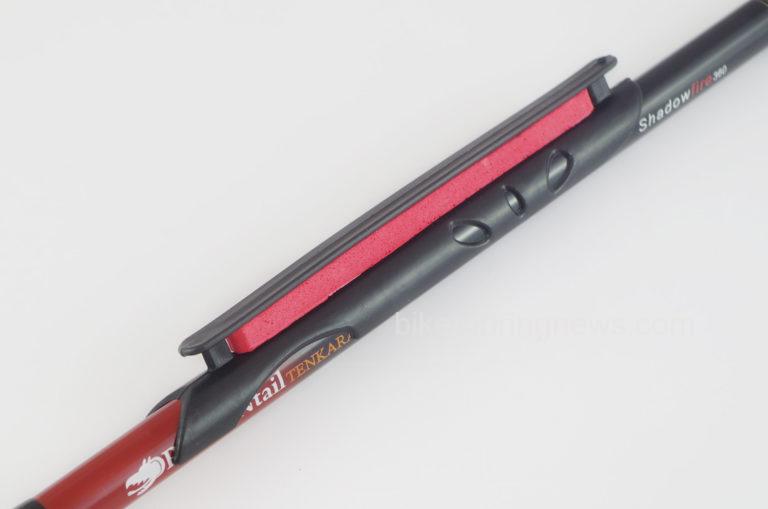 Line Winders add an extra level of convenience to line management as they remain clipped to the butt section of your rod as you fish.  When you're ready to move, simply collapse the rod, wind your line and hook your fly into the foam insert.  No need to dig in your bag or pockets for a spool!  While they work great for furled lines, we recommend sticking with spools for level lines to avoid annoying kinks in your line.
What questions do you have about getting started with tenkara or fishing by bike?  Drop us a comment and let us know what we can do to help you get out and catch some fish on your bike trips!  Thanks for reading!