My personal quest for a comfortable bicycle saddle which I can sit on for consecutive hours in relative comfort came to an end (uh,huh,huh) when I tried the Gilles Berthoud Aspin saddle. But that solution didn't work out for my wife and riding/touring partner. The shape wasn't quite right. For her the
Rivet Pearl
saddle provides the best platform.
Rivet Cycle Works is a relatively new player…the saddles were introduced at the North American Handmade Bicycle Show in Sacramento this year (2012). The founder, Deb Banks is an ultra long distance rider. Like Paris-Brest-Paris long distance. She wanted to take the good things from all the currently available leather saddles and incorporate them into a dependable, comfortable product.
Rivet offers two models- the Pearl and the Diablo. The Diablo at 155mm wide and 280mm long is narrower than the Pearl, which measures 170mm wide and 280mm long. The Diablo is a little bit lighter as well. Both models feature a longitudinal cut-out in the top. Leather tabs on either side of the skirt extend underneath where they meet and are held together with a riveted metal plate. The attention to detail is apparent when one notices the Rivet logo on the metal plate visible through the cut-out. Rivet calls these "suspension" saddles. The extra thick, laminated leather tops are "firm but forgiving". And the skirt tabs do not allow the saddle to flare out when the leather starts to soften with use. After several hundred miles the leather on Sky King's saddle is noticeably softer and has some spring or give but the saddle is not developing a "hammock" shape.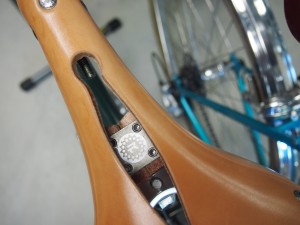 The straight portion of the rails, the part that clamps to the seat tube, is about a two centimeters longer than the rails on a Brooks B17 so the fore and aft position is more adjustable. Both models come in steel rail and ti rail versions.
Rivet claims that the leather they use is waterproofed during the tanning process so that no further leather treatment is required. And the leather is thick….thicker than any other saddle we have seen. There is actually a second layer of leather laminated (finished side out) to the underside of each saddle, apparently to add structure to the leather and mitigate stretching but I would assume it helps with the weatherproofing too.

Some might hesitate to buy the first generation of a new product, but from what we've seen and used, I say go ahead…take a chance.. be a pioneer. Your friends and neighbors will be impressed. $150.00 for the steel rail versions and $250.00 for titanium rails.