We recently ordered and built a Surly Bikes cargo trailer for a customer. This one is the so called Bill trailer. The shorter Surly trailer is the Ted. In typical Surly fashion these trailers are way better than they need to be. The beds and the hitch are made mainly of TIG welded 4130 ChroMoly steel. 304 stainless steel hardware is used where appropriate.

The trailers and the hitch are sold separately. The hitch will work with almost any bike by simply replacing the stock quick release skewer or thread on nuts with Surly's proprietary parts. Surly's own Ogre and Troll bike frames have a threaded hole in the rear dropout made to accept a 10×1 threaded bolt and the Surly hitch mount nuts.  The hitch and yoke assembly retails for $299.00. The Bill trailer retails for $750.00 and the Ted goes for $650.00
The Surly crew cultivates an impression of being a bunch of beer swilling louts and rad bro's, but their engineers are top notch and these guys obviously ride bikes…a lot. And they actually use what they sell. It's surprising to me and it bugs me when some manufacturers bring bikes or parts to market and the bike or part does not work as expected or advertised because of a minor, or not so minor, design flaw which could have been flagged and worked out if the the item had been ridden and used before being marketed. Here's what makes me think these trailers were used in the real world before being sold: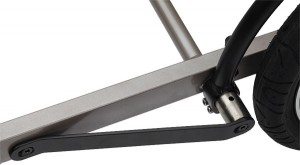 You see the bent piece of flat steel bolted to the frame and to the end of the wheel guard mount? I couldn't figure out what that was for. It obviously is not structural. Then I took the trailer for a spin and when I was rolling it back in through the front door the piece of flat steel hit the door jamb and neatly kept the wheel from smacking into it which would have resulted in a jolt. I'm guessing that actually happened the first time someone took one of these out.
These trailers obviously are not suitable for bike touring and that is not the intention. But on the days when we miss the UPS driver and my Bob Yak is overloaded with boxes to ship I think one of these would be nice. The customer who bought this trailer is a carpenter. It would be fantastic to see him going down the road with an air compressor and a dozen two-by-fours strapped onto the the deck. Made for people who are serious about Using (with a capital U) their bicycles, these trailers are designed and made to last for a very long time.