Switching from drop style handlebars to an upright, swept back handlebar can change the functionality and personality of a bicycle. And sometimes a change can be good, maybe turning an unused bike, or one that may duplicate another bike in one's stable of bikes, into the go to, everyday machine.
From This: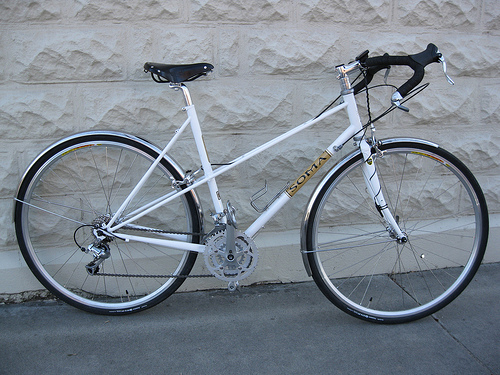 To This: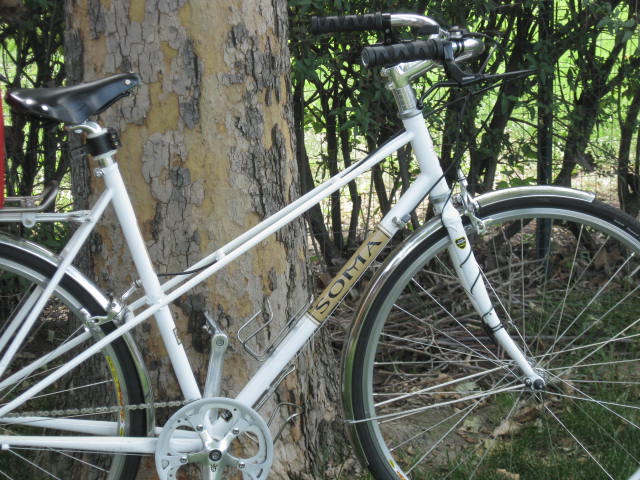 One such handlebar, the Nitto Albatross is popular in both the alloy and chrome-moly versions. Soma Fabrications makes the Oxford bar which is almost identical in size and shape to the alloy Albatross Nitto makes. This 6061 polished aluminum handlebar will take bar end shifters, and has a 25.4mm clamp diameter making it versatile for use with most stems.Making the switch takes a little bit of planning and thought:
– First of all, the brake levers that fit on a drop bar will not fit on the new bar so new  "mountain bike" style brake levers with a 22.2mm clamp diameter, like the Shimano BL-R550 – are a requirement. The brake levers come with new cable and housing which will come in handy because the old cable and housing is probably too short.
– If the drop handlebar setup used bar end shifters these can be transferred to the Albatross or Oxford bar. If downtube shifters, then, no worries. If the drop bars had "brifters", or those brake levers with the shifters built in, then new shift levers are in order. Either the bar end style or a top mount shifter or I suppose even the mountain bike standard trigger shifters could be used.
– The hand grip areas can be wrapped with regular bar tape or a slide on grip can be used with the caveat that the cable and housing for bar end shifters will not clear most standard grips, and the more or less conventional solution is to use cork grips with grooves filed into them for the cable.
Now it's a simple matter of disconnecting all the brake and shift cables, un-wrapping the handlebars and taking off the brake and shift levers. The old handlebar comes off and the new one goes on. New shift levers (or the old bar end shifters), brake levers and grips go on, the new cable and housing is fit and tightened and adjusted and that's it except for possibly adjusting the height or angle of the handlebars to the rider's preference. A threadless stem with a removable face plate makes removing and installing handlebars pretty simple.