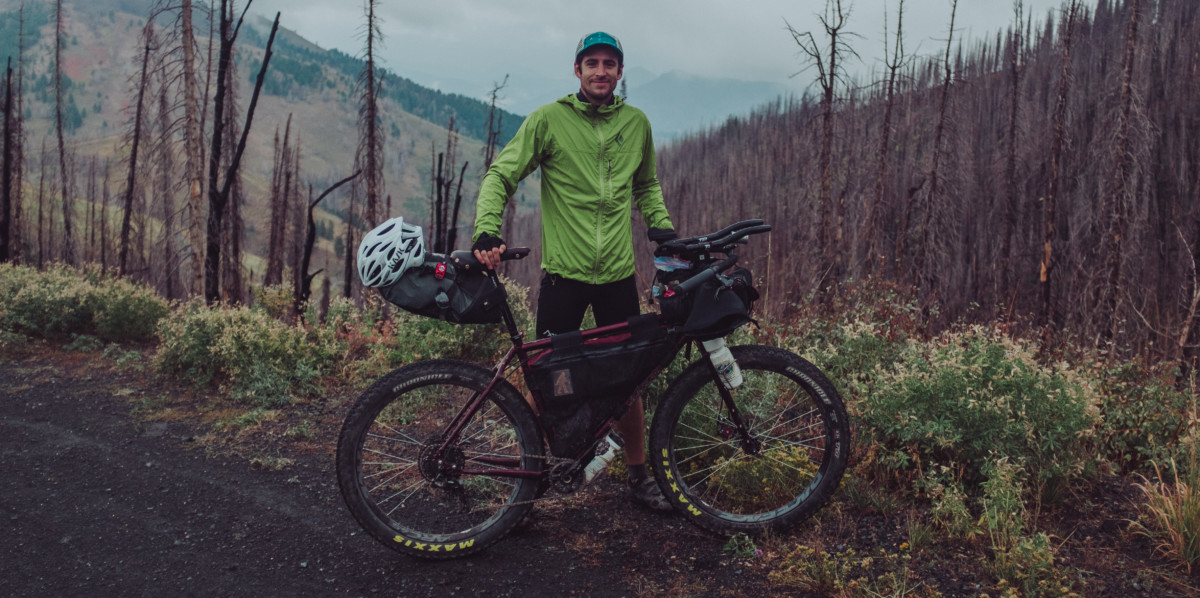 Hey there, my name is Matthew Wordell. Earlier this fall when Ryan took over Bike Touring News, he asked me to write a brief retrospective on my experiences bikepacking Idaho in 2017. I live and work in Boise as a freelance photographer (Instagram | Website). I'm fairly new to the sport and my hope is that some of what I write here will inspire that one person who has wanted to try bike touring or bikepacking to take the plunge and head out on their first ride. Full disclosure: This is my first attempt at writing a blog of this nature, so thanks in advance to those of you who finish the whole thing <3
For anyone reading this who isn't already familiar with Bikepacking, this is a great definition from Bikepacking.com – 
"Simply put, bikepacking is the synthesis of mountain biking and minimalist camping; it evokes the freedom of multi-day backcountry hiking, with the range and thrill of riding a mountain bike. It's about forging places less travelled, both near and afar, via singletrack trails, gravel, and abandoned dirt roads, carrying only essential gear. 
A common misconception is that bikepacking requires a small fortune to fully appreciate; the perfect bike, custom bags, and all the latest ultralight camping gear. While investing in quality gear is never a bad idea, it's certainly not a necessity to get you up and running. Start by using what you own and picking a short overnight route near home (30-60 miles). Discover what you really need through experience."
With that, here's the official beginning of this blog:
Bikepacking in 2017 begins as any other year should – far too early, far too cold, and with little regard for the forecasts prediction of rain and cold. With my bags packed and work finished for the day, the itching desire to saddle up and head for Shaw Mountain becomes palpable. Hurriedly, I lock the door to my small North End apartment and ride through downtown Boise to meet several friends who will be joining for the evening. The plan, a quick sub-24 hour ride up to the ridge road where we've often set up for simple overnight campouts, cook dinner, drink whiskey, survive the cold, and bomb down the mountain for work in the morning. The landscape by Shaw Mountain offers a beautiful panoramic view of the city below, stars above, and a perfect silence I've come to love in wooded areas, away from trafficked dirt roads. I'm still astonished a place like this exists less than a two-hour ride from town.
For us, this ride is a tradition at the beginning of the year, something we simply like calling "Wednesdays Are For Bikepacking." It's our way of taking advantage of Boise's proximity to forested and lesser traveled areas along the ridge between Bogus Basin and Shaw Mountain.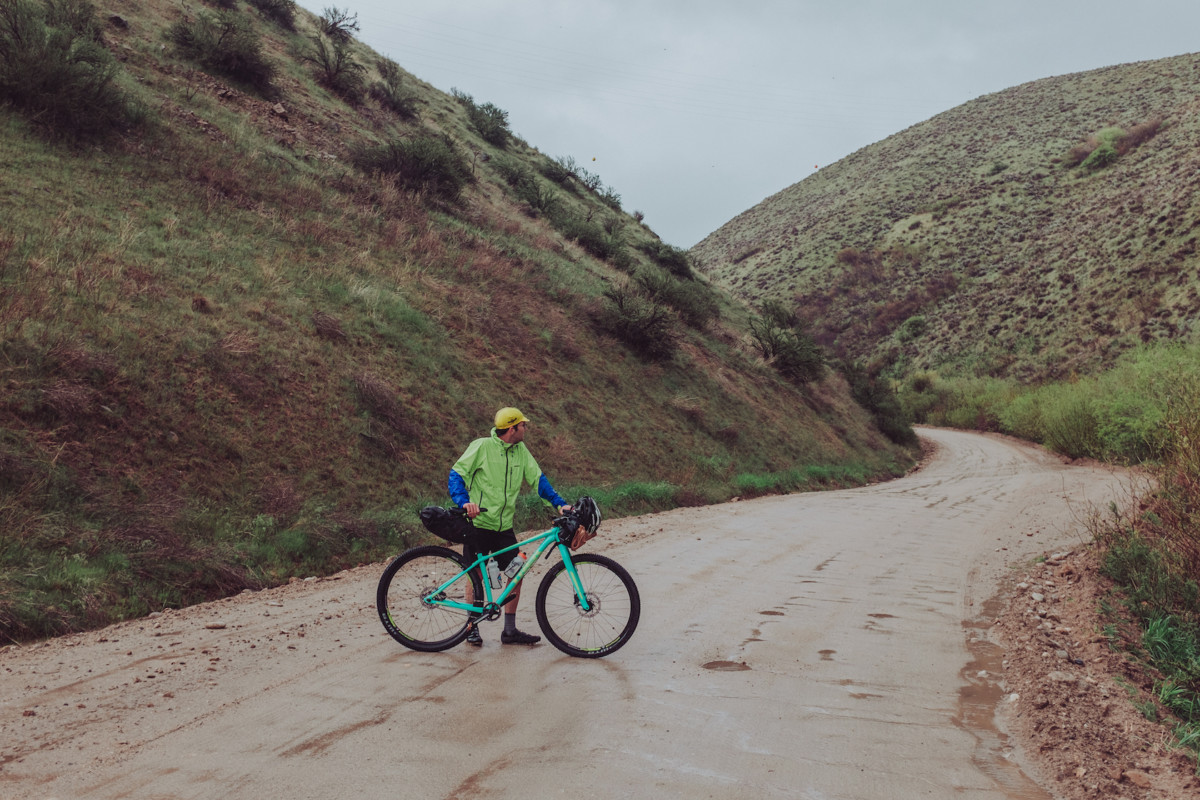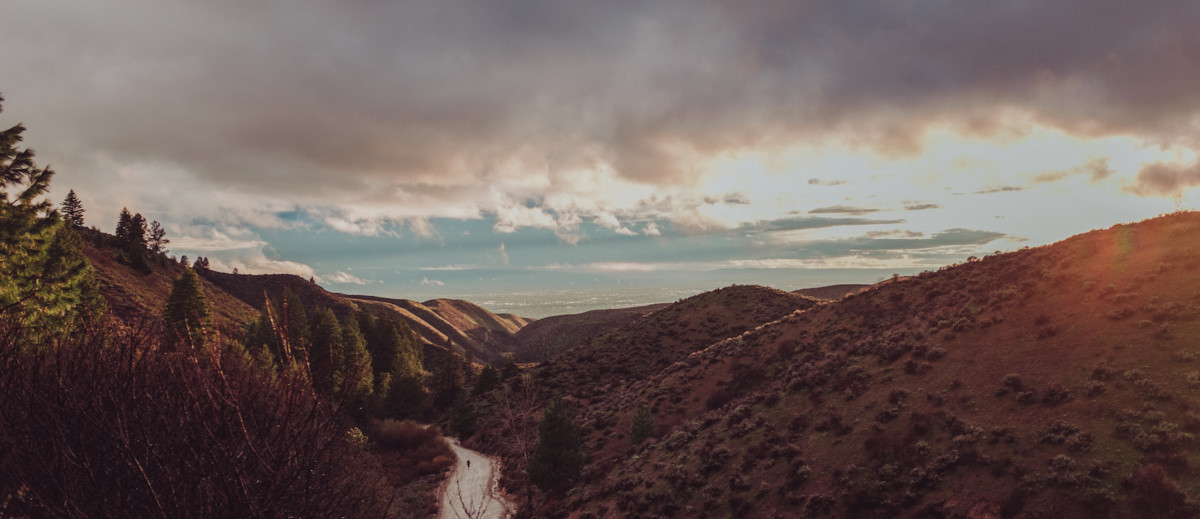 While making the final adjustments to our gear, a deep purple wash of clouds gathers across the western horizon, casting the day into inky purple darkness and casting doubt into our minds about whether or not it is really a good idea to follow through on the years first mid-week overnighter. None of us were really up for freezing to death on the first ride of the year, but it's hard to say no to something we've looked forward to for so long. Nearly impossible this time after surviving the brutal snowpocalyptic winter that ravaged Idaho for months.
Thinking we could beat the rain to the ridge, we begin the climb. Cresting Reserve Road and descending toward the choppy gravel of Rocky Canyon Rd., the weather takes a quick turn for the worse, rain beginning to come down in sheets. Less than 25 minutes into the ride we're soaked, frozen, and laughing uncontrollably. For a moment, I think we all hate it, each of us knowing that turning around and spending a warm night at home would be infinitely easier than the cold night ahead. But it was the inclement weather that confirmed what we had partially forgotten through the winter – what we really love about bikepacking.
Facing the unexpected and working through physical challenge isn't something we experience all too often in day-to-day life. Routines dictate much of our schedule and for the lucky few (depending on what you consider lucky) who are self employed there's still a healthy level of predictability you need to maintain in order to keep things afloat. Backpacking, bike touring, or any other sport that carries you beyond the routine and predictable motions of civilization provides an incredible opportunity to connect to the unknown, to face challenges, and to push through moments when giving up seems to be the only option. Finding joy in the pain, laughing at it with your friends. In the moment, this is the message I feel is being delivered to us by this god awful weather.
Reaching the top of the ridge, the storm finally breaks and sunlight explodes across the horizon, bathing the surrounding pine trees in purple and orange streaks of light. It's a beautiful end to a short and painful ride and a great way to start the year. We stand together on the ridge taking it all in before piling into a small two person tent with our sleeping bags, cook kits, food, and whiskey. The tent is way too small, but it's the only way we'll be able to warm up before heading to our own tents and falling asleep for the night. It's crazy to think home is less than 15 miles away. It's a Wednesday night. We have work in the morning.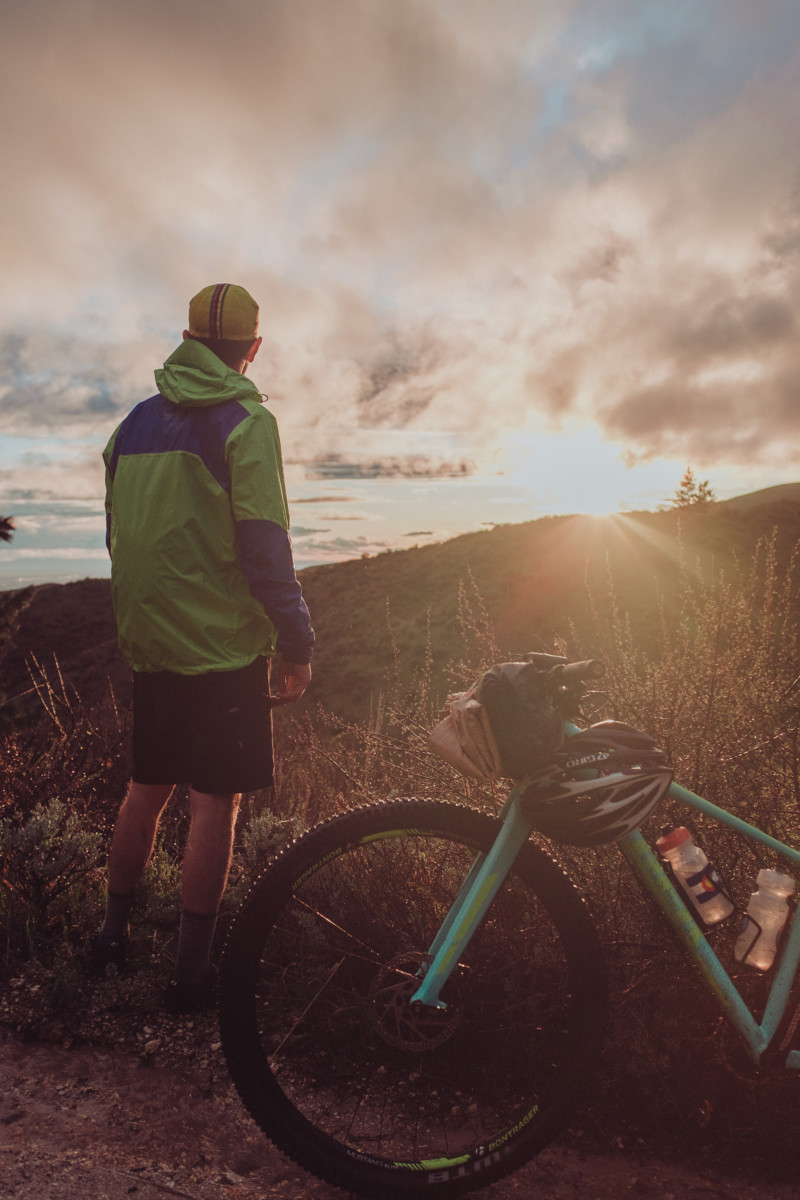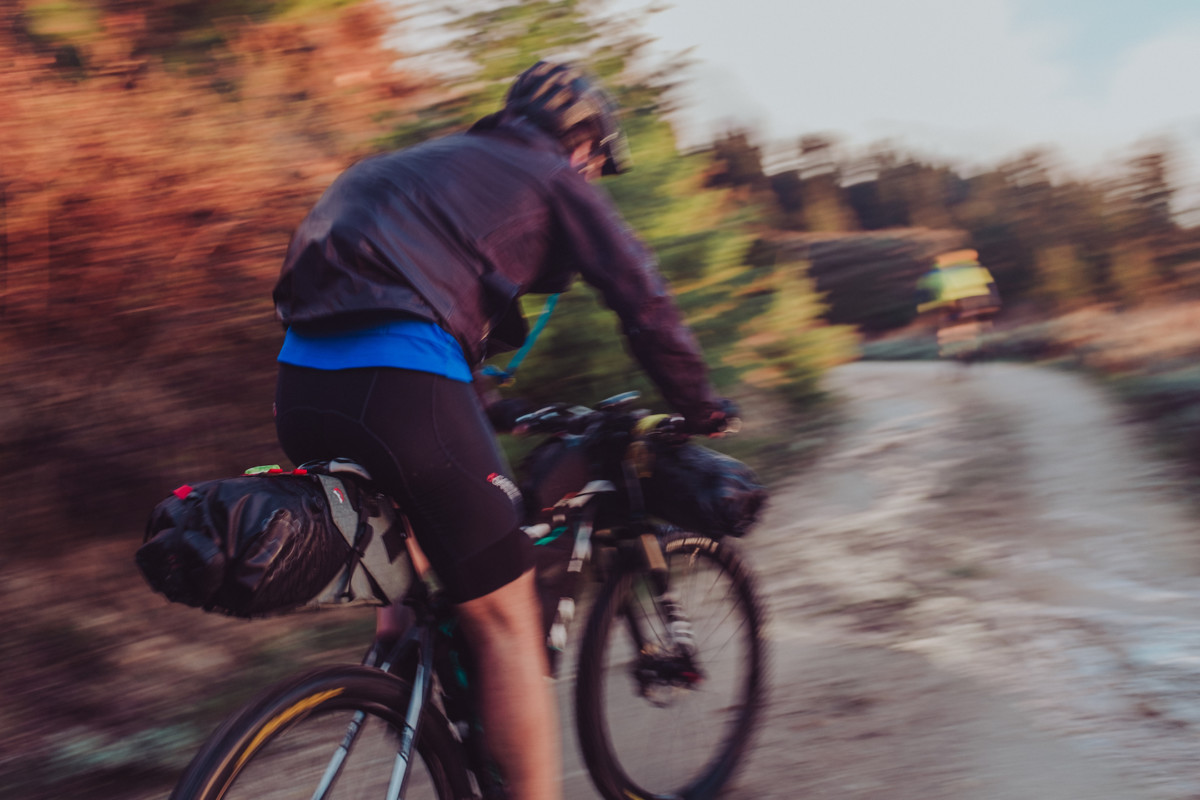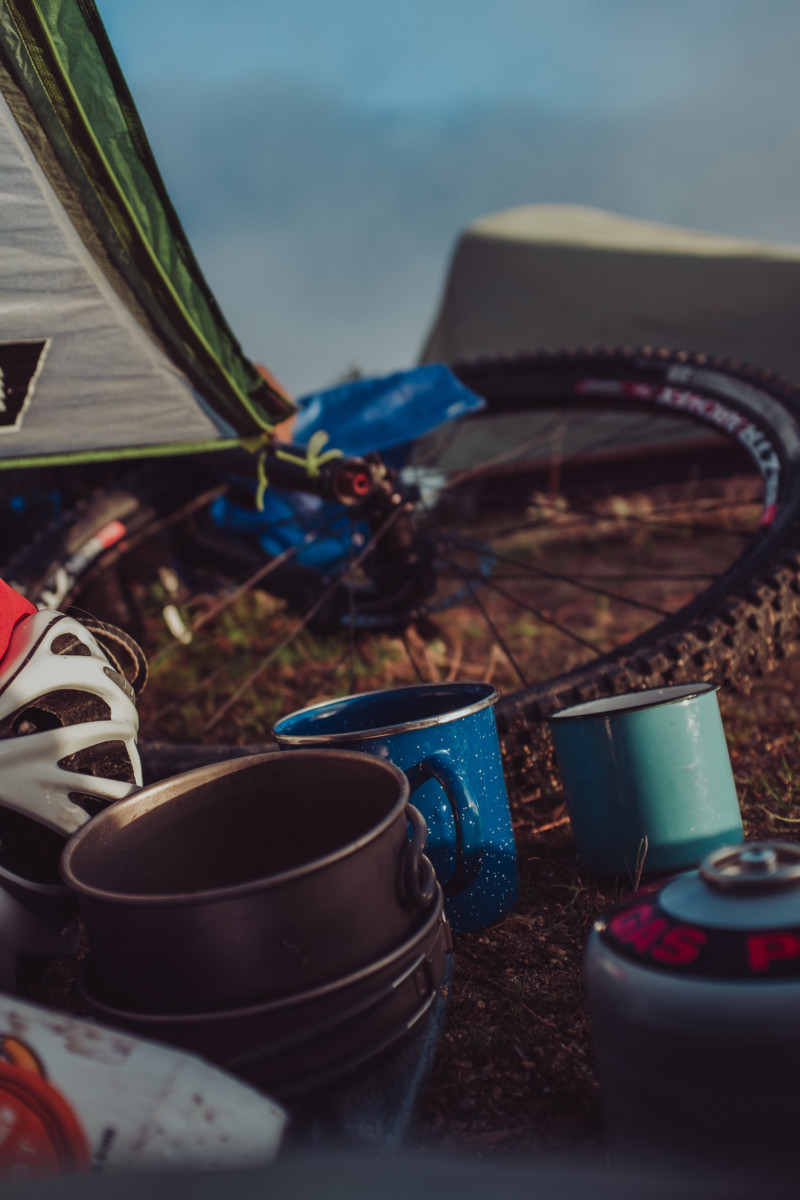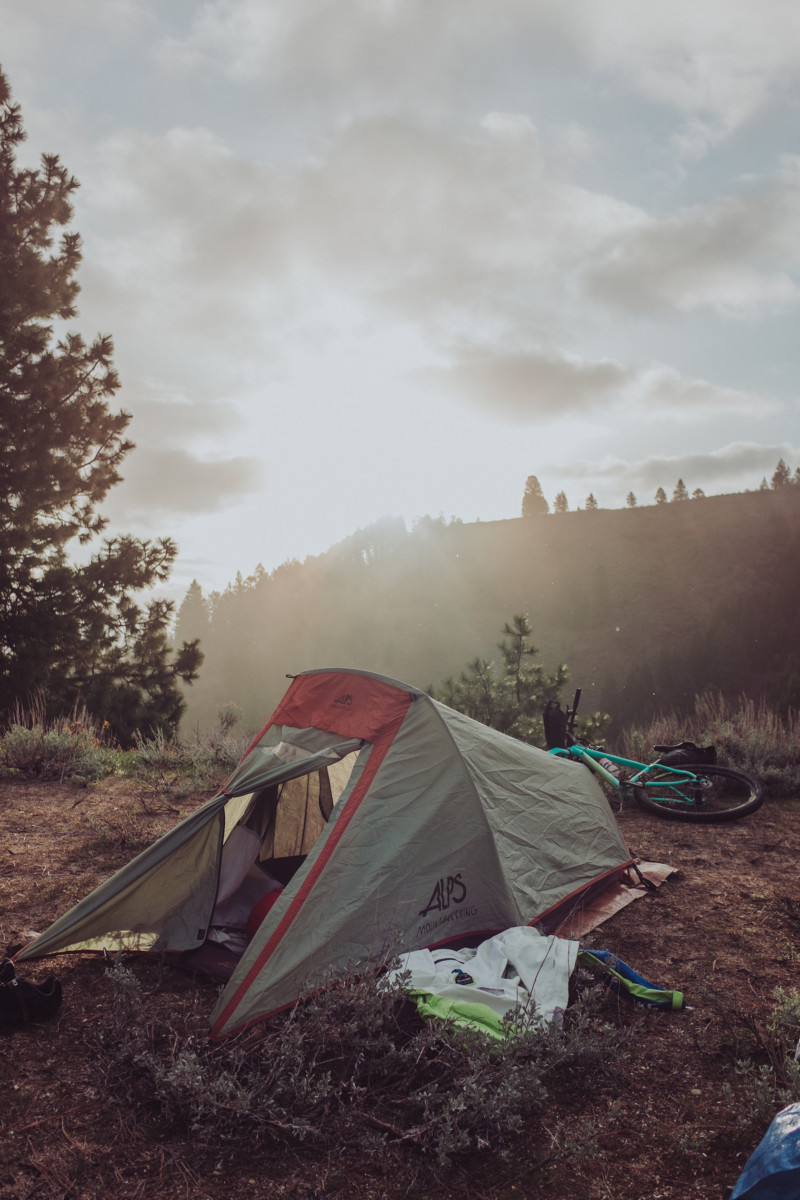 I'm fairly new to mountain biking and only recently discovered bikepacking in 2016, but it has completely changed my understanding of why I ride bikes. For readers who are interested in trying it out, I'll try to include bits of information that hopefully make the first step a little less intimidating.
Each trip I take I learn something new about the equipment I use and my approach to riding – a new way to pack my bags, a better way to make coffee, a more efficient way to access certain types of gear, slower climbs, more snacks, taking time to swim in the middle of the day, and how to plan routes to keep the riding fun and the opportunities for beer plentiful. The process of trial and error is important in any sport, but I feel it's especially important for bikepacking as the first couple rides can often feel the most intimidating. Never fear, everyone has their own idea of what works so it's worth experimenting with your packing setup! Here's a few pro tips to get you started:
For your first ride, try packing as light as possible to achieve maximum suffer points and garner extra kudos from all those ultralight riders on instagram who spend half their ride wondering if they actually needed that extra pair of wool underwear (they didn't). For this all you'll need is several packets of instant coffee, a cook kit for boiling water, and nothing more.
Once you've endured the pain of step one and have successfully realized camping is a lot more fun when you're comfortable, you can now try packing a little heavier, a great way to impress yourself and your riding partner. For this "medium weight" approach, carefully stow away that handsome pour-over setup you've been dying to try out in the forest while the sun peaks over a wooded ridge, the steam of your fresh pot of boiling water lingering above a nearby brook, while you think to yourself more than once "can life get much better than this?" If you're the lucky chap who remembered to grind your coffee before hitting the trail, then the answer to that question is yes. Absolutely yes.
Last but not least, there are the mystical few who have been called by Zeus himself to go "fully loaded." Be careful who you discuss this approach with, a careless slip of the fully loaded tongue in the wrong company could lead to temporary lack of invitations to participate in those mid-summer bikepacking rides your buddies are all posting about on social media. Some will say this approach is unnecessary but if you've budgeted time for premium, grade-A nature-indulgence it might just be the right option for you. This setup requires a trip to your local co-op or natural foods store to purchase one pound of whole-bean single source coffee, your hand-operated burr grinder, and that freshly polished glass french press you haven't used in two months. For the full effect of traveling "fully loaded," pack a four-set of enamel mugs for you and your new friends who were laughing at the beginning of the ride but now realize you're an absolute genius.
For me, I've had to strike a balance between efficient riding and efficient good times once I've reached my destination. For that reason, I usually opt for the pour-over approach with a few additions. A block of dubliner cheese, a mini Bota Box of seasonally appropriate wine, a bar of chocolate, and maybe a shooter or two of some hard alcohol to take the edge off a big downhill section or when you make camp way later than planned and end up taking a pitch-black midnight bath in that nearby freezing river.
In my opinion the best first rides are along rivers, the grades are more predictable, you can stop and swim if the day gets too hot, and you have all the water you need for dinner once you make camp. Pick one, find a place to park, pack up your bike, and ride until you find a badass spot to camp. Strangers will help you if you get into trouble. It's something I have to remember every time I leave the house for one of these rides, people are willing to help if you need it. Don't be afraid to ask for directions and recommendations, 95% of the time people know the area better than you do.
One of the most important lessons I've learned along the way is that shit breaks, gear fails, and people forget things. It sucks but it's part of the fun (just don't forget your sleeping bag and cook kit). Learning how to improvise and exist without the conveniences of everyday life is an oddly valuable skill and something you gain almost immediately while practicing any type of minimalist camping. On my first bikepacking trip, a friend and I didn't have anything to use for chairs while eating dinner and lounging by the fire, so we decided to build make-shift stools out of pine bark. It seemed like a brilliant idea, but after kicking back for a few minutes we quickly discovered that his was infested with ants. Live and learn. Upon returning, we immediately went to REI and bought A-lite Monarch chairs and have packed them with us on nearly every trip since.
So yeah, back to 2017:
As May and June come into bloom, my rides seek out new vantage points, less traveled roads, more difficult climbs, lakes, rivers, and hot springs. I always have to include hot springs when possible. Normally I feel a drive to explore beyond the borders of my state, but this year it feels good to discover small towns in the mountains, talk to people who live there, learn of their favorite places to camp nearby, and wash myself in crystal clear river water at the end of a day. Its a year spent building my relationship with Idaho, deepening our connection, and discovering places I will surely return to year after year.
Almost every weekend, I find myself coursing like the wind along sweeping dirt roads, rambling through the high valleys, pine groves, and sagebrush of Boise National Forest, filling my body with a sense of freedom. Roads I've hardly noticed while driving become new passageways to a realization of the beauty that surrounds me here in this state. A sense of thankfulness with every turn, like my whole existence is breathing in the wild air of this place. It feels amazing. Each ride feels like a liberation from something, each experience building my confidence in the gear and skills I take with me.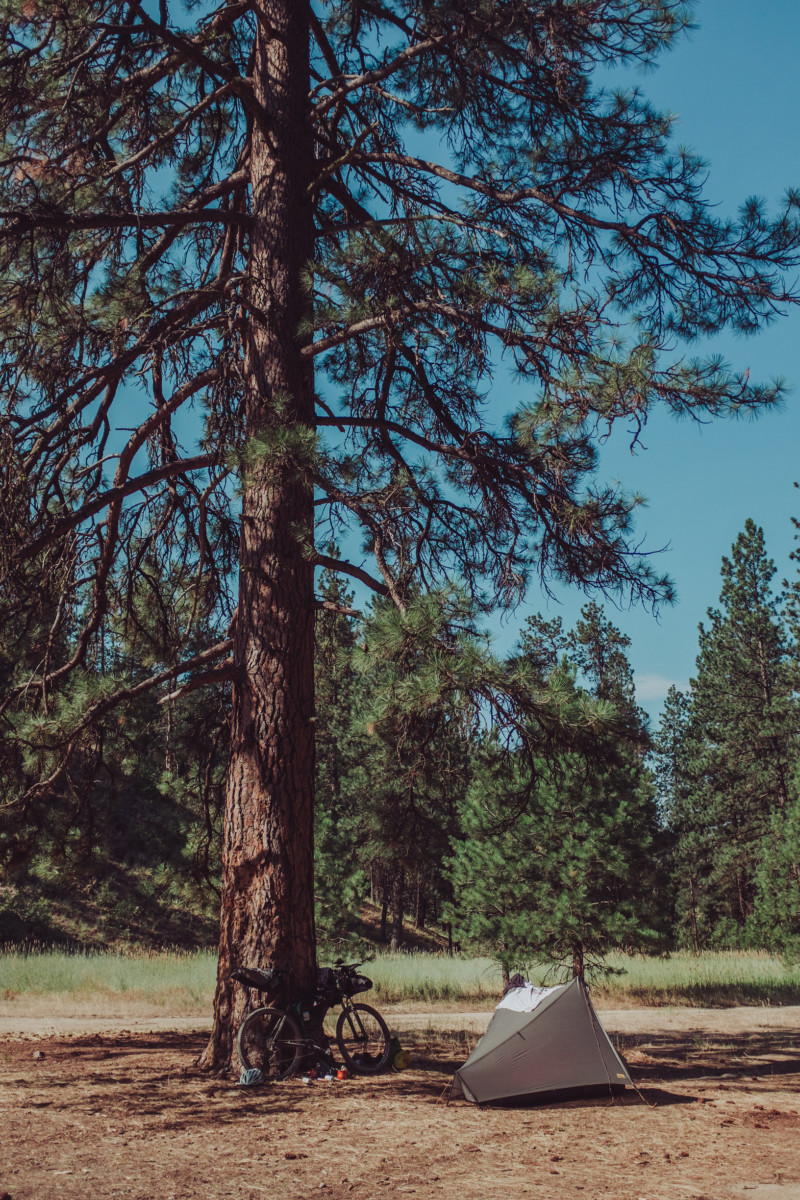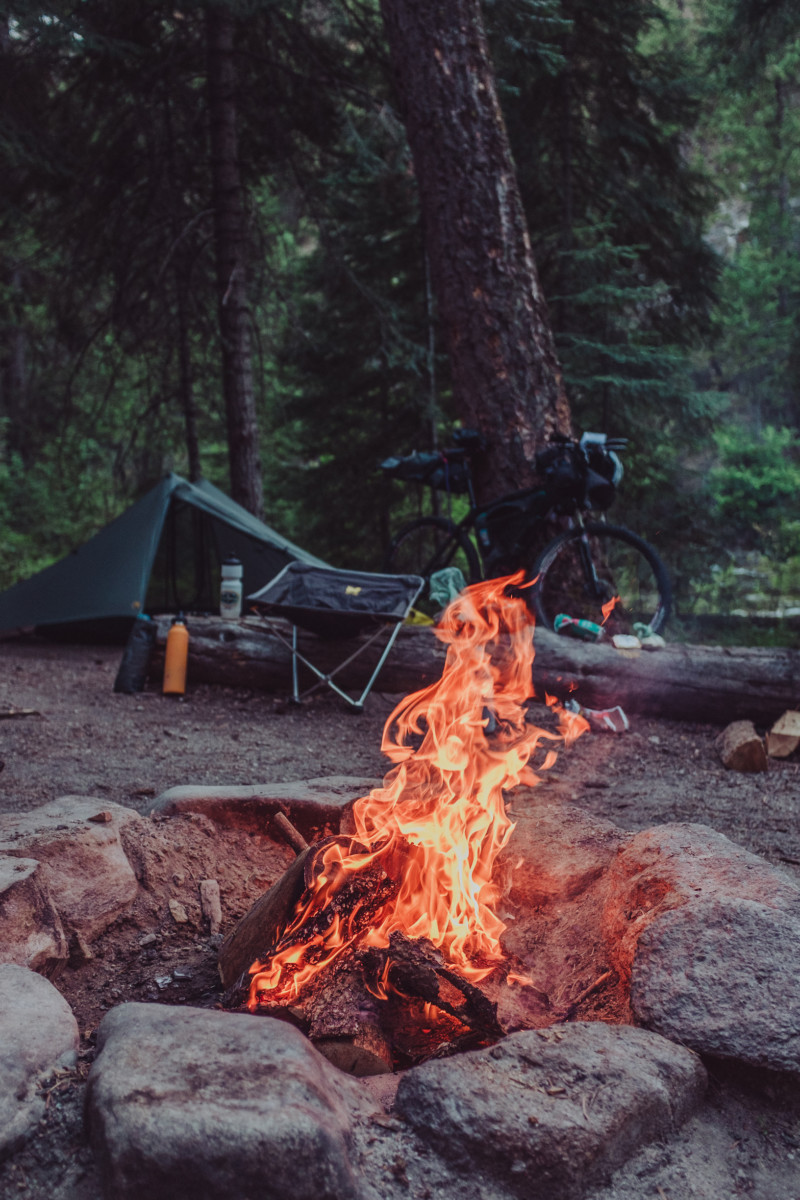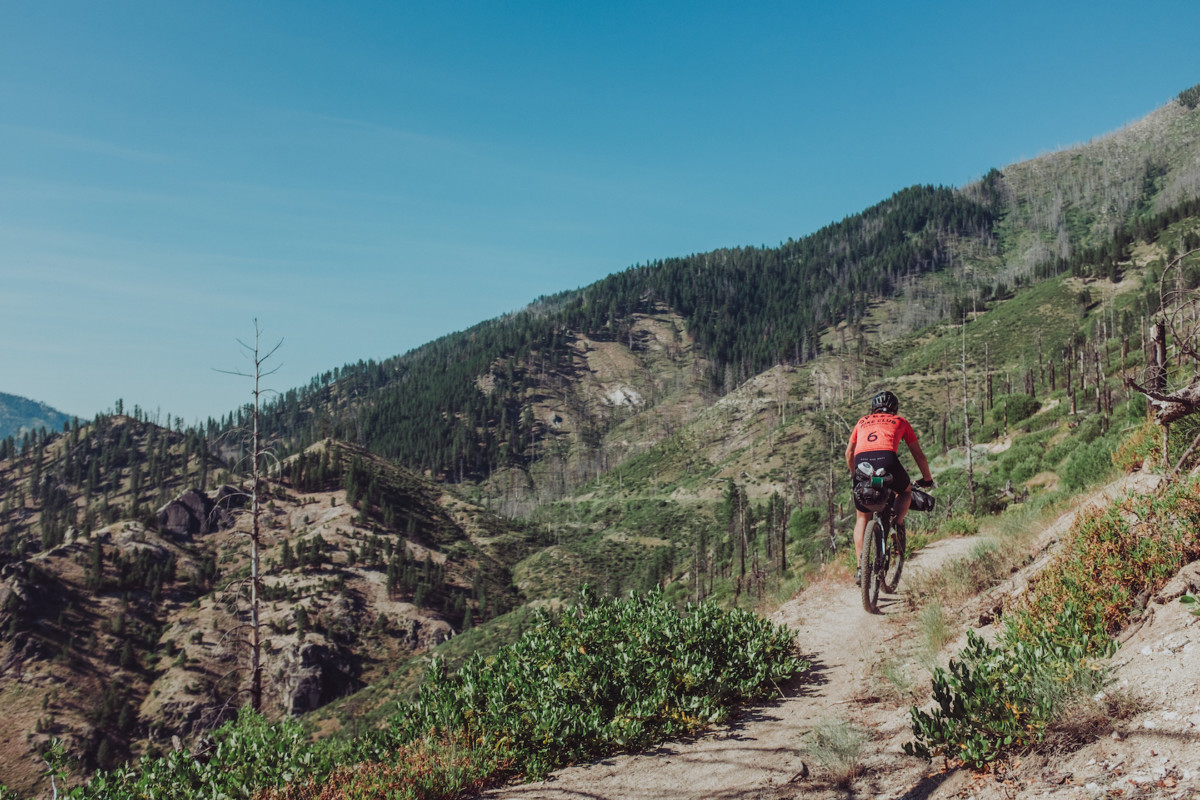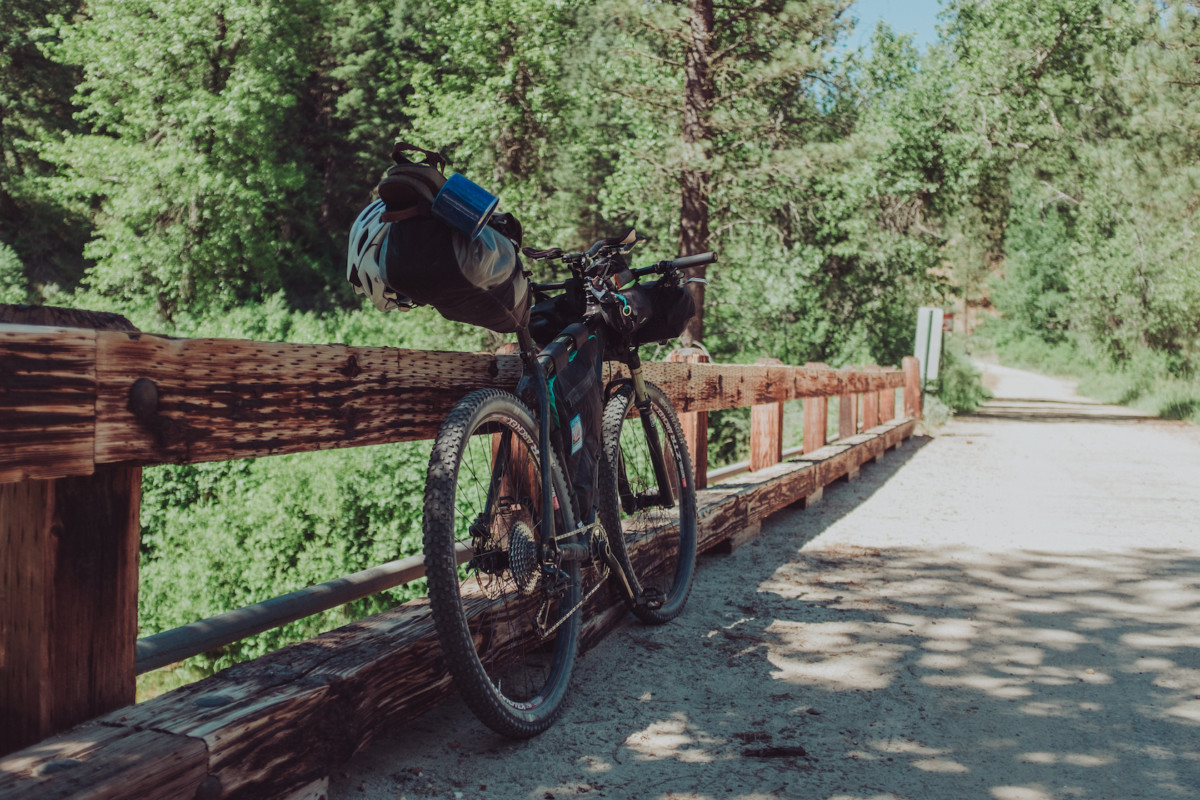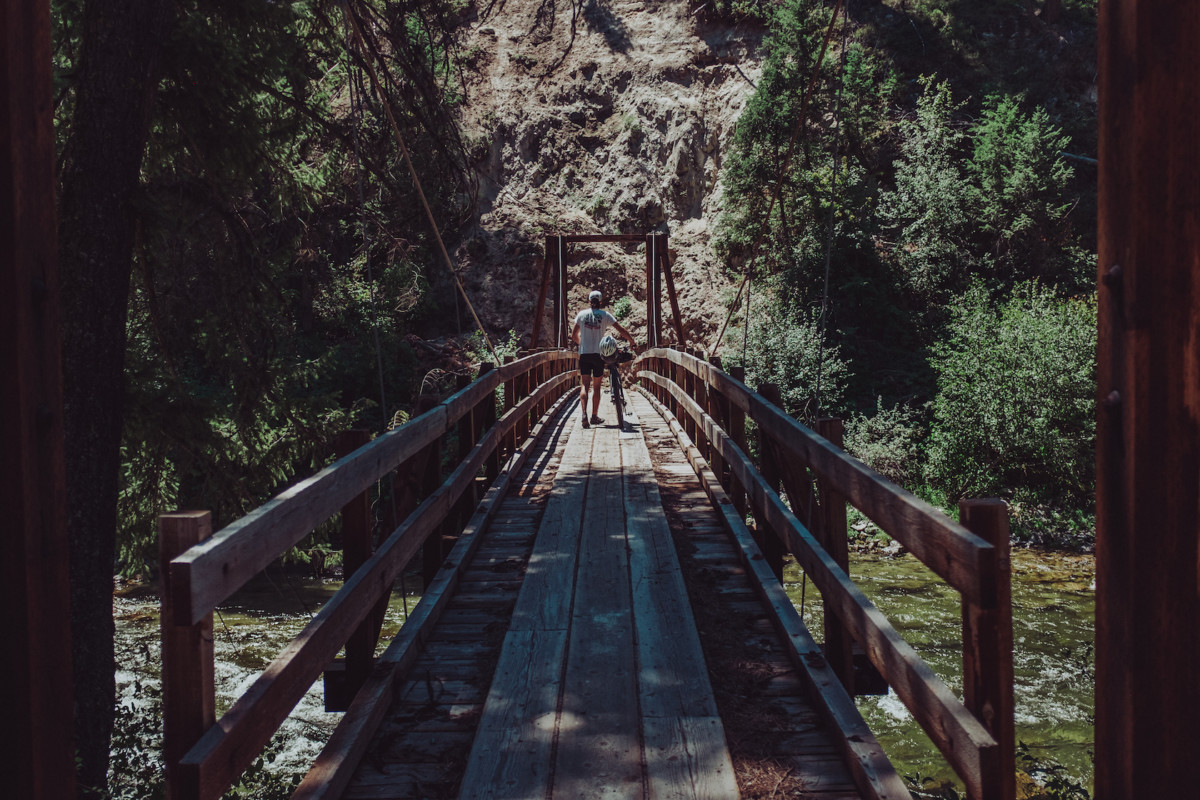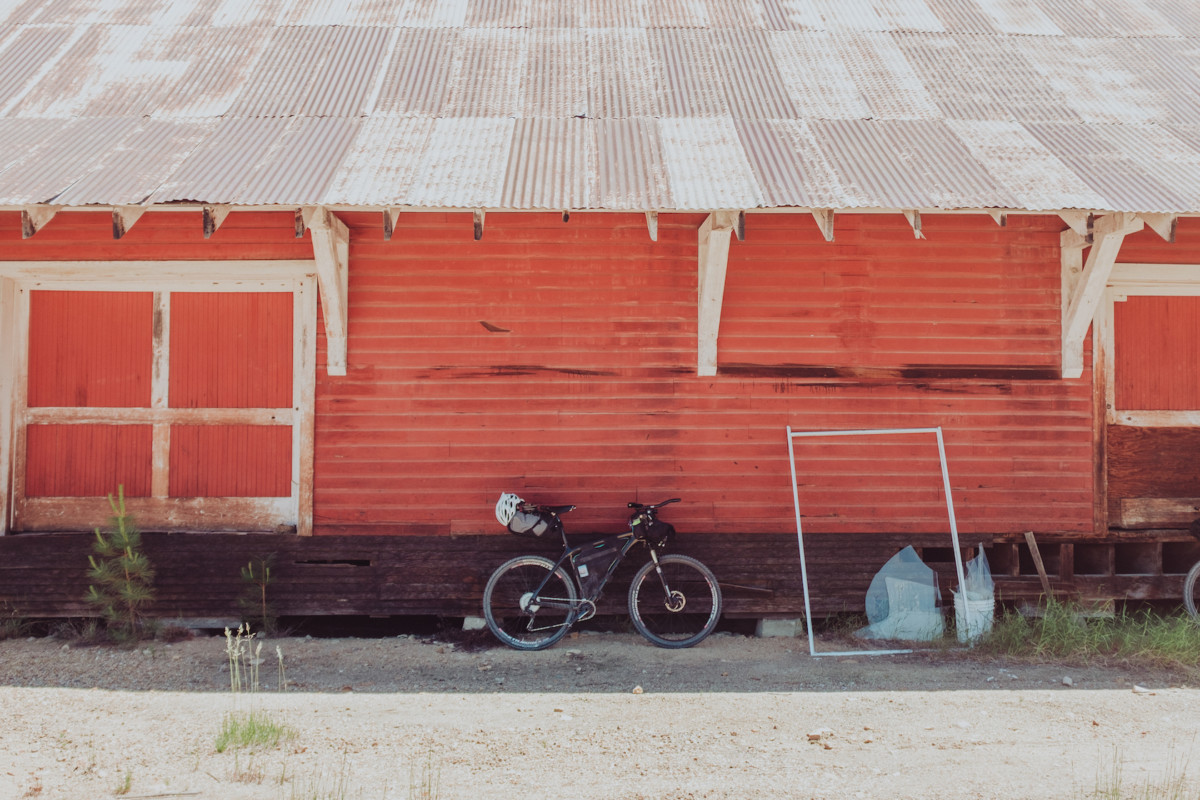 Autumn arrives and the tone of life in the wilderness changes, nights are cooler, the weather holds longer in its whims. All through summer we've talked of a ride to Atlanta and the annual Atlanta-Days festival is fast approaching. Five of us decide to meet at Trinity Hot Springs just outside of Pine, ride to Featherville and begin the climb through Rocky Bar and over to the Middle Fork Boise River where we connect up to Atlanta. It's an arduous ride complete with several stops for water and naps in the shade once we reach the top. Arriving in Atlanta as the sun slowly dips toward the horizon, we set up our tents near a group of rustic cabins on the edge of town, unload our bikes, and ride to a nearby water hole called "The Clubhouse." My favorite part of any hard ride is swimming in ice cold water afterward and this spot was especially cold.
The next day we climb up Phifer Creek Road and traverse Trinity Mountain Road, probably sweating at least half of our body weight along the way. Of all the places I rode this summer, the road to Trinity Mountain is the most beautiful of them all. The views, the clean air, the lack of motorized traffic all combine for an incredible dust-free suffer fest on the way up, and an adrenaline filled flight down the backside. We camp at Big Trinity Lake that night, a bear demolishes an ice chest in the campsite next to us but I sleep right through it, the difficult ride working as an impenetrable sedative on my mind. The photographs below catalogue our trip. Enjoy!
For anyone who is interested, I'm always changing my setup and trying new things. This is usually what I roll with:
Bike:
Clothing:
Patagonia capilene leggings
Arc'teryx thermal base layer top
Icebreaker wool socks for camp
7 Mesh Bibs under shorts
Kask Mojito Helmet
Swiftwick socks for riding
Specialized BG Gel riding gloves
Cotton t-shirt
Sunglasses / cycling glasses
Chacos
A random beanie
Patagonia down sweater
Running shorts for camp / swimming / etc
Cycling cap or baseball cap
Electronics:
No-name rechargable battery pack
iPhone 6s
Fuji X100T digital camera
Blackdiamond Headlamp
Sinewave Cycles Beacon light & USB charging cables
Kindle (if I'm traveling alone)
Earbud headphones
Sleep setup:
Tarptent Notch with poles
REI Flash Pad
REI Igneo sleeping bag
Sea-to-Summit inflatable pillow
Other:
A-Lite Monarch Chair
Outpost Titanium Pot & Pan (lid)
Snowpeak Gigapower Pocket Stove
MSR Fuel Canteen
Good-to-Go dehydrated meal (Thai Curry changed my life)
Spork
Vapur 2 liter soft bottle
MSR Trail Shot water filter
REI pack towel
Tool kit (Parktool chair breaker, needle, thread, tire levers, Co2, mini hand-pump, patch kit, etc)
Pocket knife
Enamel mug
Collapsible Helix Coffee Maker + coffee grounds in a pill bottle
Tons of snacks
Beer / Mini Box of wine / Whiskey / Take your pick