While the Bike Hermit and Sky King are gallavanting around Mexico drinking beer and camping under the stars, there has been a lot going on around Bike Touring News HQ!   We're constantly on the lookout for components and accessories to enhance your experience, help you ride more and have more fun doing it.  To that end, we've brought in some new products that you're going to want to check out.
Saddles, Tires, Rims from WTB
We're super excited to announce our partnership with Wilderness Trail Bikes!  WTB has been at the cutting edge of mountain bike equipment since 1982 and that depth of experience shows through in their products.  Most recently, they've done a great job creating components that are ideal for bikepacking and dirt touring.  Bike Touring News will be stocking a hand-picked range of their tires, saddles, rims and other gear for adventures that take you to the end of the pavement and beyond.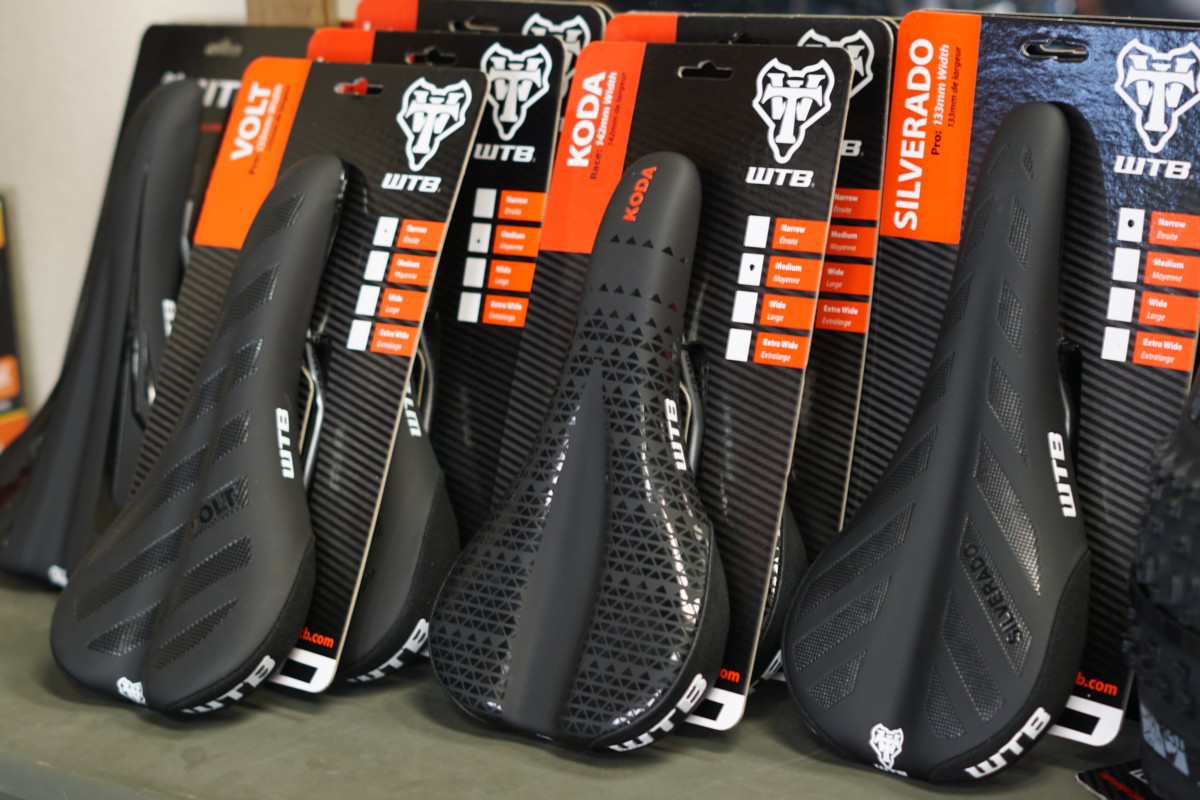 "What?  Bike Touring News is selling plastic saddles?"  I know, this is kind of a big deal as we have always been known for our devotion to leather saddles.  We'll continue to stock top-quality leather saddles from Gilles Berthoud, Rivet, Brooks and others but there are certain applications where a high-quality plastic saddle just makes sense. WTB's saddle designs have been refined over many years to provide a comfortable, supportive perch for all-day comfort on any bike.  Most of their saddles are also available in a range of widths, allowing you to choose a shape and level of padding that suits your riding style and a width that fits your anatomy.
We're particularly excited about the WTB Koda – a saddle WTB describes as being "female focused, rather than women's specific" and designed with input from a multitude of female riders including Idaho resident and legendary endurance rider, Rebecca Rusch.  Check out the video on the product page for Rebecca's take on the saddle.  In addition to the Koda, we're stocking the Volt, Rocket and Silverado.  We also have the complete Test Ride Kit, making it even easier to try a saddle before you buy.  Like all the saddles we sell, we back these with our 90-day Saddle Comfort Guarantee.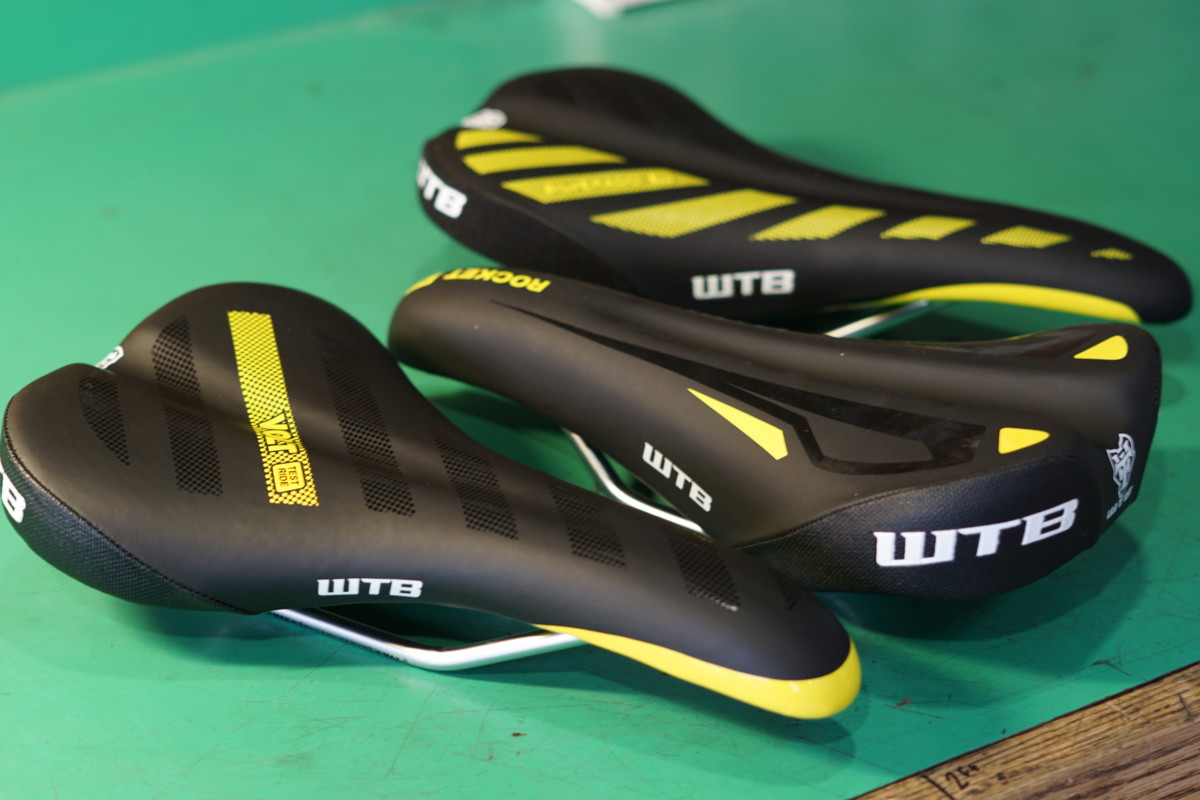 WTB's focus on bikepacking, dirt touring and other more adventurous riding is especially evident in their tire lineup.  They have fully embraced the full 3-inch "plus-size" tire platform and offer a handful of tread and casing options for any plus bike, such as Surly's Karate Monkey, Krampus or ECR.  The Trail Boss and Ranger are both solid, do-it-all tires for a broad range of conditions.  I (Ryan) rode a set of Trail Boss 27.5 x 3.0 tires on the Colorado Trail Race this past summer, in addition to all the preparatory rides before and plenty of miles since.  They're showing some tread wear but have been completely trouble free.  Excellent tubeless setup and no flats, just smiles for miles!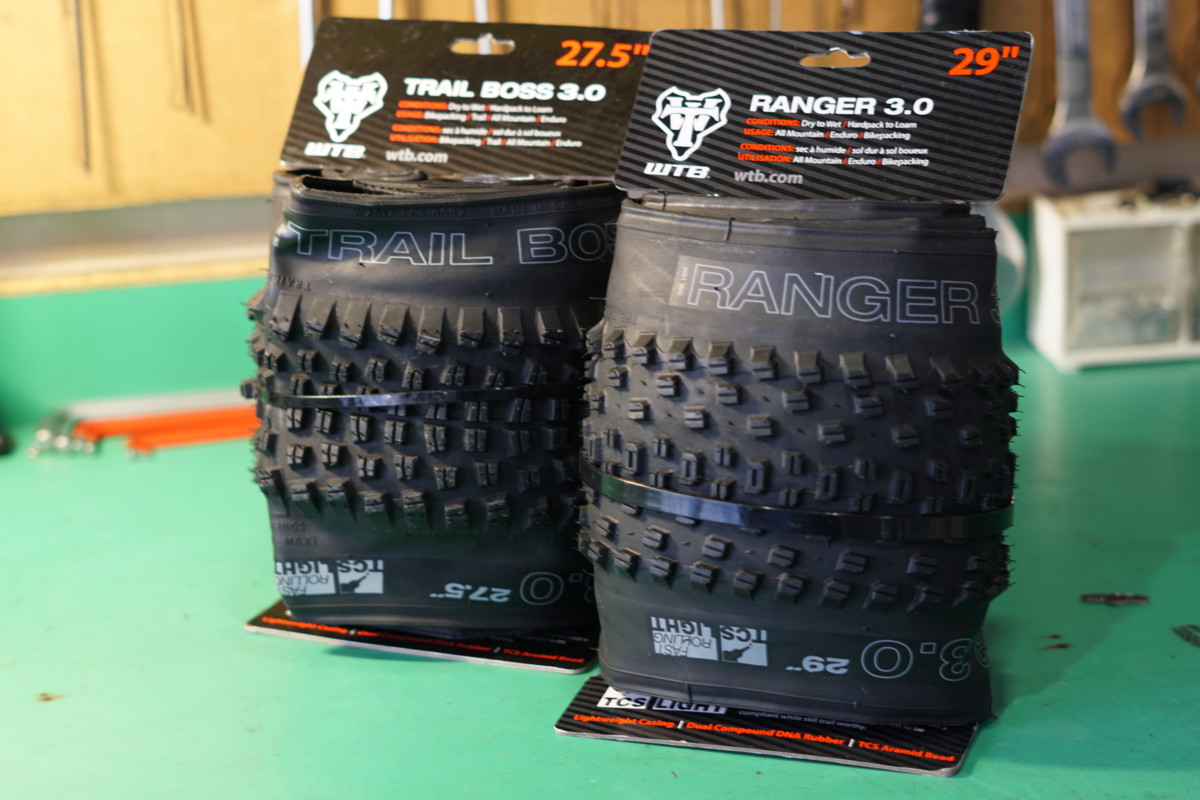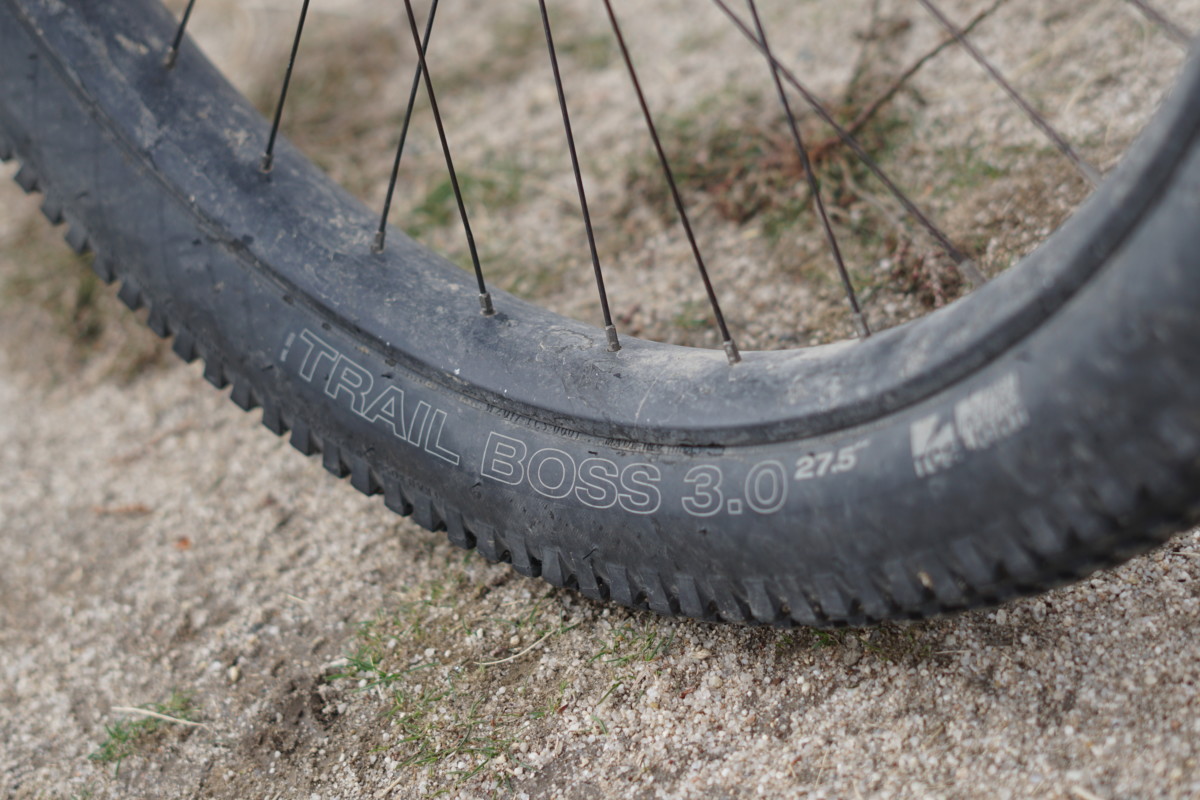 In addition, WTB offers a range of highly versatile, genre-bending tires for your cyclocross, gravel or dirt touring bike.  In widths up to 45mm for 700c and 47mm in 650b, these casings will provide a smooth, comfortable ride and plenty of traction.  For example, the 700×45 Riddler is a perfect fit for your Cross-Check, Straggler or Trucker and will show you what those bikes are capable of in the dirt without sacrificing pace on the pavement.  Many of these tires are also available with a classic tan sidewall, as shown on the 650×47 Byway below.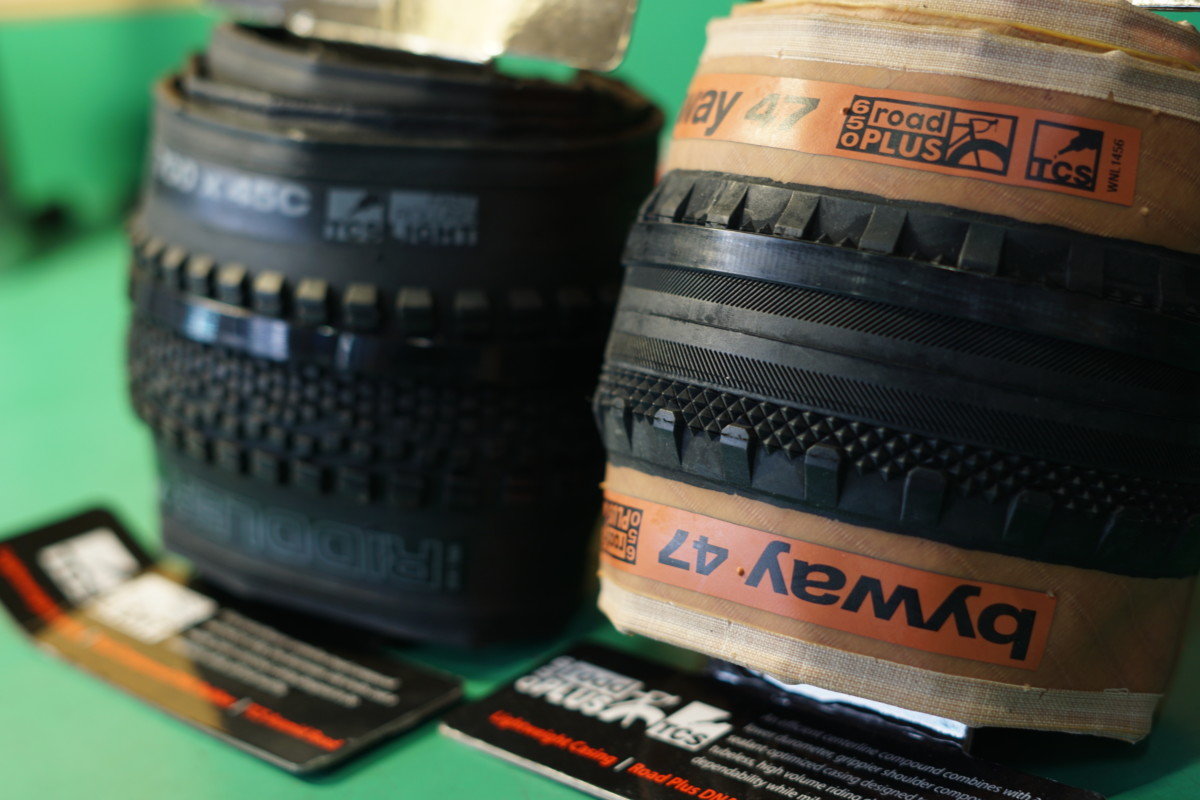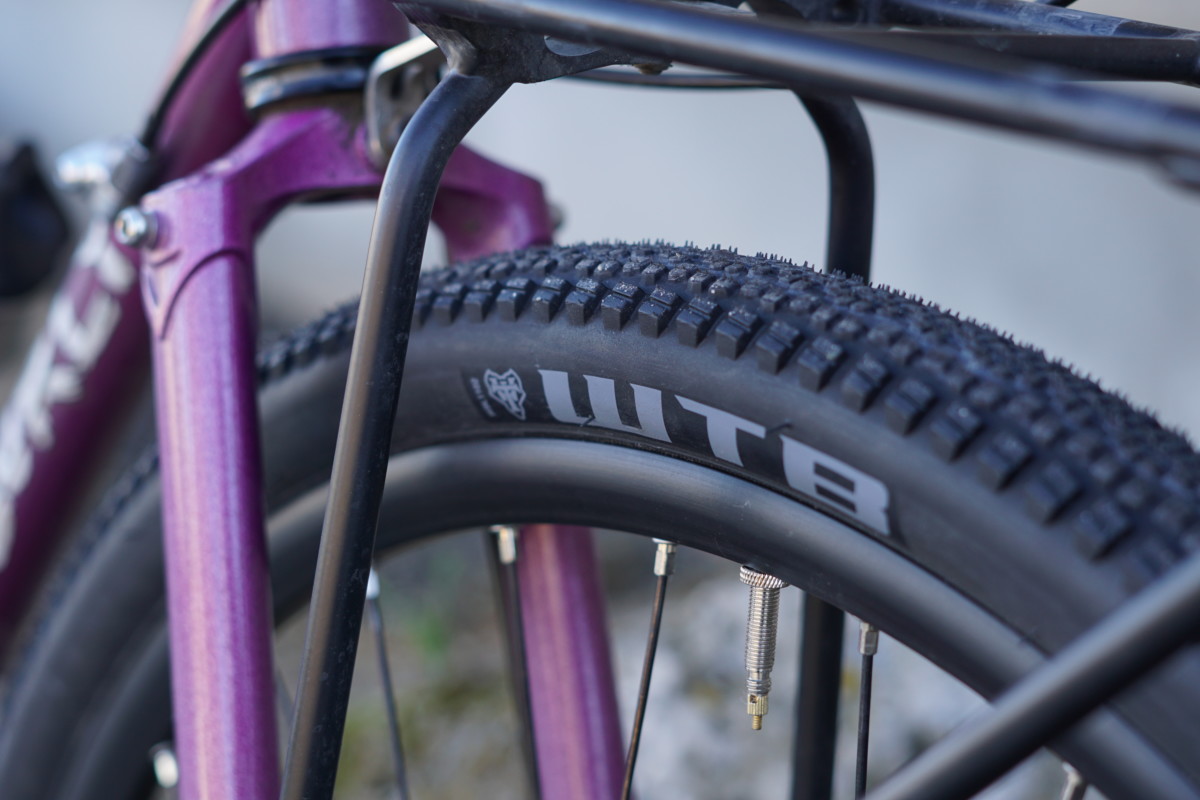 New Chainrings, Cold-Weather Clothing and Beverage Accessories from Surly
Ready to ditch the front derailleur on your ECR, Ice Cream Truck or any other bike with a Surly Offset Double crankset?  Here ya go, sweet cheeks!  The 28t chainring bolts on the inner chainring position and features SRAM's X-Sync narrow-wide tooth profiles for rock-solid chain retention.  This thing is machined from durable and oh-so-shiny stainless steel for long life and corrosion resistance.  The matching alloy chainring guard fits the four spider arms (skips the threaded hole in back of the crank arm) on your crankset.  It protects your chain and chainring from trauma and gives those lonely spider arms a purpose in life.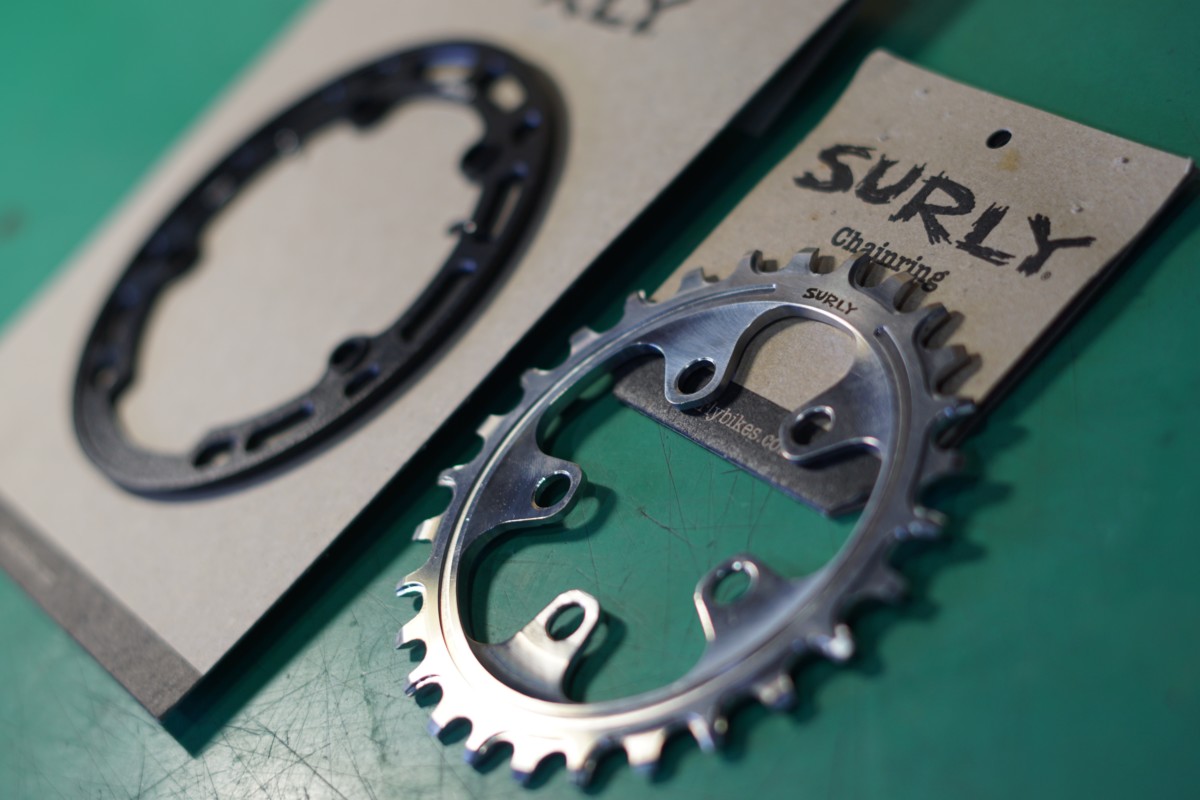 Surly has been quietly expanding their range of clothing recently.  Merino wool is the material of choice for much of the lineup, including the new wool beanies and neck gaiters.  The beanies are soft, snug and warm – perfect dome coverings on or off the bike – and come in basic black or a purple/gray stripe.  Get yours unadorned with only a small Surly label or with the "Omniterra" or "Split-Season" embroidered patch for extra style.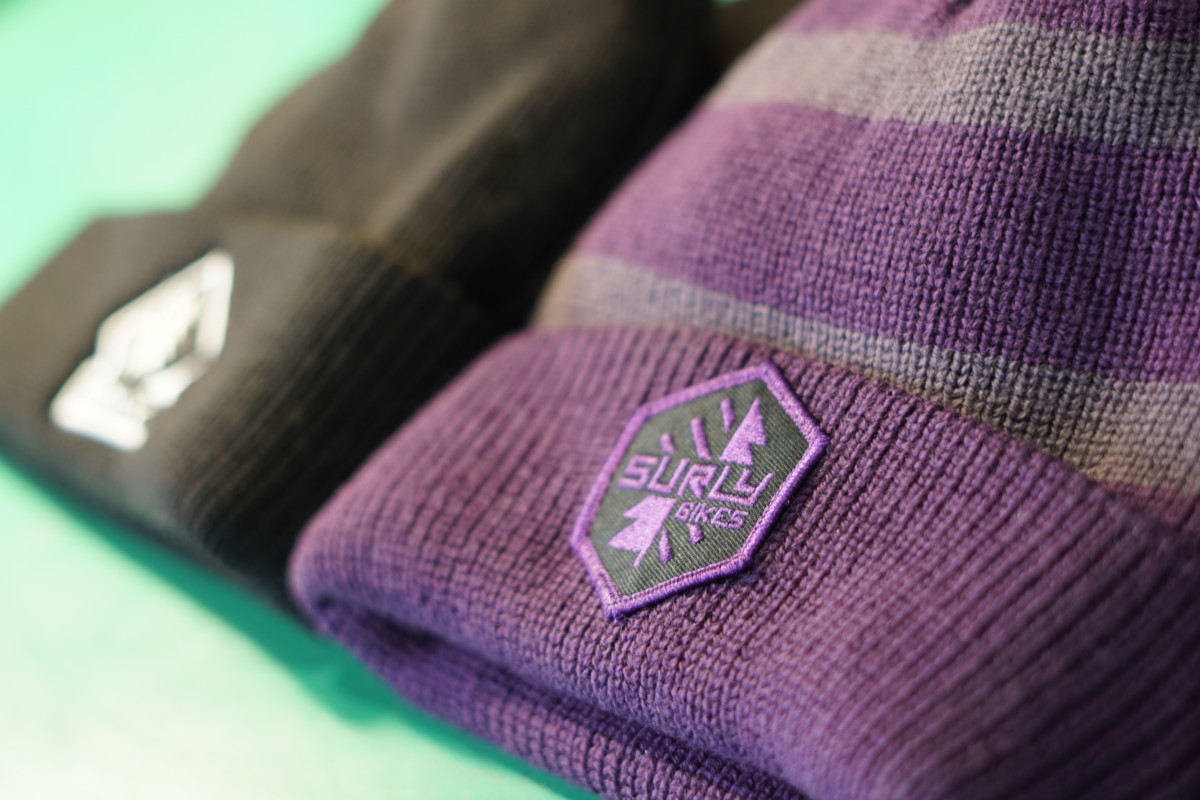 The neck gaiter is a multifunctional cold-weather essential and a perfect lightweight, packable layer to help fight the chill.  Surly's are double-layered with finer, softer merino on the inside and thicker, coarser material on the outside to balance comfort, breathability and windproofing.  They're quite nice, actually.  Choose black with a black/grey striped inside or the earthy yellow/brown combo.  Either one will make you warmer and more attractive than you were before.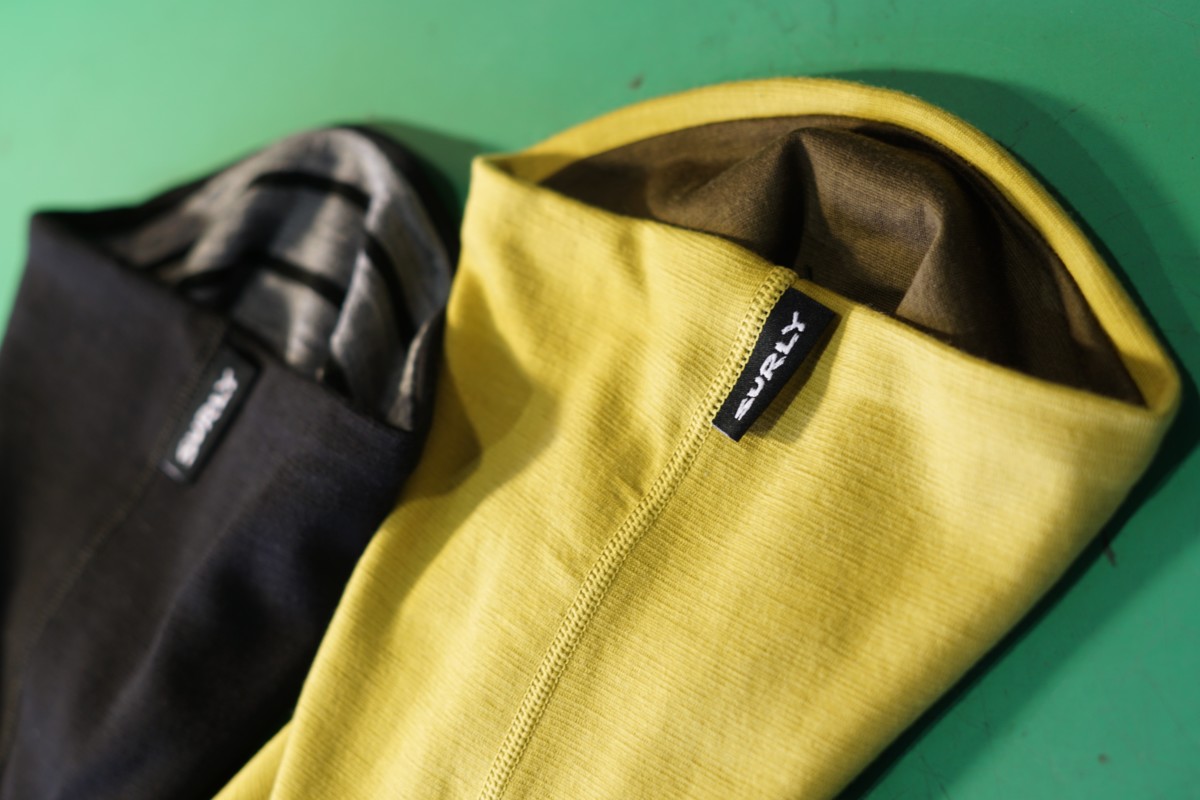 Surly's wool blend socks are a perennial favorite.  They're made in the USA by DeFeet with a proprietary wool blend for warmth, stink resistance and durability with just the right amount of stretch.  We have a couple of new patterns in addition to the old standbys.  Stars, Stripes, Surly.  Grab a pair for you and a pair for someone you like.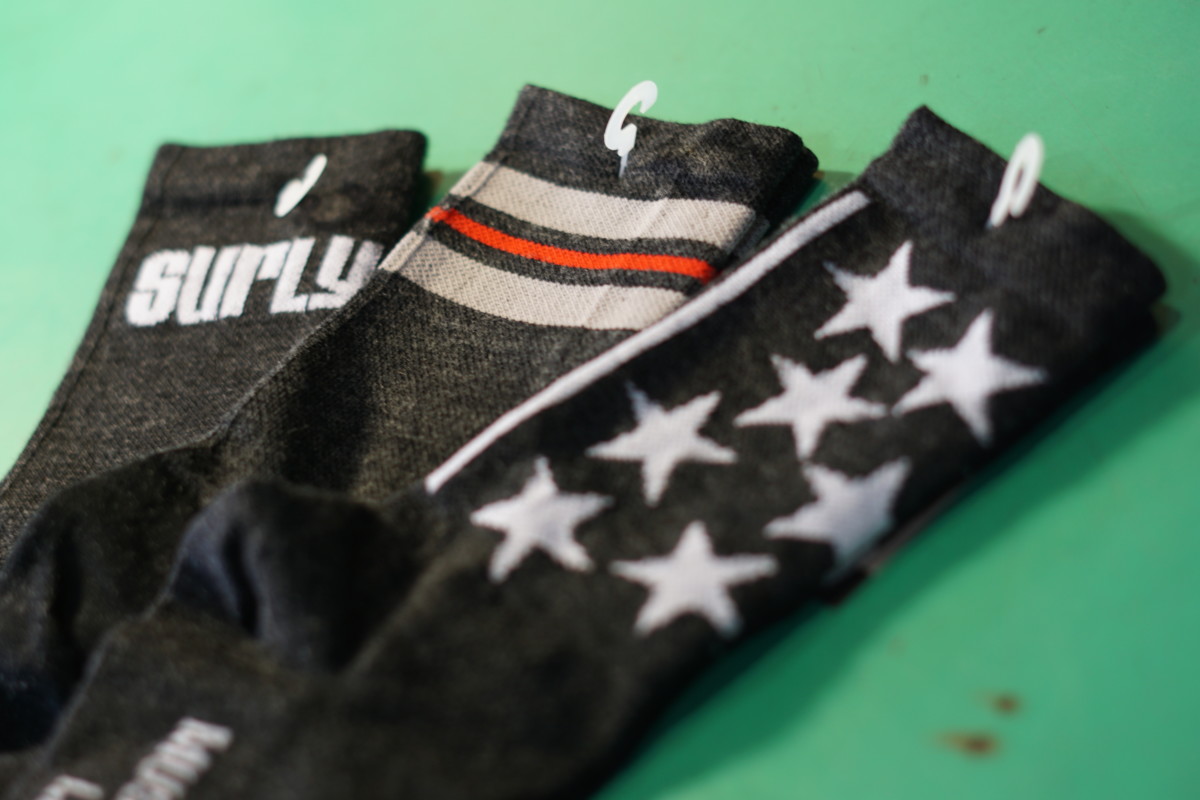 For the traveling imbiber of beverages, we offer Surly's Silicone Pint Glasses.  We still call it a "glass" even though it is made of food grade silicone. They're virtually indestructible, thick enough to provide some insulation for cold or hot liquids and dishwasher safe.  Ride your bike and transport yourself.  If you can't be bothered to pour your beverage in a glass, pick up a handy Insulating Sheath.  They're a perfect fit for tall cans but work with short cans or bottles also.  They're also quite useful as packing aids, providing lightweight, stretchy, rattle-free padding for anything you stuff inside.  Use them for your tools and spares, camera lenses, camp stove, pieces of fruit or even cans of beer!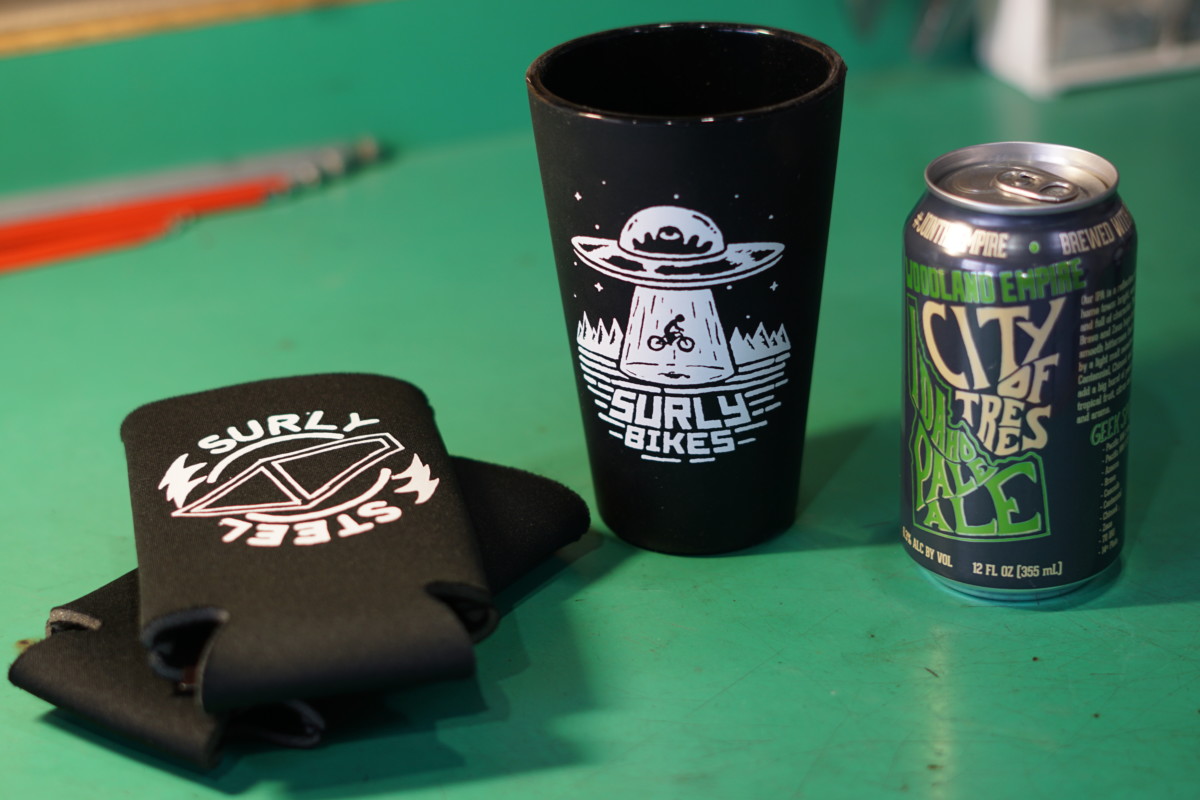 Ostrich F-516 Handlebar Bag
This fine handlebar bag incorporates a feature we've wanted to see from Ostrich for some time: a rider facing lid opening!  This simple difference makes accessing the bag's contents while on the bike or in motion much easier and safer.  The lid flap is secured by velcro tape for easy, one-handed opening and closing.  The clear, integrated map case is also secured by a small velcro flap to prevent contents from escaping.  There is a flat front pocket with a velcro flap closure that is perfect for phone, wallet, compact camera or other flattish items.  There is also a zippered pocket in the flap for small items like keys.  Overall, this is a clean, minimal handlebar bag perfect for long day rides on its own or for easy-access items on your fully-loaded touring rig.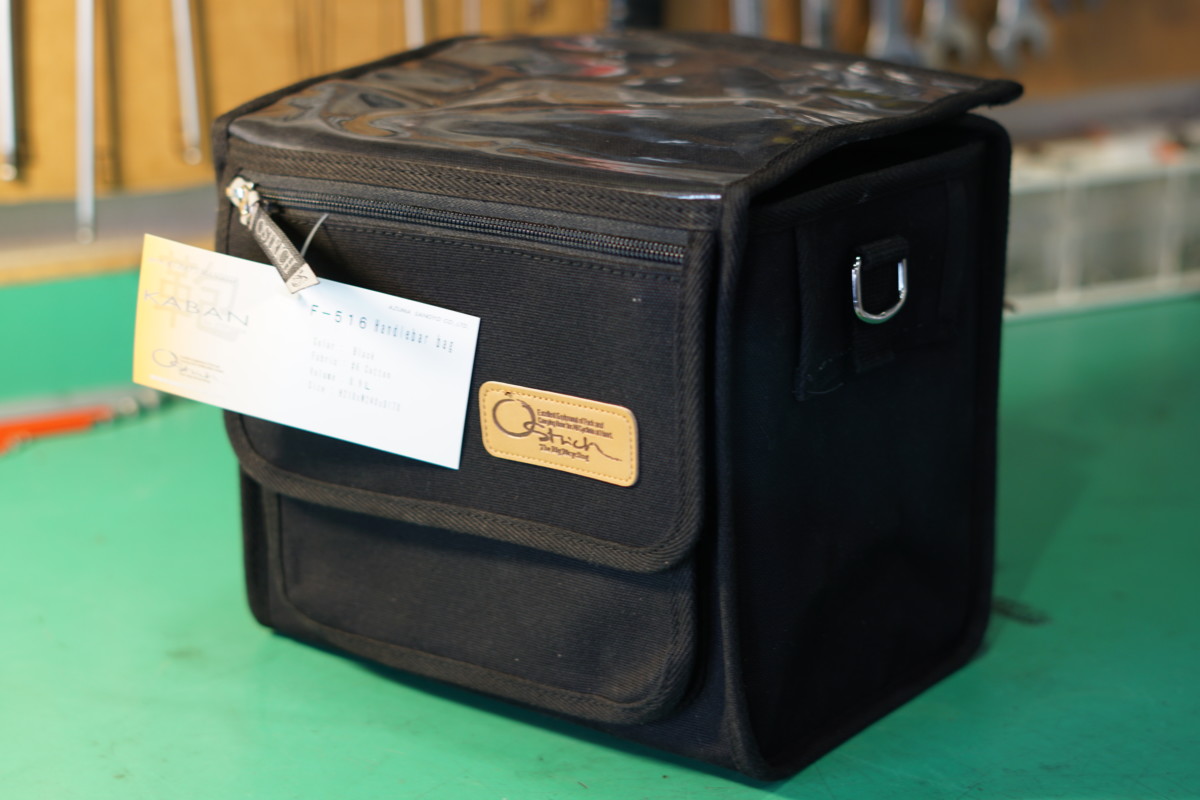 Chromag Pedals
Flat pedals are a natural choice for bike travel over any terrain and the benefits are numerous.  I could fill an entire blog post extolling their virtues (come to think of it, maybe I will…) but let's focus on these particular pedals.  Chromag's Scarab and Contact pedals provide the best combination of comfort, tuneable traction, durability and serviceability we've found.  Both models have thin, wide, concave platforms with adjustable-height pins, multiple pin placement options and durable, ultra-smooth bearings.  The Scarab offers a few more pin placement options, more finely machined contours and a finely polished finish to justify the extra cost.  Either one is available in a variety of colors to complement any bike.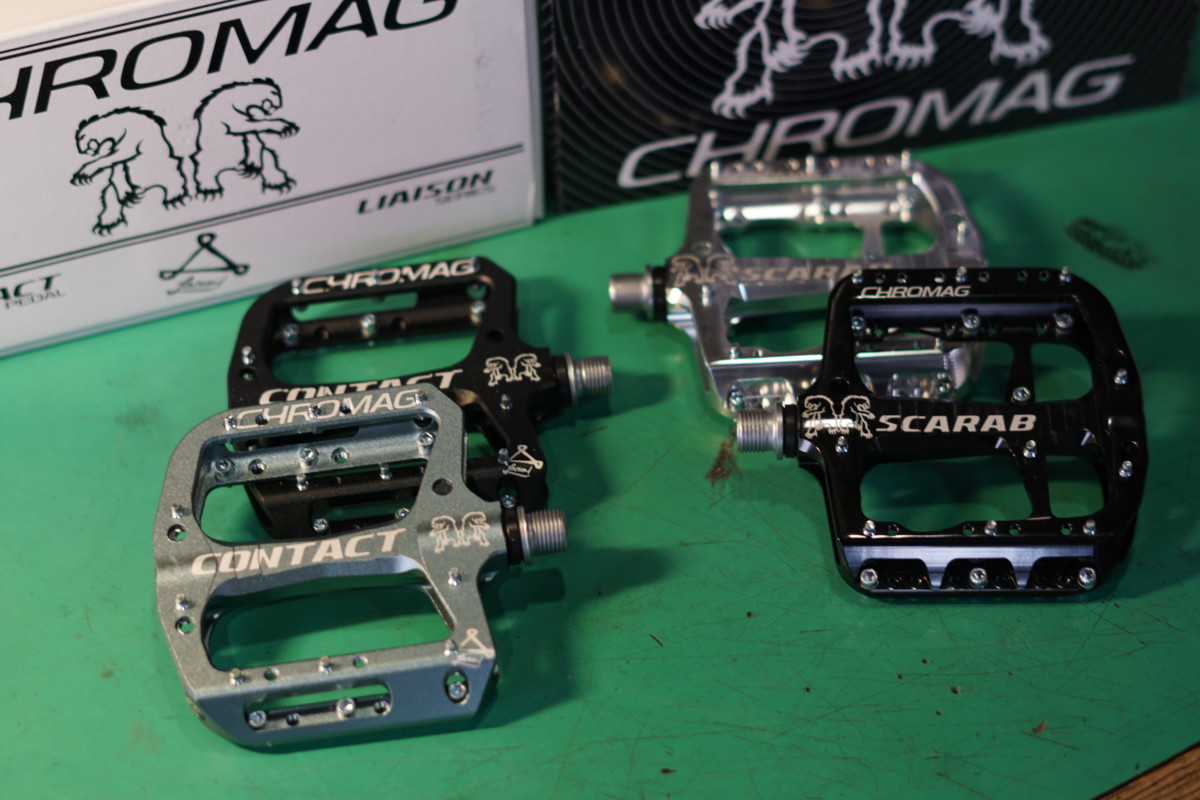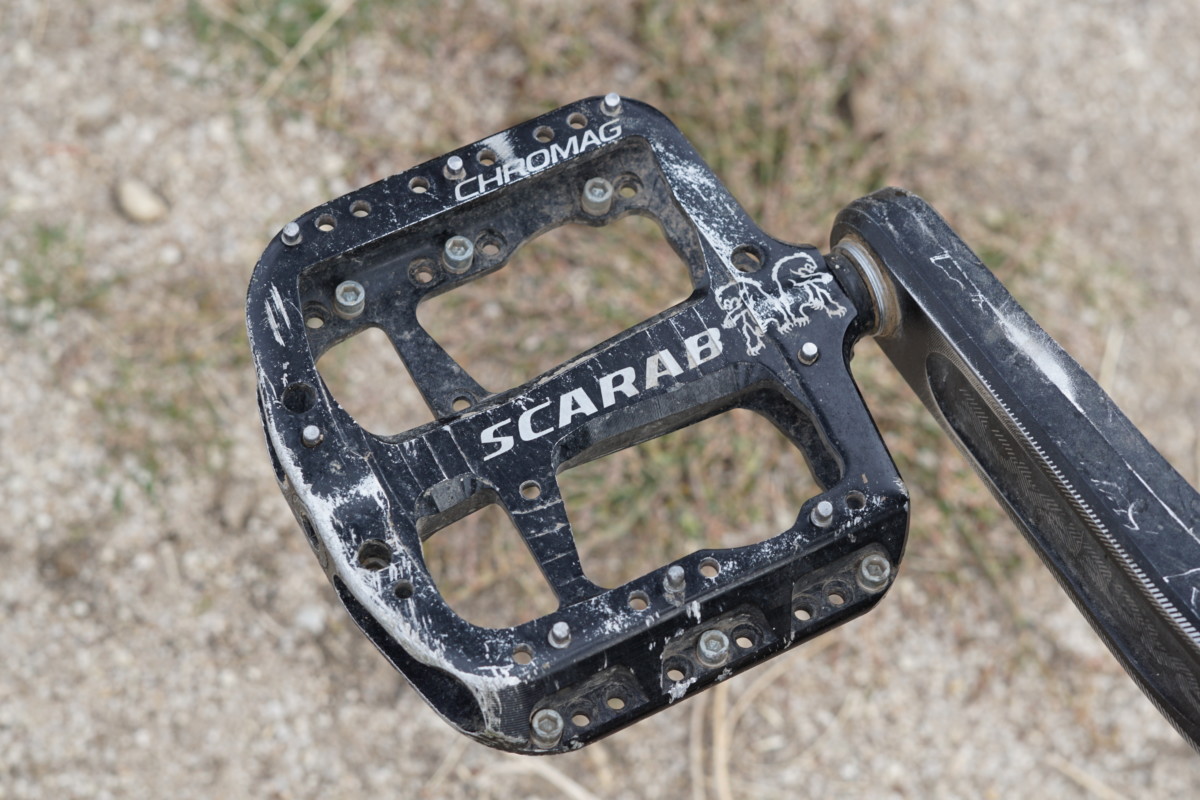 Wow, that's a ton of cool stuff!  Get some for yourself, or someone else, or you and someone else!  What other products should Bike Touring News carry?  Sound off in the comments below and let us know what we're missing!