Day One
Tuesday, April 17
Boise to Celebration Park – Total distance; 43 miles
I stare at the 22 oz. Rogue Dead Guy Ale for about five minutes before deciding not to buy it because I don't want to carry it the rest of the way to Celebration Park, and surely there will be be at least a convenience store in Melba where I can get a decent beer to drink as I set up camp. There is indeed a market in Melba but it looks pretty homemade and, no you can't buy singles but there are tallboy cans so I buy one of the least offensive…24 ounces of PBR. I often wonder why out of the way places don't stock flavorful beer, since the distributors are the same ones that deliver the Bud Lite. And, is it just me or do real men not drink micro-brews? Bike touring forces one to face the weighty, existential questions.

When the
Bonneville Flood
slammed through here a few years back, it tore chunks of volcanic rock the size of school buses off the walls of the Snake River Canyon. Bouncing along under water the chunks were rounded and smoothed and then deposited downstream…a jumble of huge boulders in the narrowest part of the canyon and a more even distribution of smaller boulders where the canyon widens out and the water slowed down.
I scout out what appears to be the best place to hang the hammock and get after it because the clouds are turning blacker and more menacing and I can see lightning to the north. I am ecstatic that the parking lot is empty and I will have the whole place to myself. Then a car comes fishtailing down the gravel road from the "east campground" and out the entrance road and after the dust settles I hear sounds of a beer blast coming from the same direction. Oh well, that's what they make I-pods for.
Various Boy Scouts have made Eagle projects out of building structures at Celebration Park and so there is a network of boardwalks and decks and even an atlatl range. There are bathrooms and a visitor center and the place starts humming in the morning with park staff getting ready for the busloads of fifth and sixth graders coming that day. That entertains me for a while but, with peace and quite my main objectives for the trip, I decide to push off (quite literally as will soon become apparent)

Day Two Wednesday, April 18
Celebration Park to Swan Falls Dam – Total Distance; 16 miles
Google Maps shows what looks like a road along the Snake River between Celebration Park and Swan Falls Dam. After maybe a mile or maybe two, motor vehicles are restricted and the road becomes double track and then single track and in places almost non-existent. I spend some time pushing the bike through loose sand encouraged by Wendell's report after riding here last week that the loose sandy section is not too extensive. But with a loaded bike weighing probably close to 70 pounds and relatively skinny 700cx32 tires I end up pushing quite a bit. But there is no rush and the scenery is on par with that of southern Utah, so I push along and ride when the ground is firm enough.
Other sections of the path are interspersed with melon sized rocks which means I ride (scoot) with one foot clipped in and the other pushing. Even further on, where the trail occupies a narrow shelf between the river and the canyon walls, and is hemmed in by willow bushes, tumbleweeds have collected in the path. They are impossible to miss and every time I ride over one it attaches to fenders/chainrings/derailer/chain/wheels….so I am stopping every twenty or thirty feet to pull them out.
Motor vehicles are restricted over about eight of the twelve miles between Celebration Park and Swan Falls Dam. The last four miles to the dam are on gravel road. Swan Falls Dam is owned by Idaho Power and there is a day use area with boat ramps and picnic tables and bathrooms, but no camping. There is too much activity and noise around here anyway so I cook some lunch, refill the water bottles and head back down the gravel road and about half a mile down the car-less path and find a spot to pitch shelter just before the rain comes again.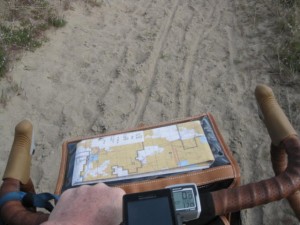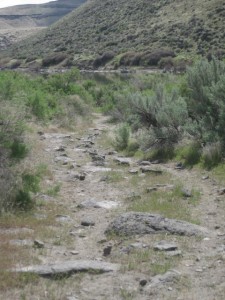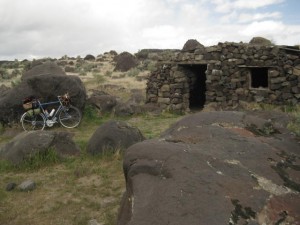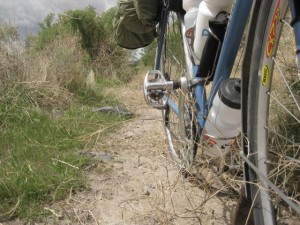 Day Three, Thursday, April 19
Total Distance; 47 miles
I am in the heart of Morley Nelson Snake River Birds Of Prey National Conservation Area. Laying under my improvised shelter this morning, waiting for the rain to stop, I can hear many species. Crows (mostly), mourning doves, geese, ducks and loons? Sometimes I am sure I hear people but it is just the birds laughing at the old guy hiding under a tarp. Climbing up the switchbacks out of the canyon this morning I stop to watch a golden eagle floating overhead and he is soon joined by three others. The steepness of the terrain means that they are very close when they pass over and I watch them for several minutes. The whole time I spend watching, none of them flap their wings. Must be nice. Last night I startled a pair of pheasants before they startled me with their drum beat winged escape. I didn't encounter any vampires but I did observe a couple of George Romero-esque zombies disguised as sight-seeing tourists.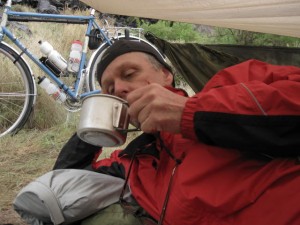 The eight miles of trail along the river was definitely the highlight of the trip and made the jaunt more than worthwhile. When I do it again I will have a bike with fatter tires. A fat bike like the Surly Pugsley would be perfect and I think the whole trail would be rideable even with a loaded bike. 700×40 or 26″x2″ tires would be the minimum cross sections for tires through here I would think. Any bike capable of the whole trip without driving would necessarily be a compromise; one that can handle the off road sections while still being able to cruise on the pavement.