A couple of weeks ago – while the Bike Hermit and Sky King were out gallavanting around west Texas – a longtime customer from McCall called the shop.  He introduced himself as Chris but I'm told he's known as "The General" in certain circles.  He was heading to Boise for a long weekend to escape from the pre-ski-season cold and was hoping to get a ride or two in.  Naturally, I was pleased to have a good excuse for a longer ride than my usual December fare and was happy to oblige.
We agreed to meet Thursday morning for a two-hour spin before I was to be in the shop at 12:00.  We settled on a loop that would take us up Willow Creek Road and across Pearl Road before heading south via Hwy 55 for the return leg.  Had we paid much attention to the map, we might have deduced that we had no hope of covering 45 miles and 3,000 feet of elevation gain in our allotted time.  However, ignorance is bliss and it was in a state of uninformed excitement that I rolled up to the shop at 9:30 Thursday morning.  It happens to the best of us.  Due to ignorance, poor planning or a simple twist of fate find ourselves out on the bike for twice as long as we think.  This was one of those kind of rides.  I'll go ahead and confess: I was late to work.
Despite low-hanging, gray skies and the looming threat of rain we filled bottles, double-checked tire pressure and prepared to roll out of Boise along the popular Hill Road bike route.
We cruised westbound at a conversational pace on the flat, smooth asphalt.  On the outskirts of the neighboring town of Eagle, we turned northbound and into the hills.  It wasn't long before the nice, level road through housing developments and farmland kicked uphill and carried us into the open country north of the Treasure Valley settlements.
After a few ups and downs, Willow Creek Road soon turns to dirt.  Recent rains had tacked down the normally dusty surface and we were greeted with excellent conditions.  The road was fast, grippy and reasonably smooth other than the odd pothole and occasional section of washboard or braking bumps.  However, this section of road appears to get good, regular maintenance.  The same can't be said for many of the sections that still lied ahead.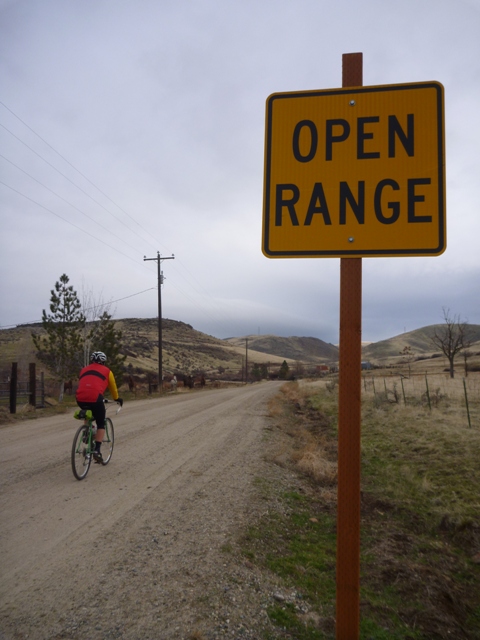 The road signs confirmed that we were heading into more exciting territory.  The road began to wind steadily uphill through a narrow canyon.  We encountered some sections of softer dirt that had us double checking our tires for slow leaks.  There were none, it was only the energy-sapping spongy road tread that robbed our previous efficiency.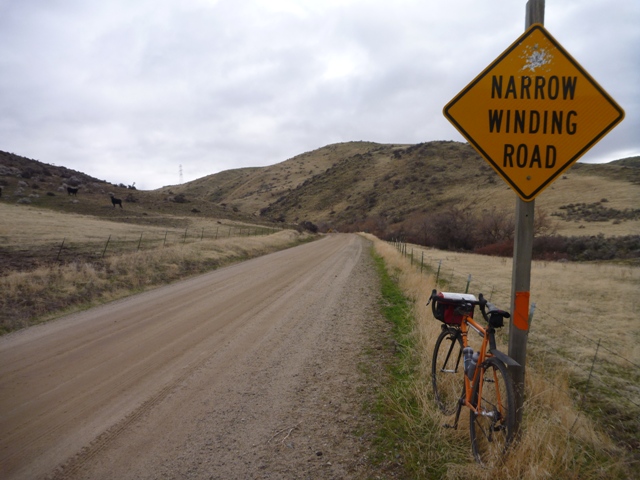 The soggy tread combined with the steady 6-7% grades and occasional steeper corners to make the Willow Creek climb a proper challenge for us both.  The road continued to wind its way uphill for the next six miles, gradually bending eastward through the mining claims on Pearl Road.
Thankfully, we saw only one large, lumbering mining truck working the claims that day.  Other than the diesel-belching dump truck, we hadn't encountered a single other vehicle since turning onto Willow Creek Road.  I'm always a little amazed how far away from the big city you can be with just a few miles between you and downtown Boise.  Though barely 20 miles from the Capitol dome, we had entered the land of abandoned mineshafts marked by the bullet hole-ridden husks of ancient automobiles.
When we finally reached the summit of Pearl Road, we were greeted by an expansive view of the Boise Front, spread out to the west.  The low-hanging clouds concealed the snowy summits but the panorama still made a worthy reward for the exertions of the climb.
On the descent from the Pearl Road summit to Hwy 55, road conditions deteriorated dramatically.  Signs warned of the lack of winter maintenance.  We were now on the wetter side of the ridgeline and it showed.  Deep ruts filled with muddy water had formed in the road and the entire tread was a slippery mess of saturated clay and fine sand.  Harried by a high-school-aged kid joyriding in the slop on his dirt bike, we descended through the challenging conditions as our tires snowballed into rolling hoops of tacky mud.
We finally arrived at the intersection of Pearl Road and Hwy 55 in a chilly drizzle, glad to have made it through the muddy section without a spill in the frigid muck.  We donned rain jackets and pulled our earflaps low for the quick descent on the highway shoulder.  At this point, I was already well overdue at the shop and near the end of my food stores.  I tucked low over my handlebars and allowed the grade to carry me back down to town.
Before long, I looked back and saw Chris fading out of sight behind me.  Spurred on through the flatlands by tardiness and hunger, I kept turning the pedals as quickly as I could despite the cold, fatigue and calorie deficit.  The return leg along Hill Road felt practically interminable until I finally reached the intersection of Hill and 36th, unlocked the shop door with my frozen fingers and shuffled my dirty feet inside.
The phone was ringing and orders were accumulating as I hurriedly pulled a change of clothes from my messenger bag and realized that I had… forgotten… my… shoes.  Doh!  I distinctly recalled setting them out early that morning, saying to myself, "now you don't want to forget your shoes."  Oh well.  It was still worth it.  Chris rolled in a few minutes later, looking about as shell-shocked as I felt.  Fortunately, it was nothing a bit of sustenance and dry clothes couldn't fix and we were soon refortified and smiling.
We were fortunate to have snuck in our ride when we did, as a wave of snowfall and frigid temperatures rolled through Boise just a few days later.  We'll be lucky to see the view from the Pearl Road summit again anytime soon.  Long rides can be hard to come by this time of year but the rewards are certainly worth the difficulties.  Come springtime, we'll collect dividends on the investment of quality saddle time in the winter.
Enjoy the ride and thanks for reading.