We are often asked why Surly specs bar-end shifters rather than integrated brake/shift levers on the Long Haul Trucker, Disc Trucker and Cross-Check.  This is a good question and one we thought warranted some explanation.
When you walk into most bike shops, you'll most likely find that every single new bike with drop bars is fitted with combination brake/shift levers from Shimano, Sram or perhaps Campagnolo.  They have become ubiquitous for a myriad of reasons, most of them good.  With an integrated shifter, the rider has complete control over braking and shifting from a single hand position without having to let go of the bars.  Now, the rider can shift while bouncing over rough terrain, from the hoods or the drops, even out of the saddle or in a full sprint!  Try that with your old downtube shifters and you may be picking your teeth out of the dirt.  This was quite an advancement and has changed the way riders interact with their bikes in a profound way.  Many cyclists could never imagine going "back" to bar-end or down tube shifters.  Why should they?
If integrated shifting is so great that it has become the standard for drop-bar bikes of all styles and price points, why would a bike company include anything else on their complete bikes?  Are Surly's bikes spec'ed by crotchety retrogrouches who are scared of progress?  Maybe.  Are they trying to rip us off by sticking us with obsolete, outdated parts for an exorbitant price?  Doubtful.  Did they accidentally order ten million sets of bar-end shifters that they had to put somewhere?  Possible, but unlikely.  Surly does use integrated shift levers on a handful of bikes like the Pacer and Straggler, so we know they're not afraid to spec them when it makes sense.  Perhaps it comes down to having the right tool for the job.
For all their wonders and benefits, the level of convenience offered by integrated shifters comes at a price, both literal and figurative.  These things are not cheap!  Next to the frame and wheels, those little clicky bits are usually the most expensive component on your bike.  For example, Shimano's latest Ultegra STI (Shimano Total Integration) levers carry an MSRP of $400.  If you want the top-of-the-line Dura-Ace units you're looking at at whopping $700!  You could buy a nice new frame with money to spare or even a complete entry-level bike for that price!
In contrast, a pair of Dura-Ace bar-end shifters (probably the finest indexing bar-end shifters on the market) will set you back about $120.  Depending on your drivetrain requirements, many shifter sets (like these little dandies from SunRace) cost much less.  This saves you money on the complete bike and makes replacement in case of a crash or damage much less painful for the pocketbook.
Also, the operation of integrated shifters can be very confusing for new users.  Learning which of the four shift paddles (two of which are also brake levers) does what, when and how to use them adds to the intimidation and nervousness many new riders feel.  So much focus is required to learn how to shift that it is easy to forget how to brake, especially when your brake lever is also your shifter!  Conversely, bar-end shifters use only two levers – one for each derailleur – that are completely separate from the brake levers.  Pull it towards you to shift one way, push away from you for the other.  The lever even stays in place to remind you what gear you're in.  Easy for new riders to learn, refreshingly simple for the experienced.
The other main drawback of integrated shifters is their complexity and lack of serviceability.  There is a whole heck of a lot going on under those hoods that allows you to pull and release cable, shifting willy-nilly up and down across your cassette to your heart's content.  When something goes wrong in there, there is often nothing to be done.  Here's a photo from the Black Mountain Cycles blog that illustrates the point:
Holy smokes, look at all those tiny springs!  We must note that Shimano does not intend for their shifters to be disassembled in this way.  None of the pictured parts are available as replacements and getting this whole mess back together would be quite a chore.  The problem with this particular shifter (as per Mike's story on the blog) was that the teeny little spring in the lower-right corner broke, preventing one pawl from doing its job holding the cable reel in place and rendering the shifter useless.  When something like this happens there is no recourse other than to replace the entire unit.  In favorable conditions Shimano's integrated shifters have a surprisingly good track record but they will all wear out eventually.  When they do fail you will quickly find yourself up shi(f)t creek without a functioning paddle.  This could be only a minor inconvenience if you're close to home and have deep pockets but is not a situation you want to be in when out on the road for an extended tour.
For the sake of comparison, I pulled the Shimano 9-speed bar end shifter off the RandoGnar to see what goes on inside this little guy.  Much like the integrated shifters, the guts of the bar end shifters are installed at the factory and aren't meant to be taken apart for service.  Unlike the STI units though, bar end shifters rarely fail or wear out.  Here we can see why.  This shifter has been in constant service since 2008; first on my Long Haul Trucker, then on the RandoGnar.  It has seen many thousands of miles and an uncountable number of shifts in sometimes horrible conditions.  It has never been cleaned, serviced or lubricated in any way.  It still works well and I expect to get many more years of service from it.  Given the same treatment, I would be lucky if an integrated shifter lasted half that time.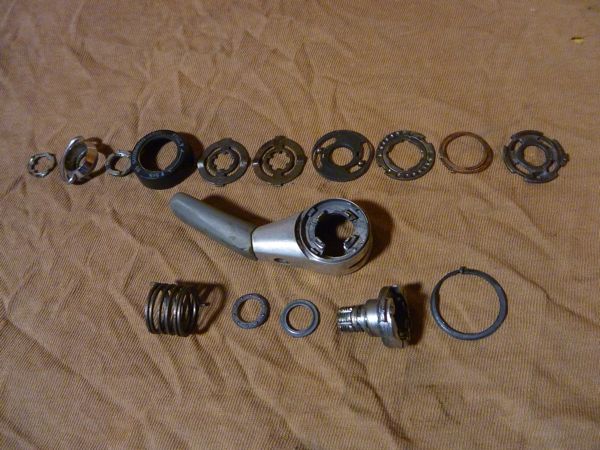 That's all, folks.  Not much going on in there, huh?  No tiny springs, no diminutive pawls, just a shift lever, couple of ball bearings, detent ring, big burly spring and some washers, bushings, post and nut to hold it all together.  Simple and robust.  I gave everything a clean, oiled up the moving parts, reassembled the shifter and bolted it back onto the bike.  It now works as well or better than when it was new.
To be clear, I'm not claiming that bar-end shifters are more serviceable than integrated levers.  While they may be easier to take apart (I would never dare disassemble a fully-functional STI lever) and have fewer parts, Shimano does not offer replacements for the internal components.  If something breaks inside your bar-end shifter, you'll have to replace the whole unit, same as the STI.  What I am saying is that there is much less to break inside a bar-end shifter, so the probability of a failure is minimal.  And, if you do manage to break one you won't have to sell a kidney to fund its replacement.
This is why they're spec'ed on Surly's touring bikes and many others.  When compared with integrated brake/shift levers they are inexpensive, simple and reliable; all prized traits in touring gear.  For my money, they're the flat-out best shifter for a drop-bar touring bike.  Surly gets that.  You'll get it too once you try them.
What has been your experience with integrated or bar-end shifters on your touring bike?  Tell us about it in the comments below.  Thanks for reading.