NOTE: The Bike Touring News store carries the Esbit Alcohol Stove and Trekking Cook Set. We don't stock the other stoves mentioned in this post. If you have been thinking about buying a stove for bike touring, and one of the mentioned stoves appeals to you, clicking on one of the links will take you to the Campmor website to complete the purchase. We are an affiliate for Campmor and will earn a small percentage of your purchase. Campmor curates great products, have competitive pricing and their customer service is first rate: almost as good as Bike Touring News!
Several years ago, when I decided I wanted to go bike touring again, one of the things I needed was a new camp stove. I went to the long time local outdoor store, listened to the sales pitch, and selected this stove. It features a piezo-electric ignition and burns a blend of propane and butane- the fuel that comes in those little sealed canisters. The burner snaps onto a wide base piece which also acts as a wind screen and supports the sauce pan. The thing has worked flawlessly; it lights easily and the flame is like a torch that boils a pan full of water in a few minutes. By turning the knob on the valve connected to the canister the flame can be regulated down to a simmer. The fuel canisters are sealed and impossible to spill. I don't think this model is made anymore, but there are similar stoves that use the propane-butane blended fuel canisters. The canisters are available in most outdoor stores as well as in Walmart.
On the downside, propane does not like cold temperatures. In below freezing temperatures the flow of the fuel mixture becomes weaker and weaker as the temperature drops. The canisters are a little bulky and might be hard to find in some locations and you never really know how much fuel is left in the canister. Disposing of the canisters can be problematic, but there is a tool made for punching holes in a completely empty canister allowing it to be recycled like any steel or aluminum can.
Lately I've been using the Esbit Alcohol Stove and Trekking Cookset on bike trips and it has become my go-to stove. It's lighter and more compact and fuel is easier to find (denatured alcohol is the preferred fuel). In fact, at a convenience store one time I bought a small bottle of HEET gas treatment which burned suitably well in the stove but also left quite a bit of black residue on the pan. The stove itself is made of brass and has a simmer ring to adjust the flame or extinguish it completely. The included screw on lid can then be used to contain the remaining fuel in the stove until the next use. Since this is an Esbit stove there is a separate solid fuel platform which fits inside the base when the alcohol stove is not in use. This way extra solid fuel tablets can be carried along and used instead of alcohol or as a backup when the alcohol runs out.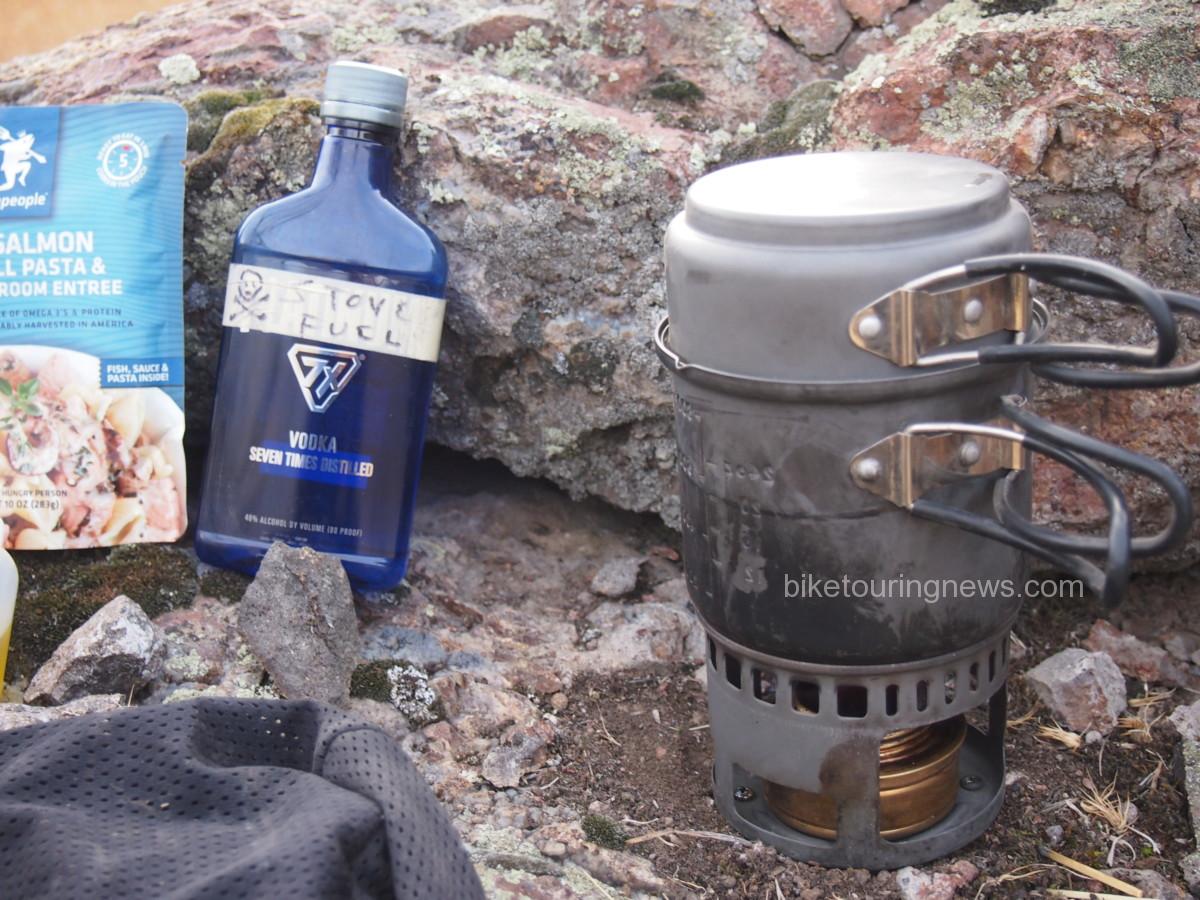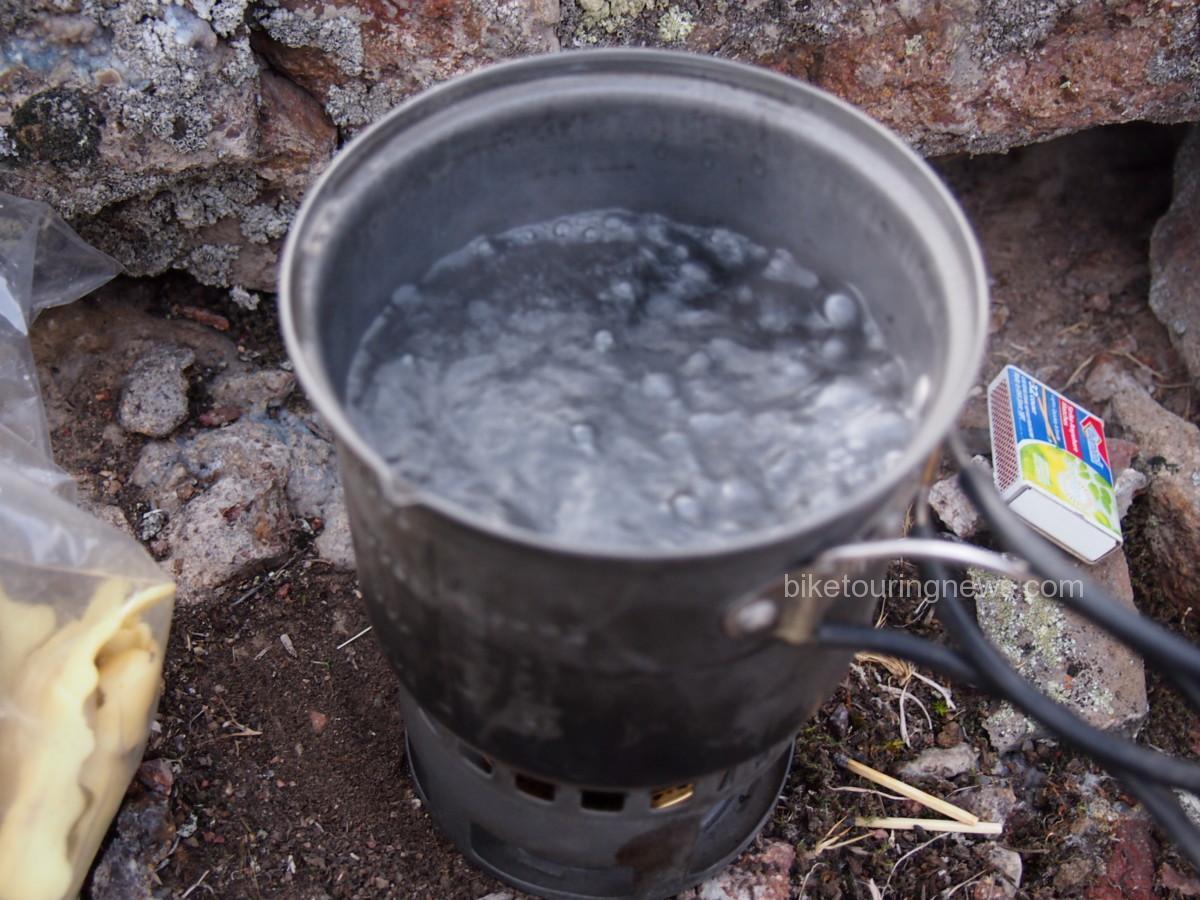 The kit I use has a small pot which holds about 470 ml and also serves as a lid for the larger pot, which has a capacity of around 985 ml. Both pots have folding handles made of stainless steel with an insulating coating. Everything fits inside the large pot for transport. The whole thing weighs less than a pound and is 5″ in diameter and about 6″ tall. It fits perfectly in a Salsa Anything Cage.
This size is fine for the single Bike Hermit, or for two people when the cooking will consist of boil-in-the-pouch meals, instant oatmeal and quick cooking pasta. For those with more rigorous culinary demands the Esbit Alcohol Stove and Camp Set might be a better way to go. It is about twice the weight but only a couple of inches taller when packed. The pots are larger, with built in heat exchangers, and a frying pan and two plates are included.
Esbit Alcohol Stove and Camp Set
There are downsides to alcohol stoves too. The container the fuel is being carried in can be spilled and it can leak. The lighted stove can accidentally be knocked over with the result that flaming alcohol will then cover every nearby surface. A match or lighter or fire steel needs to be used to light the stove which is not as convenient as pushing a button for a piezo-electric starter. Cold temperatures make the alcohol more recalcitrant to light and wind plays a bigger factor in the efficiency of the flame; a separate, homemade tinfoil wind screen is an easy thing to take along though. It's usually a good idea to place the stove in some sort of natural windbreak like between some rocks. Even though the design of this stove allows it to "bloom" quickly, it will never be as efficient at boiling water as quickly as a propane/butane stove will be.
A light, simple alcohol stove provides a certain amount of comfort in that, as long as there is fuel available, it will always work; there are no moving parts or valves or seals to fail. There are trade-offs however and there is no one perfect solution for each situation or person. On an extended expedition a multi fuel stove such as the MSR Dragonfly might be the best option.
A multi-fuel expedition stove with a fully adjustable flame, from a slow simmer to a ro… [More]
Price: $109.96