The epically wet and stormy 2017 running of the Colorado Trial Race pushed riders and their gear to the absolute limits.  The technical singletrack and massive elevation gain of the CT also reward a light-and-fast approach to packing.  There is no room for excess gear in the alpine.  However, improper or inadequate gear can have serious consequences on self-supported rides and definitely contributed to the large number of riders unable to finish the CTR this year.
In this post, I'll go over the gear I took on the trail, what worked and what didn't.  The photos below were taken before departing for Colorado.  I've noted a handful of minor adjustments made on the final pack in Durango.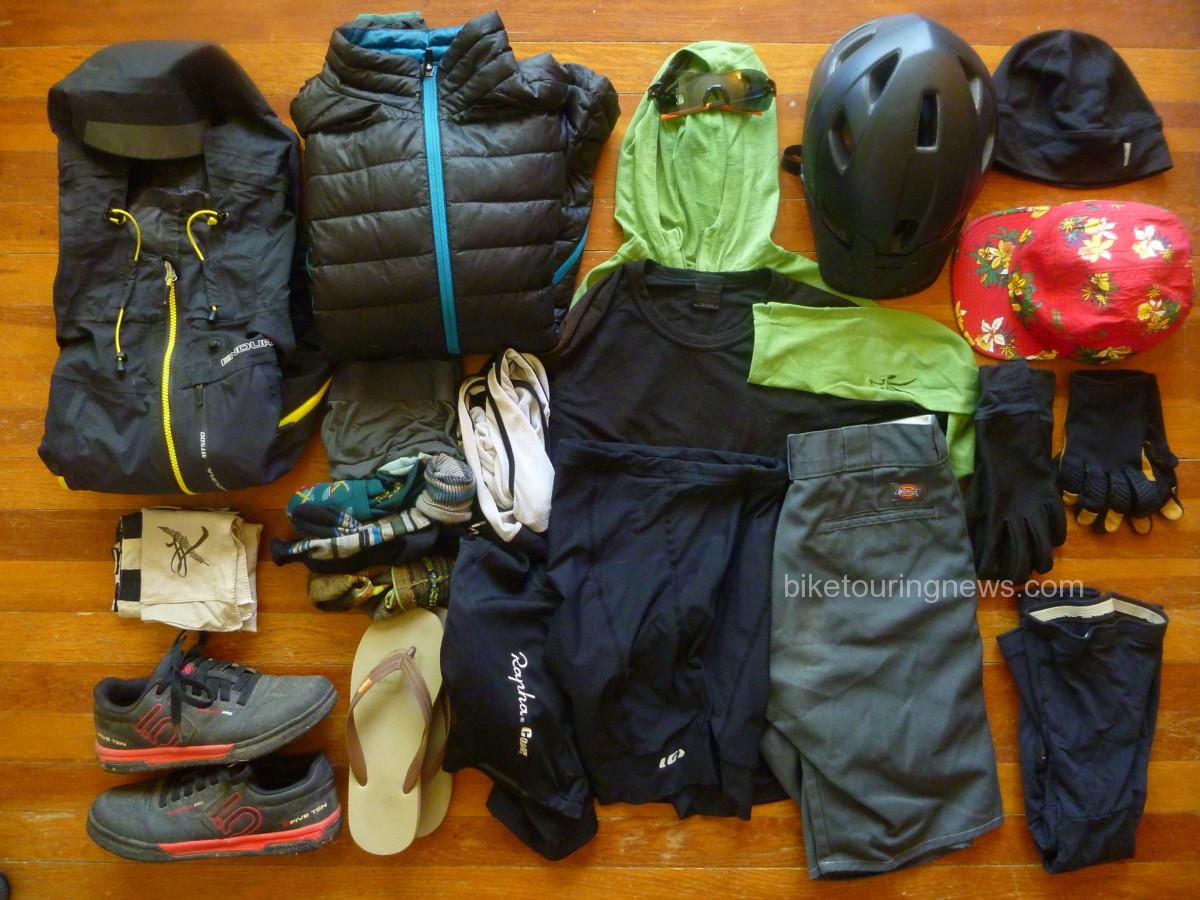 Clothing and Accessories
Icebreaker Wool T-Shirt, SS
Ibex Wool Pullover, LS w/hood
Dickies Cutoff Shorts
Rapha Bibshorts
Louis Garneau Tri Shorts (aka "Touring Undershorts")
Rapha Wool Skullcap
Hike-a-Bike Cap (lost on the trail)
Handkerchief x2
Five10 Freerider Pro Shoes
Synthetic Boxer Briefs
Point6 Wool Socks, 1 light, 1 midweight
Wicking Synthetic Socks
Leg Warmers (swapped for knee warmers before the start)
Softshell Gloves
Trail Gloves (lost on the trail)
Sierra Designs Down Jacket
Endura MT500 Rain Jacket
Smith Sunglasses w/smoke, amber & clear lenses.
Giro Helmet
Grocery Store Sandals
Overall, my clothing selections were solid.  Many riders also brought rain pants, shoe covers and additional wet weather protection.  I definitely had wet legs and feet for much of the ride but don't think additional rain gear would have helped with that situation.  The Endura MT-500 jacket was a standout performer.  While it isn't the most packable, it breathes better than any rain gear I've ever owned and incorporates well-designed ventilation to keep it comfortable in warm temperatures.  The helmet-sized hood helped seal out rain and hail while conserving additional body heat.
While the rain jacket didn't garner much attention from fellow riders, my shoe and pedal combination certainly did.  While flat pedals have made big inroads in other mountain bike disciplines, the vast majority of CTR riders ran clipless pedals.  Nearly every day of the ride I had at least one other rider make an envious comment about how comfortable my shoes looked as we pushed our bikes up one hellish rock pile or another.  In my opinion, flat pedals are the way to go for all but the strongest riders on loaded singletrack rides.   Five Ten's rubber compounds provide excellent grip and the Freerider Pro's sole delivers an optimal blend of pedaling stiffness and walking flexibility.  Despite the constantly wet conditions, I made it through at least 100 miles of hike-a-bike with no blisters or other significant foot issues.  Frequent dismounts and remounts are also much more fluid on flat pedals with no pedal binding to search for.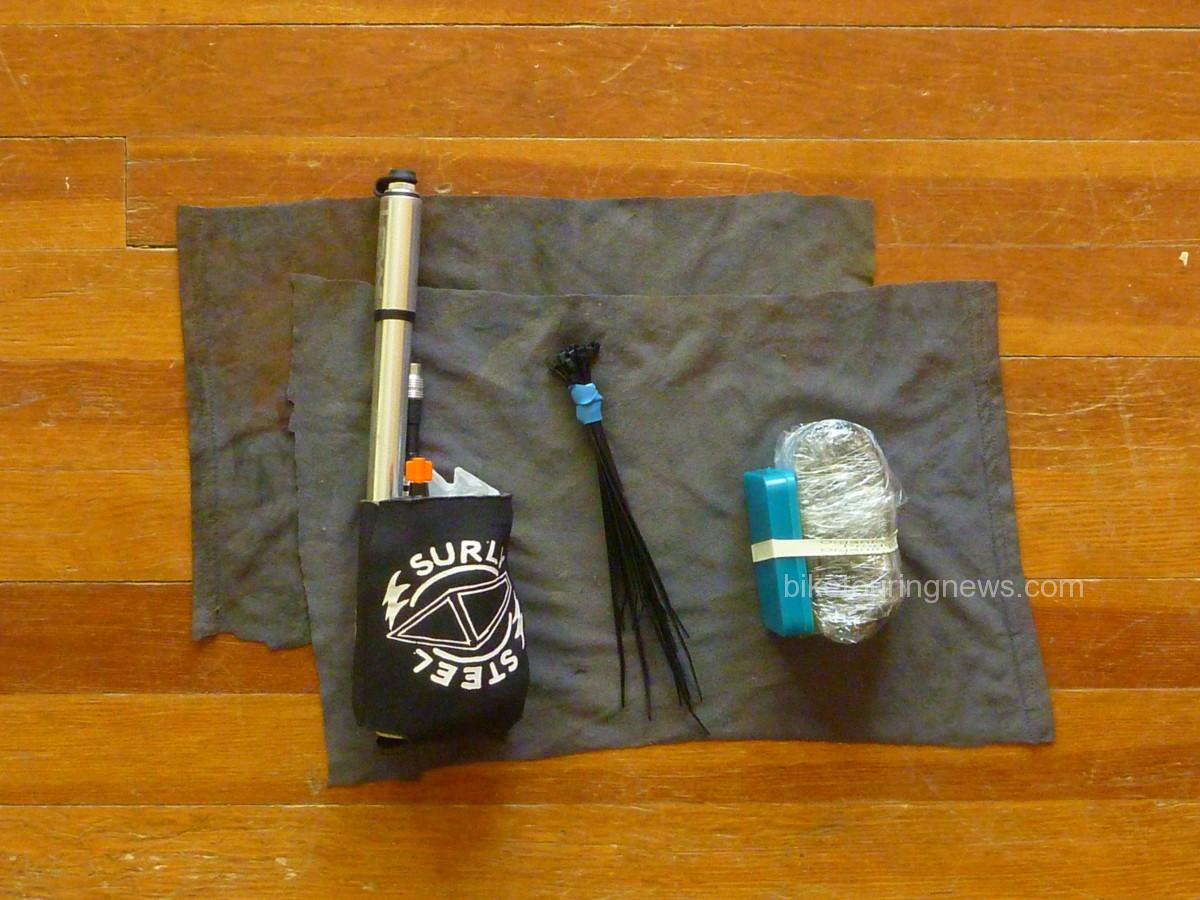 Yet another use for the Surly Insulated Sheath: stash pack for tools and spares!

Tools & Spares
Hex Wrenches:  5,4,3,2.5,2mm
Torx Wrenches:  T-25,20,10
Spoke Wrench, #0
Pedro's Tire Lever
Valve Core Remover
Gear Repair Tape
Zip Ties
Chain Lube
Rags x2
29er Tube
Lots o' Patches
Patch Cement: 5g Tubes, x2
11speed Quicklink x2
Spare Chain Links
Spare Hardware: M5, M6 bolts in assorted lengths
Spare Brake Pads
Curved Needle (business end protected with a cable crimp. Good thinking, Nic.)
Leatherman Wingman Multi-Plier
Tire Sealant, 4oz
Spare Valve Core x2
Thankfully, I found very little use for my tools and spares aside from the rags and chain lube.  The Ninja Gorilla was a rock-solid partner, handled everything the trail dished out with nary a squeak, creak, clunk or complaint.  Regardless, I wouldn't have felt comfortable leaving many of these items behind on a ride this long.  I did pick up an additional set of brake pads in Leadville as I was concerned about burning through them on the long, wet descents.  I never wound up replacing the pads I started on but having 2 spare sets on board provided peace of mind.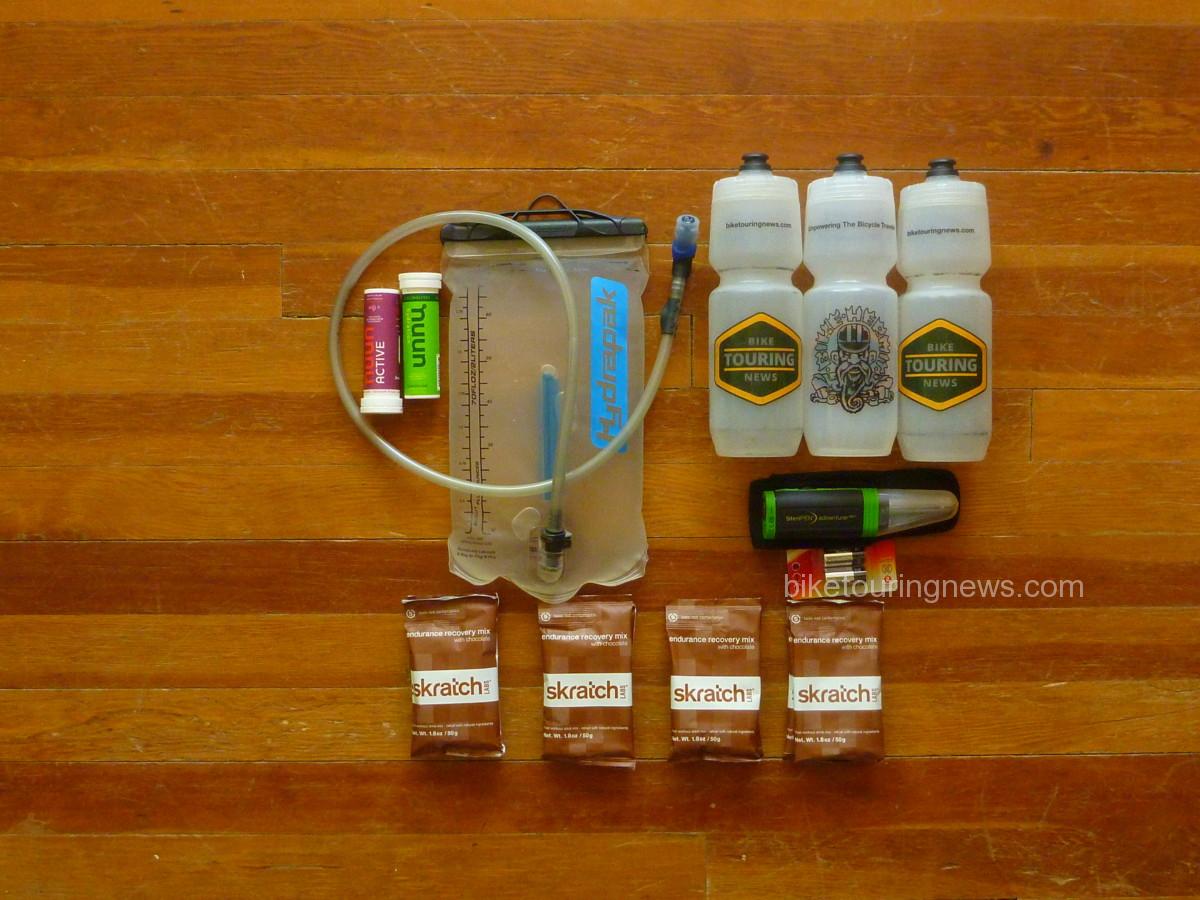 Hydration and Nutrition
Hydrapak 70oz Reservoir (used once, didn't really need)
Steripen & Spare Batteries
Skratch Recovery Mix
Water was especially abundant on the CT this year, so my three bottles provided more than enough capacity.  The Colorado Trail Guidebook and Databook provide only basic directional information for the Wilderness detours, so it was sometimes unclear how much water would be accessible along the detour routes.  For the most part, I started looking for a water source when I got down to only one bottle and had very little difficulty staying topped up.
The Steripen worked well for me on this trip.  While it may not be as fast as some filters, it is wonderfully packable and easy to use.  I anticipate this will be my go-to purification method on future bike trips, replacing the Sawyer filter I've used in the past.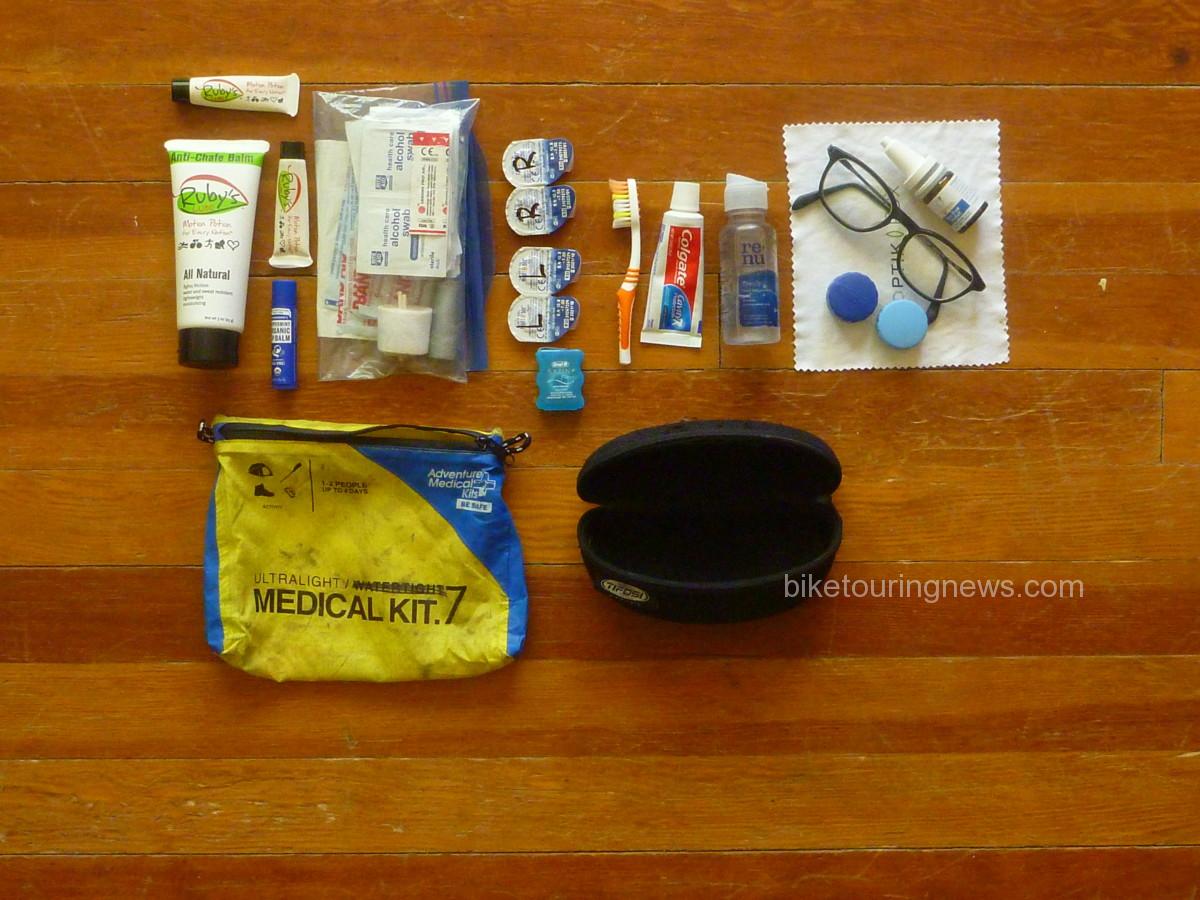 Hygiene and First Aid
Toothbrush
Toothpaste
Glasses
Spare Contacts x2
Contact Case
Contact Solution
Dry Eye Drops
Alcohol Wipes
Ruby's Lube
Gauze Bandages
Athletic Tape
Duct Tape
Butterfly Bandages
Asst. Large Band-aids
Dr Bronner's Lip Balm
Dental Floss
I didn't find much use for any thing in this category other than my toothbrush, toothpaste, eye drops and a handful of alcohol wipes.  I was surprised that I never reached for the Ruby's Lube but I spent so much time on my feet over the first 4 days that I didn't have time to develop saddle sores or chafing.  I also experimented with extended-wear contacts on this ride.  The twice-daily ritual of sticking filthy fingers into my eyes to insert or remove contact lenses has generated infection problems in the past, so I hoped extended-wear lenses would be the solution.  I wore the same pair of lenses throughout the entire 9 days I spent on the trail with zero issues.  I used rewetting drops occasionally but found that my eyes stayed well-lubricated as long as I kept up with hydration.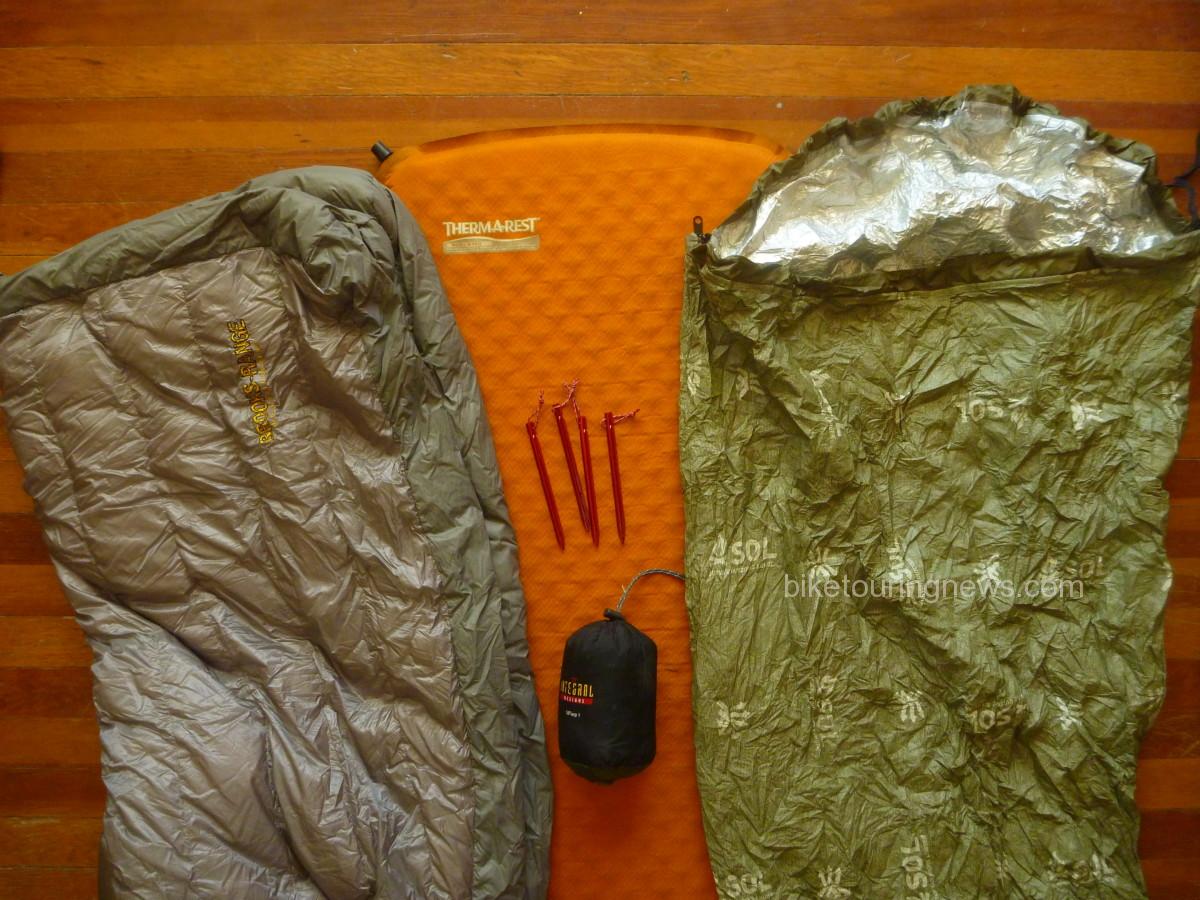 Sleep Kit
Brooks-Range 45-deg Down Quilt
Thermarest Prolite 3/4 Pad
Silnylon Tarp, 8x10ft
Stakes, 4
SOL Escape Bivy
This is the category that proved to be many riders' downfall on the CTR this year.  Of the 42 riders who didn't finish, I'd guess that a significant number were carrying inadequate shelter.  I spent a full 12 hours hunkered under my tarp just below Stony Pass waiting for the weather to clear.  Riders without proper shelter were forced to press on through the storm or retreat miles back down the road to find shelter, even all the way back into Silverton.  At least two riders who continued into the bad weather were forced to scratch after enduring miserable or even dangerous conditions.  I may have been among them if I hadn't had that one little scrap of silicone-coated nylon.  The bivy and down quilt combination kept me comfortable across a wide range of temperatures.  I don't think I would ever carry a more minimal sleep kit unless precipitation were completely out of the question.  Overall, I got good rest on the trail and that sleep bank allowed me to make relatively efficient progress while on the bike.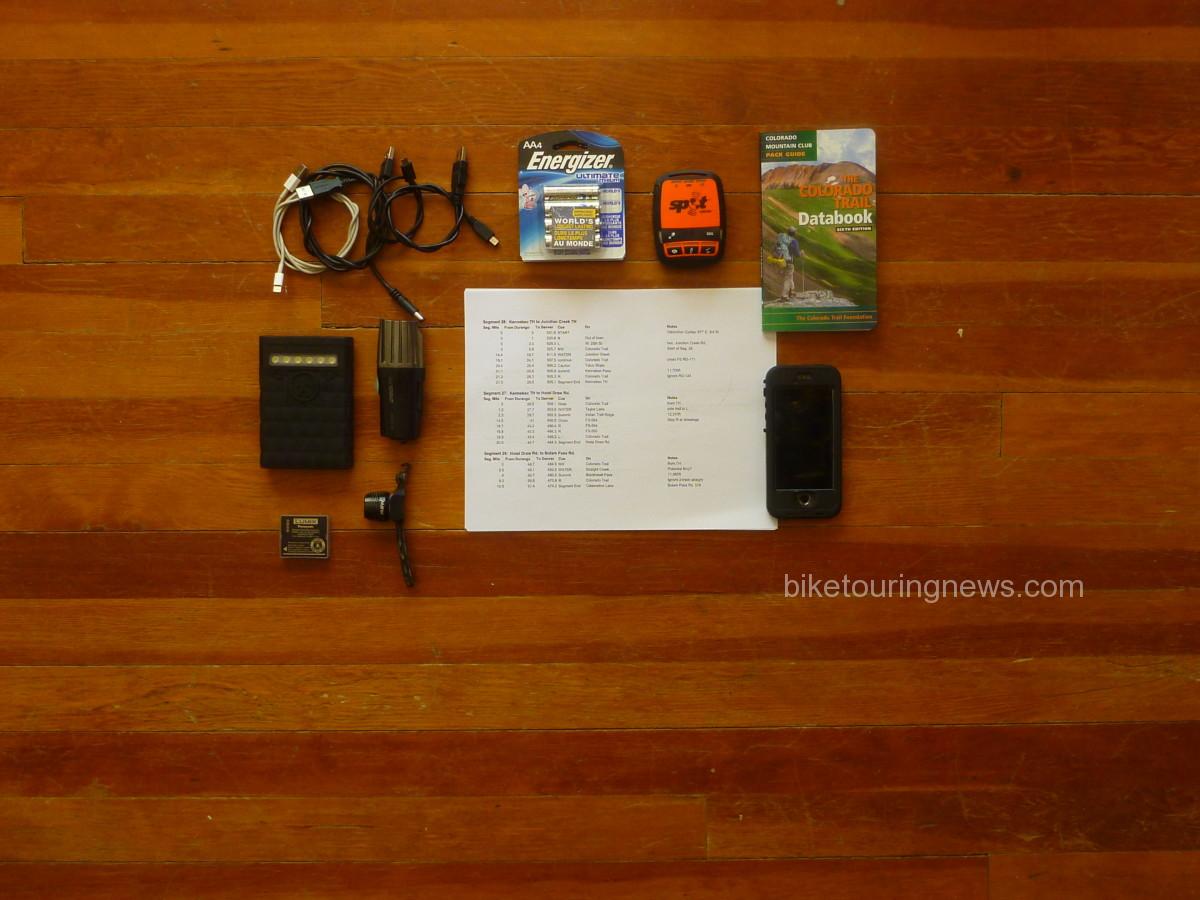 Electronics and Navigation
iPhone with GaiaGPS app, tracks and maps downloaded
Printed Cue and Resupply Notes
Colorado Trail Databook
Cache Battery
Helmet-Mount Light
Point&Shoot Camera and Spare Battery
Charging Cables
SPOT Tracker and Spare Batteries
Little Red Taillight
Generally speaking, navigation along the Colorado Trail is easy.  Junctions are mostly well-signed and confidence markers are frequently posted in between.  However, the bike detours can present navigational challenges.  With my iPhone mounted to the Rokform handlebar mount, I was able to double-check my routing with two presses of the home key.  This prevented many navigational miscues and kept me from making any costly mistakes.  However, wet touchscreens are difficult or impossible to navigate, so I had to take care to keep my phone from collecting water.  I used the Databook for its elevation profiles, water and campsite notes.  It wasn't much help for navigation as this year's CTR ran from Durango to Denver, contrary to the westbound route description in the Databook.  I created my own cue sheet as a navigational backup but used it more for distance estimation than navigation.
Another standout performer on this ride was the Sinewave Cycles Beacon headlight and USB charger.  This key piece of gear lit my way and kept my phone, helmet light and backup battery charged throughout the ride, despite the notoriously slow speeds common on most of the route.  Look for a more thorough review of the Beacon and its performance in a future post.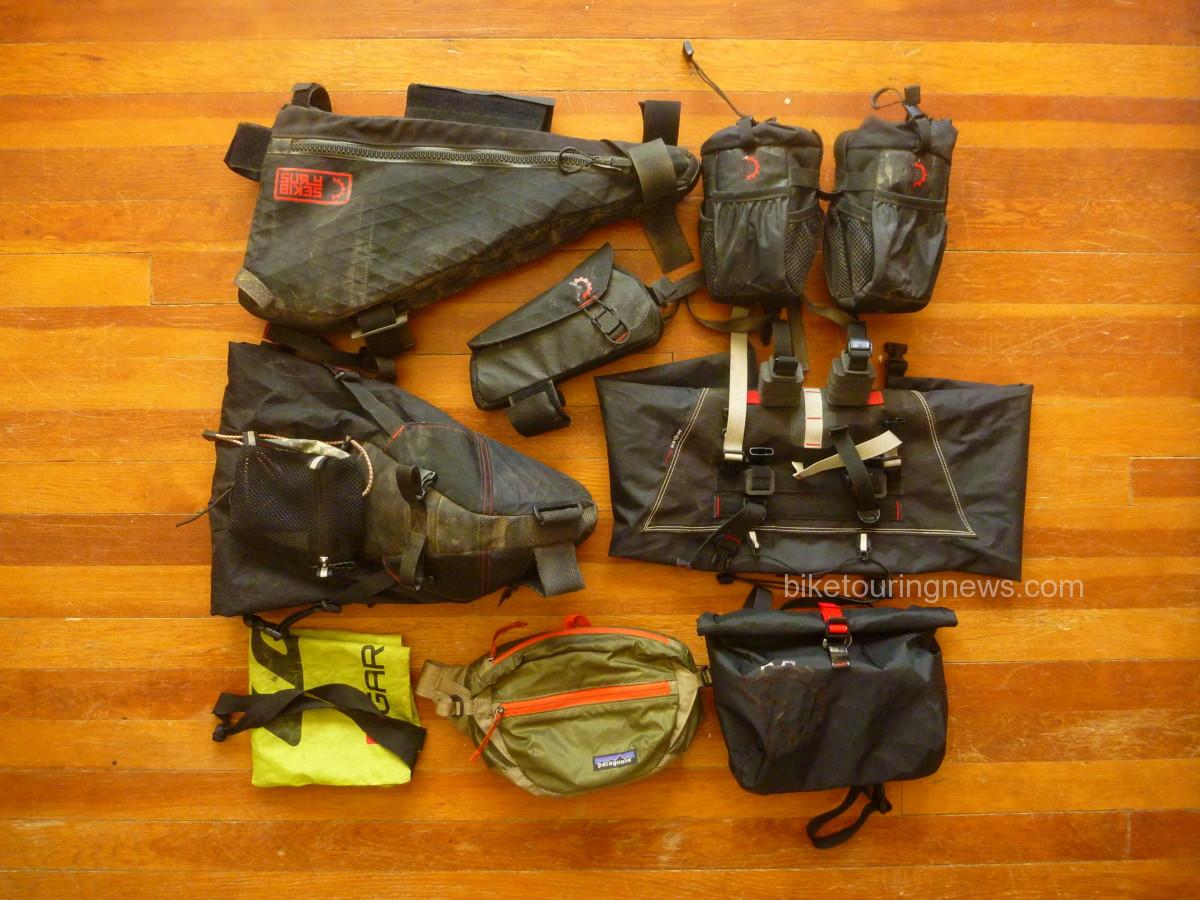 Luggage
Patagonia Hip Pack
Musette Bag
As usual, my Revelate kit was more than up to the task.  I added the Periphery Pocket at the last minute and was very happy to have a convenient spot to stuff my Databook, cues, gloves, charging cables or other quick-access items.  It also expanded my food-carrying capacity pretty significantly.  This may be my new favorite piece of Revelate gear, right up there with my Mountain Feedbags.
The hip pack was another handy addition that allowed me to further extend my food stores or carry my 70oz hydration bladder when needed.  I quickly forgot I was wearing it when it was unloaded.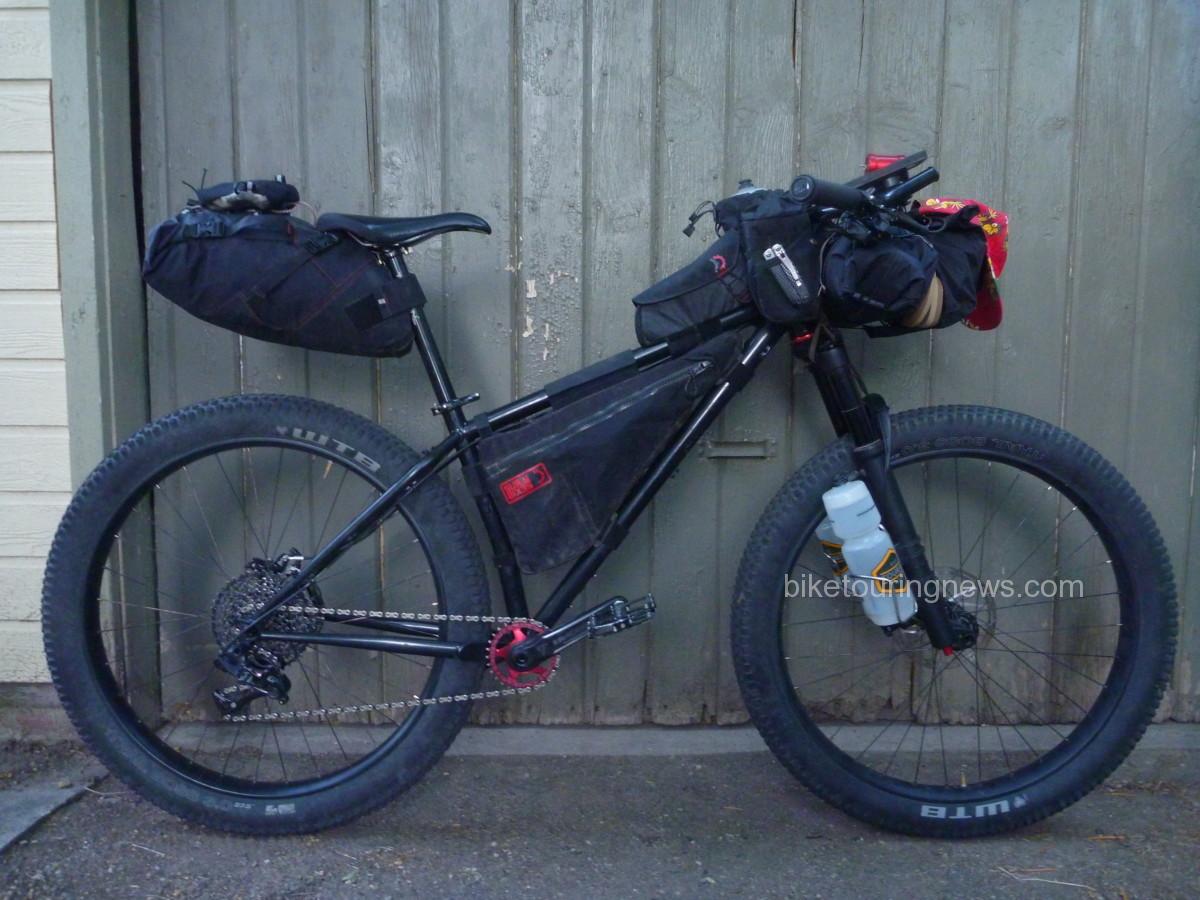 Other than the synthetic socks (wore them for a few hours, were just too thin to be comfortable for long) and my hike-a-bike cap (wore on Day 1, sat in a wet heap strapped to my seat pack for 3 days, lost on the trail on day 5) I was very happy to have every piece of gear I brought on the ride.  While some riders are able to push the limits of minimalism much further, I felt like I maintained a good balance between keeping gear weight down without sacrificing safety or comfort to any great extent.  I also had just enough space left for all the calories I'd be toting for the long push from Silverton to Buena Vista.
What questions do you have about packing for singletrack bikepacking adventures?  Anything you'd like to know about the Colorado Trail experience?  What trips do you have coming up?  Sound off in the comments below and I'll do my best to answer in a reply or future blog post.  Thanks for reading!