Author's Note:  This post has been revised and updated as of January 9, 2017.  It was published in its original format on March 20, 2015.
By now, hopefully you've had time to digest our introductory post and are ready to start equipping your mountain bike for bikepacking!  The best bike in the world won't do you much good if you can't carry the things you need to survive and thrive when you're out on the trail for days at a time, so lets dig into the world of luggage for carrying those essentials.  In this post, we'll go over the various brands and styles of bikepacking bags we carry at Bike Touring News and help you decide which will fit your bike and needs.
Our Brands
Bike Touring News carries bikepacking gear from Revelate Designs, Apidura and Ortlieb, along with a handful of others.  There are many other makers of quality gear out there but most are cottage industries making bags on a small scale for individual customers.  There is a time and place where custom or DIY bags make sense but all three of these brands offer top-quality gear at reasonable prices without a long waiting list.  They each have their own approach and offer products optimized for certain conditions.  We'll cover the range and help you make sense of it all.
The Bikepacking Triad

The three cornerstones of any bikepacking setup are pretty clearly established.  They are the Frame Bag, Handlebar Pack and Seat Pack.  It is pretty easy to imagine where each one goes, right?  Good.  There are also various add-on or accessory bags to extend carrying capacity.  We'll go over those as well.  Let's get into it!
Frame Bags
The frame bag takes advantage of the space inside your frame's front triangle.  Because of its central location, this is an ideal place to carry heavier items like your cookset, food, tools and spares, water transport and filtration supplies, first aid kit, etc.  Most frame bags feature a top zipper located just below the top tube of your frame, so they also are well-suited for carrying items you'll need easy access to while in motion such as ride food, spare layers, camera, phone, maps, sunglasses, fermented/distilled beverages, etc.  All but the very smallest can accommodate a 2 or 3-liter hydration bladder and have a built-in port for the drinking hose to exit.  Strap one on and leave the hydration pack behind!
How do I know which bag fits my bike? 
The process is easy if you own a Surly!  We carry Revelate's line of co-branded bags for Surly's mountain and fat bikes!  Reference the chart on the product page to find your bike and the corresponding frame bag.  Easy enough.  But what about your Cross-Check or Straggler?  We've got you covered there also; just pick your frame size.  Even though they have a Surly logo on them, these co-branded bags will fit lots of other frames as well.  Check out the complete dimensional fit charts for the Straggle-Check bags and Mountain bags on Surly's site.
In addition to the co-branded bags, we stock Revelate's generic Ranger Bags that fit a wide variety of bikes.  They share features with the Surly-specific bags but come in four standard sizes and carry only Revelate logos.  Reference the fit chart on the product page to find the best fit for your frame.
PRO TIP:  If in doubt or in-between sizes, go for the smaller size!  Most frame bags feature fairly long straps to accommodate a range of frame shapes.  You'd rather have a tightly drawn bag than a saggy, floppy one.
We also carry frame bags from Apidura.  Their offerings are best suited to road or cyclocross bikes with slightly sloping top tubes rather than the ultra-compact frames found on most mountain bikes.  Their frame bag comes in three sizes and features a more minimalist, low-profile design with some nice details and high-quality materials.  They are a great choice for those looking to travel light and fast.
Half-frame bags can be a good alternative for riders looking to retain the use of one or more water bottle cages on their frame.  These smaller bags will also fit a wider variety of frames, including many full-suspension models.  Revelate's Tangle Bag is our pick in this category.  Three sizes, burly construction, cut and sewn in the USA.  What more do you want?
All of the frame bags we have discussed are considered water resistant.  They are all constructed with materials that will not absorb water but moisture can still enter through the sewn seams in seriously wet conditions.  These bags have been proven to shrug off anything short of a monsoon but we still recommend that you use waterproof dry bags inside your frame bag for anything that must be kept absolutely dry.  They are also useful for organization!
NOTE:  Ortlieb plans to release their fully waterproof frame bag line in February of 2017.  We'll update this post when they arrive.  Keep an eye on our Facebook, Twitter and Instagram for the most current information.
Seat Packs
We carry a few different flavors of seat packs but they are all perfect for carrying compressible items like sleeping bags, shelters, spare layers, etc.  Most also have external shock cords or lash points for overflow storage.  They vary in size, construction and water resistance.
How do I choose a Seat Pack?
I'm glad you asked!  Seat packs are great because the fit is nearly universal, making them easy to move from bike to bike.  There are a few limiting factors.  The big one is tire clearance.  If there isn't enough space between your saddle rails and rear tire (a common problem on bikes with big wheels and small frames) the bag can bump and rub on the tire.  You'd be amazed how fast you'll wear a hole right through your bag and its contents in this situation!  Give yourself some breathing room so that your bag will never contact the tire, even if overloaded or sagging.  Riding full-suspension?  Make sure you measure your clearance with the suspension fully compressed!
The second consideration is the length of exposed seatpost.  This is less critical and can be fudged a bit within reason.  For example, Revelate recommends at least 5″ of exposed seatpost for their Viscacha.  I only have about 4″ of exposed post on the bike pictured above and it still fits fine.  If in doubt, stick to the maker's recommendations.  Fit considerations aside, let's take a look at the various seat packs we carry.
Revelate's Viscacha was the first widely-available bikepacking seat pack.  A few improvements have been made to the design over the years but the essentials remain.  This pack will always be hard to beat if you have the 9.5″ of clearance required.   It carries up to 14L but easily compresses down to less than half that volume for smaller loads.
The Pika is nearly identical to the Viscacha but is smaller in girth, requiring only 8″ of clearance.  However, it only sacrifices 2L of capacity.  This makes it ideal for minimalist packers or for smaller frames with slightly less tire clearance and exposed seatpost.
Apidura's Seat Pack shares many features with the Viscacha and Pika but has a couple of features that set it apart.  One nice addition is the series of taillight loops on the rear of the pack.  A loop should be available at any point in the range of compression.  Apidura's offering is also available in three sizes: 17L, 14L and 11L so riders can choose the bag appropriate for their bike and needs.  Minimum clearances are listed on the product page.
So far all of the seatpacks we've covered fall into the "water-resistant" category.  We also carry a couple of designs that are fully waterproof.  A waterproof seat pack is great in wet climates or for extra insurance in changeable conditions.  Down jackets and sleeping bags especially benefit from this extra level of protection.
Revelate's Terrapin is an evolution from the Viscacha that separates the bag from the strapping and compression system.  Basically, it is an underseat harness designed to hold a separate drybag.  This two-part system has a few advantages over the Viscacha or Pika.  First, the drybag is fully sealed and waterproof where the Viscacha/Pika is highly water-resistant but is not seam sealed.  Also, the Terrapin is easier to pack and unpack since the drybag can be removed without unstrapping the harness from your bike.  Daisy chain webbing on the harness provides a perfect place to attach a SPOT tracker or other accessories.  The bridge of webbing between the straps can be used for taillight mounting and the drybag incorporates a one-way valve to purge excess air.  The Terrapin harness and drybag are also available separately.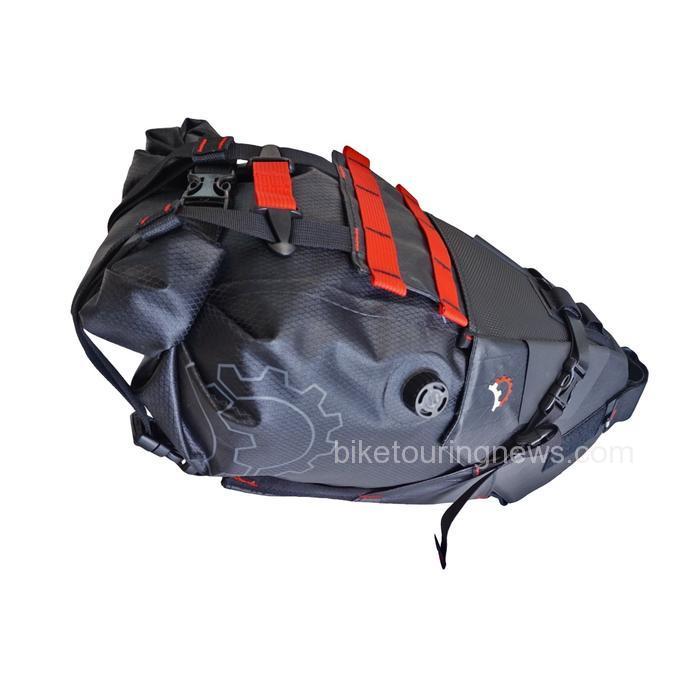 Ortlieb is a relative newcomer to the bikepacking game but they certainly know a thing or two about waterproof gear.  They took their time designing their seat pack and it shows.  This bag is definitely on the large side with a 16.5L capacity.  It also incorporates an internal aluminum frame at the saddle rail and seatpost attachment points for added anti-sway stability.  This is a helpful feature as the bag has a pronounced cone shape, placing more weight farther behind the saddle.  Similar to the Apidura, Ortlieb incorporates a series of light attachment points on the rolling closure, along with reflective patches.  Add in the extra-long section of criss-crossing shock cord and air purge valve and you have the most fully-featured one-piece seat pack we carry.  Ortlieb doesn't list a minimum tire clearance.  Instead, they ask for 14cm (5.5in) of exposed post.  Given the more rigid nature of this bag, any bike with that much post should have plenty of clearance but it is best to check the fit first.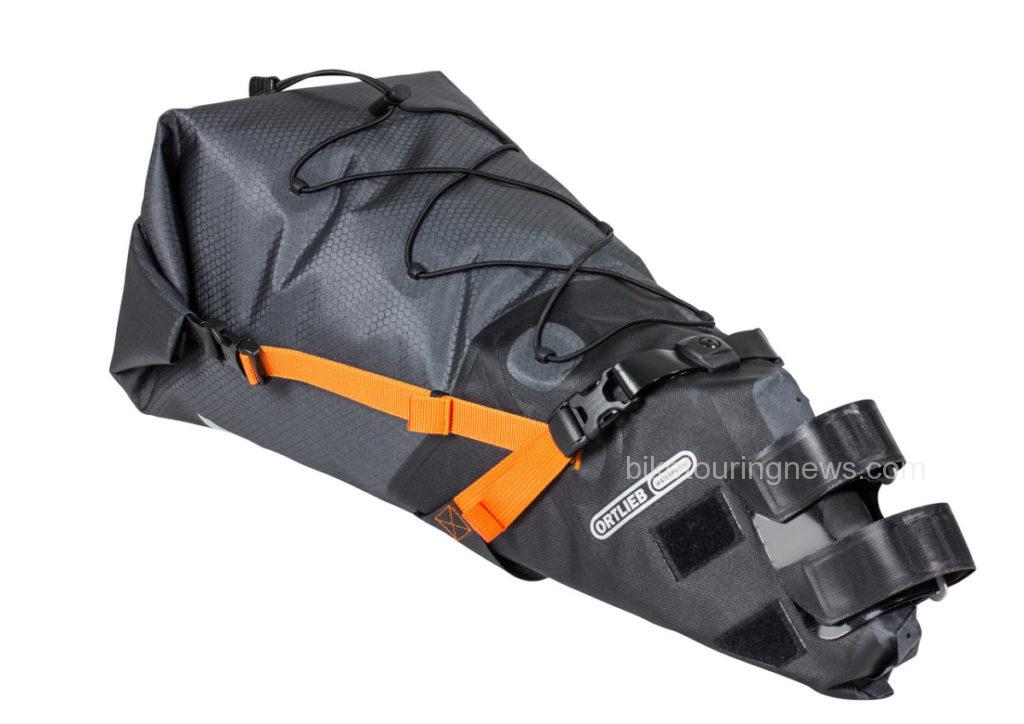 Handlebar Pack
To balance your load and maintain equilibrium, your handlebar roll is the last key component in your bikepacking setup.  The handlebars are a great place to carry your shelter, sleeping bag, sleep pad, tent poles and other rollable or compressible items.  Most of the handlebar setups that we sell also provide a large amount of flexible strapping space for things like fishing rod tubes, trekking poles, firewood, etc.
How do I choose a Handlebar Pack? 
Similar to the seat packs, the big limiting factor here is tire clearance.  You want to be certain that your front tire will never come into contact with your handlebar pack, especially if you're using a thin, lightweight dry bag.  Again, be sure to take suspension travel into account!  The best way to be sure you're getting a proper fit is to test the bag on your bike.  If that isn't possible, measure from the bottom of your handlebars to the closest point on your tire.  You'll want a bag at least 2″ smaller in diameter than that measurement.  Don't forget to account for the thickness of any spacer blocks or pads!  We typically recommend using the smallest handlebar pack you can get away with to reduce handling impact and clearance concerns.  Need more assistance?  Don't hesitate to give us a call, email or drop a comment below.   Fit concerns aside, let's look at some gear!
Revelate's Handlebar Harness is a simple and versatile "soft rack" for carrying a dry bag on your handlebars.  It attaches to the bars using nylon webbing and heavy-duty rubber spacer blocks to space the bag away from the bars and prevent kinking of your brake and shift cables.  Dry bags up to 20 liters can be secured with the three compression straps but Revelate lists a 15-pound weight limit.  For the price, you'd be hard-pressed to find a more versatile handlebar system.
The new-and-improved Sweetroll is an evolved version of Revelate's handlebar harness that integrates the dry bag into the handlebar attachment for added simplicity and reduced weight.   The latest version uses RF-welded seams for long-term waterproofness compared to sewn-and-sealed seams.  The dual-roll design allows easy packing and centering of the load while the compression flap provides additional security and a place to strap extra cargo.  Have a set of Jones Loop H-Bars on your bike?  We have a special Loop Bar buckle kit that creates two additional attachment points to the handlebar for added security and extra spacing away from your bike's head tube.  The Sweetroll comes in three sizes: small, medium and large.  The length of the dry bag is the same; they only vary in diameter.  Click through to the product page for dimensions.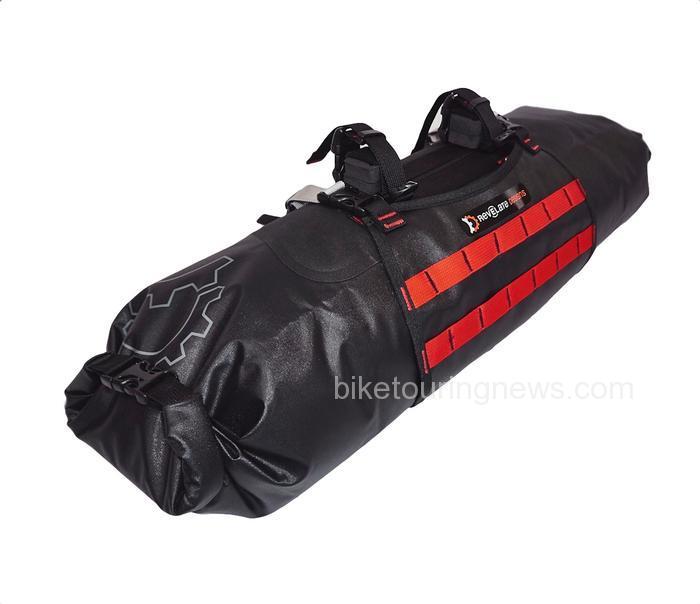 Apidura also has solid bar-mounted options.  Like their other products, their handlebar packs are simple, lightweight and thoughfully detailed.  They offer four different handlebar packs, differing on size and construction.  The water-resistant version comes in a Regular 20L size or a "Compact" 9L version.  The 20L size is especially useful on drop bar bikes.  The "Dry" option is available in a Regular 14L or Compact 9L.  The dry versions feature a cleverly hidden air purge valve for easy compression.  All four feature a criss-crossing shock cord for extra storage and reflective details for visibility.
Like their seat pack, Ortlieb's handlebar pack is thoroughly engineered and especially secure.  Dual straps and adjustable foam spacers secure the bag to your handlebars and a pair of compression straps lock down the load or secure overflow gear.  15L capacity is on the large side and the welded construction is rock solid.  This bag is especially appealing for shoulder season trips where additional gear and weather protection will come in handy.

Salsa's EXP Anything Cradle is a new addition to our offerings and takes a very different approach.  This is a very "rack-like" handlebar packing system designed to carry a separate dry bag.  Two hinged aluminum clamps secure the cradle to your handlebars and provide plenty of standoff to prevent kinking hoses or cables.  The complete kit comes with 15L double-roll dry bag and two webbing straps.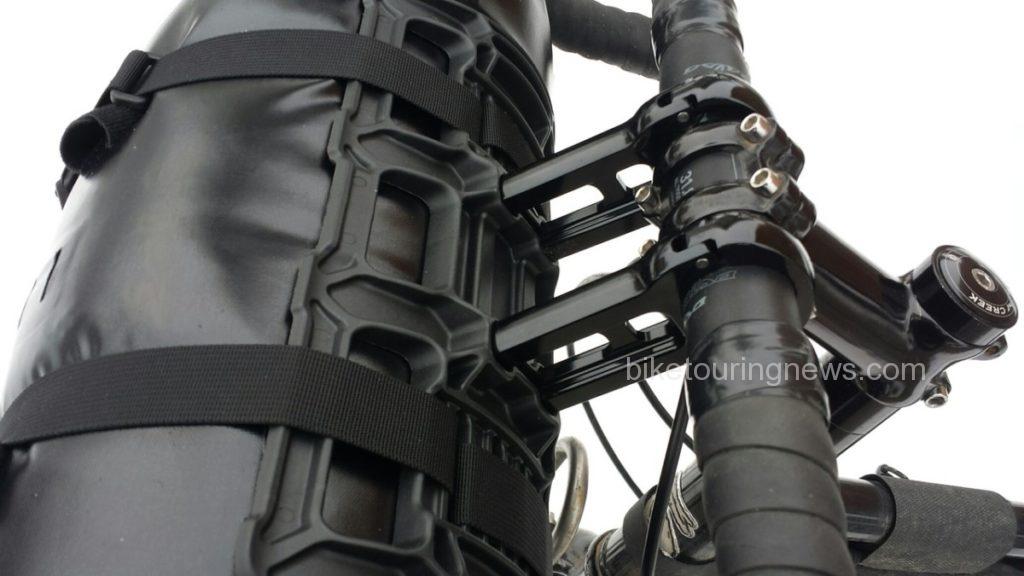 Conclusions
Hopefully you're feeling a little more comfortable choosing bikepacking bags for your bike!  Overall, fit is the most important factor here.  If your bags don't fit your bike well, they won't perform well!  Feel free to give us a call, email or comment if you have questions about fitting bikepacking bags to your bike!
Stay tuned for the next installment of this series, coming soon!  Don't forget to follow us on Facebook, Twitter and Instagram (@BikeTouringNews) for all the latest updates!  Thanks for reading!