Even if you're a close follower of developments in bicycle lighting technology, you may not be familiar with the new generator hub systems from Shutter Precision, or SP. However, we suspect that you'll be hearing a good deal more about their hubs in the near future. With a background in the production of advanced photographic shutters for digital cameras and mobile devices, SP used their expertise in miniature electronics to develop a new dynamo hub system. The Taiwanese company began production in 2009 and now markets a line of hubs that rival the quality, performance and weight of the industry leaders at a surprisingly low price. We are currently stocking the PD-8 (6-bolt disc) and PV-8 (rim brake) hubs in 32 and 36-hole drillings with a bright silver finish.
Given that my understanding of what actually happens inside a dynamo hub is limited, I won't attempt to describe what goes on internally to set these hubs apart from the others on the market. It's all magic and wizardry as far as I know. Despite my ignorance, I will risk some comparisons here.
SP claims that their 8-Series hubs (like the ones we have) deliver 72% efficiency at 15km/h (9.3mph), meaning that you as a rider are required to supply an additional 3.3 watts to generate power. If accurate, this puts the 8-Series in a dead heat with the highly-regarded Schmidt SONdelux, perhaps the industry's benchmark for efficiency. In experiential terms, this level of drag is practically unnoticeable while riding. The Shimano DH-3N80 hub on my RandoGnar is supposedly only 53% efficient – requiring something like 4.5 watts at 15km/h – and I often find myself riding around with my light on in the daytime after neglecting to switch it off the night before.  
In terms of weight, the 8-Series hubs are also right on par with the Schmidt. SP claims 390g for the rim-brake version and 410g for the 6-bolt unit. Schmidt gives an identical weight of 390g for the SONdelux and 395g for the Shimano-compatible CenterLock disc option. Shimano claims a weight of 490g for their lightest offering.  These numbers also put SP at the top of the class, regardless of price.
Okay, so they're efficient and lightweight. That's a good start, but all the high-tech internals in the world don't matter if the thing isn't reliable. SP backs all of their hubs with a two-year warranty against defects. They have survived the rigors of the Tour Divide and numerous other long, arduous races and tours without issue. In the hand, they feel just as sturdy and well-made as the Schmidt units. They spin on high-quality cartridge bearings rather than the cup-and-cone systems that Shimano uses in their hubs. Unfortunately (as with all dynamo hubs, to my knowledge) the bearings are not replaceable or serviceable by the user. However, the hub can be returned directly to the factory for bearing replacement if they ever wear out. If within the warranty period, this service will be performed for roughly $30 US including shipping.  The SP hubs also use a connector very similar to Shimano's which makes installing wires, removing and installing the wheel a simple matter.
Okay, so let's get down to dollars and sense here. A dynamo lighting system is no small investment and we all want to be sure we get the best our budget will deliver. For the price-concious consumer who still prizes performance, the PD-8 or PV-8 will be difficult to top. This may be the new standard for bang-for-your-buck in a dynamo hub, bar none. We're selling them for the very reasonable price of $123.97. Compared to the $300 price tag for the SONDelux, this an amazing value. Shimano's Alfine or DH-3N80 hubs cost almost exactly the same as the SP but are less efficient and likely to be less durable.  These were formerly the best alternative for anyone who didn't want to spring for the SON but are clearly outclassed by SP.
So why should you buy anything else for your dynamo build if these hubs are so great? I'll have to leave that to you to decide for yourself but I'll offer some food for thought. Perhaps the single biggest factor setting the Schmidt offerings apart is the five-year warranty compared to two years from Shutter Precision.  Schmidt uses a "smart pressure compensation system" to prevent the buildup of condensation inside the hub shell which can lead to corrosion or freezing of the generator parts over the long haul, allowing them to offer such a generous guarantee. It is unclear wether SP uses any similar technology in their hubs. Aside from this discrepancy, the other differences are fairly subjective.
SP is a relative newcomer to the business, so despite their excellent track record so far they are relatively untested over the long haul. Some brand-oriented customers will prefer the prestigious Schmidt name or the tried-and-true Shimano.  Also, there's no avoiding the fact that these hubs are made in Taiwan. We all know that lots of really nice things are made in Taiwan, so quality isn't the issue. I can't speak to the ethics or sustainability of Shutter Precision's business practices, so I'll leave that judgement to others. Regardless, many consumers would rather put their trust in a German-made product. Prefer Shimano's CenterLock disc rotors?  You're out of luck with SP unless they decide to license that technology in the future. Also, our stock is currently limited to the aforementioned PD-8 and PV-8 in silver with 32 and 36-hole drillings. SP offers a wide range of other models, colors and drillings but availability is currently scanty in the US.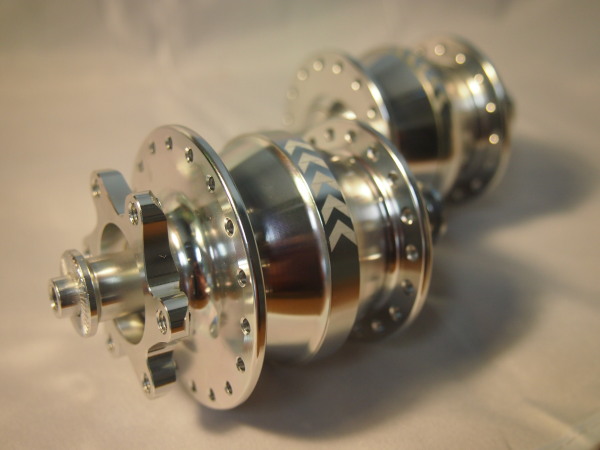 Overall, Shutter Precision is an exciting new player in the dynamo hub market and we're happy to be able to offer these hubs to our customers. No product is perfect, but we think the ratio of price to performance they offer is exceptional and are looking forward to getting them laced, wired and between the dropouts of some bikes in the very near future. Shoot us an email or give us a call in the shop if you'd like to talk about wheel build options or a lighting setup for your bike.